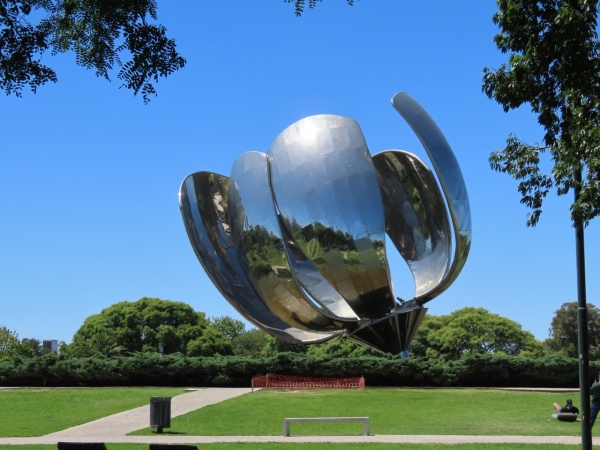 On our second day in Buenos Aires, we took a bus tour through the city as part of our Antarctica cruise package, followed by dinner on our own overlooking Puerto Madero.
Buenos Aires is a striking city, full of grand historic buildings, extensive parks, impressive monuments and much public art. We particularly enjoyed our visit to fascinating Recoleta Cemetary. Built in 1882, the cemetery is packed with over 4,500 elaborately-decorated mausoleums and is considered among the most beautiful in the world. Also interesting was a tour through El Zanjon, a 200-year-old mansion where a 500-foot (152m) network of century-old aqueducts was recently discovered and excavated.
Below are highlights from December 19th, 2022. Click any image for a larger view, or click the position to view the location on a map. And a map with our most recent log entries always is available at mvdirona.com/maps.
GPS: -34.59344,-58.37400

Torre Monumental, a gift from city's British community to celebrate Argentina's 1919 independence
GPS: -34.58239,-58.39429

The sculpture Floralis Generica was designed with petals that open and close from day to night
GPS: -34.58673,-58.39053

A new mural is painted on the Recoleta Cultural Center with each program, this one by Renata Schussheim
GPS: -34.60944,-58.36247

Parking is very limited in Buenos Aires and cars often are parked tight close together like this. most with damaged bumpers
| | |
| --- | --- |
| | Click the travel log icon on the left to see these locations on a map. And a map of our most recent log entries always is available at mvdirona.com/maps. |