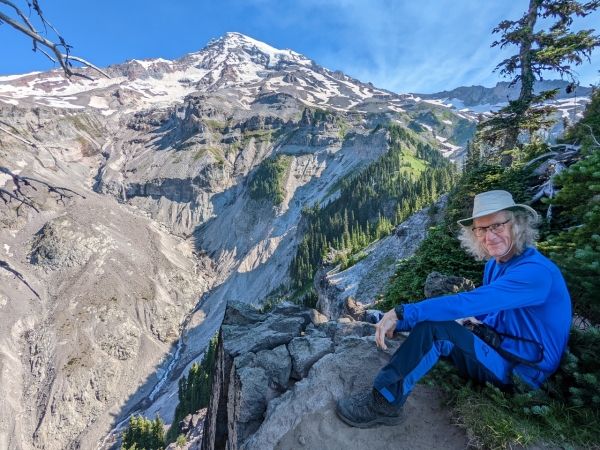 For our third and final day of summer hiking at Mt. Rainier, we walked to Mildred Point via Comet Falls. The hike gave us yet another perspective to Mt. Rainier, this time from the southwest.
Our previous two days' hikes, along the Burroughs Mountain and Skyline trails, are vastly more popular, but we perhaps enjoyed this one the most. The scenery was diverse, through thick woods and wildflower meadows, past several waterfalls, with multiple river crossings and some truly spectacular views to Mt. Rainier.
Below are highlights from August 7th, 2022. Click any image for a larger view, or click the position to view the location on a map. And a map with our most recent log entries always is available at mvdirona.com/maps.
Comet Falls Trailhead

A 7am start at the Comet Falls trailhead for our final day of hiking in Mt. Rainer.
Parking

We like to get an early start anyway, but it's particularly important for Comet Falls due to the small parking lot at trailhead. It's over half full already shortly past 7am.
Van Trump Creek

Taking in the flow from Van Trump Creek along a footbridge crossing. A short distance behind James, the creek flows down into the famous

Christine Falls

that drop 69 feet (21 m) in two tiered plunges.
Stairs

Looking down to Van Trump Creek as we ascend some stairs on the Comet Falls trail.
West Fork

Twin waterfall where the West Fork Van Trump Creek, at left, joins the main flow.
Footbridge near Fork

Jennifer ahead on the trail crossing a recently-built footbridge across Van Trump Creek.
Gorge

Jennifer looking back to James down the gorge through which Van Trump Creek flows.
Bloucher Falls

Multi-tired Bloucher Falls on Van Trump Creek, just upstream from the footbridge.
Footbridge from North

James on the footbridge after taking a picture of Jennifer with Bloucher Falls. We've hardly gotten started on the hike and are already really enjoying it.
Comet Falls

Striking Comet Falls drop 462 ft (140 m) in multiple steps along the flow of West Fork Van Trump Creek.
Comet Falls Main Step

James standing next to the largest step in Comet Falls, of 301 feet (92 m).
Upper Comet Falls

Having a Hobbit's "second breakfast" below Upper Comet Falls along West Fork Van Trump Creek with Mt. Rainier in the background.
Log Bridge

Crossing a log footbridge over West Fork Van Trump Creek en route to Mildred Point.
Marmots

A pair of hoary marmots performing a mating ritual alongside West Fork Van Trump Creek.
Sunshine

We've been in the cool shade all morning and shortly before 9am are getting some warm sunshine along the north side of West Fork Van Trump Creek.
Sitka Valerian

Passing through a display of white Sitka Valerian on the trail to Mildred Point.
Mildred Point Trail

Walking the Mildred Point Trail towards the southwest flank of Mt. Rainier.
Mildred Point

An excellent view to Mt. Rainier from Mildred Point at 5,935 ft (1,808 m). Given how busy the Paradise area was yesterday, we were a little surprised to be the only ones here. We haven't seen a single other person since Comet Falls.
Pinnacle

James, at center, perched on a pinnacle below Mt. Rainier, with steep drop-offs all around (click image for a larger view).
Kautz Creek

View down to glacial-fed Kautz Creek from the pinnacle James is standing on.
Lunch

Lunch with a fabulous view to Mt. Rainier from the Mildred Point area.
Picaridin

The only negative of our lunch spot was the numerous hungry bugs, but a Picaradin spray resolved that.
Van Trump Glacier

A section of Van Trump Glacier high above us, viewed from our lunch spot in the Mildred Point area.
Van Trump Creek Valley

Looking across the West Fork Van Trump Creek Valley as we descend from Mildred Point, with Mt. Rainier at left.
Comet Falls and Rainbow

We returned to Comet falls around noon, about four hours after we passed them on the way to Mildred Point. The falls were in full sunshine now, with a rainbow, and dozens of people (not visible) were around the base.
Christine Falls

After returning to our car at the Comet Falls trailhead, we drove up the road a short distance in the hopes of finding a parking spot to view Christine Falls. The lot was busy, but we were lucky and found parking. This is the classic shot of the lower portion of Christine Falls through the Christine Falls Bridge. The footbridge we crossed at the start of our hike this morning is just visible in the distance above the road bridge (click image for a larger view).
Narada Falls

Since this was "waterfall viewing day," we drove further up the road towards Paradise to check out Narada Falls. This is the larger upper portion of Narada falls, that drops 168 feet (51 m) over a sheer cliff. The falls freeze in the winter and attract ice climbers.
Power Outlet

Back getting a little work done at our cabin in Ashford. Our travel kit includes a 10ft

power strip extension cord

that we use constantly. Hotel rooms often have an insufficient number of power outlets, or they are located in inconvenient places. The power strip allows us to have 8 AC wall outlets and 4 USB outlets wherever we want. It is particularly useful in Europe because we need only a single in-country-to-US wall adapter to power all our devices.
Dinner

Our final dinner on the deck of our VRBO cabin in Ashford before we drive back home to Seattle tomorrow morning. We had a fabulous weekend hiking at Mt. Rainier and today's hike might have been the best.
| | |
| --- | --- |
| | Click the travel log icon on the left to see these locations on a map. And a map of our most recent log entries always is available at mvdirona.com/maps. |