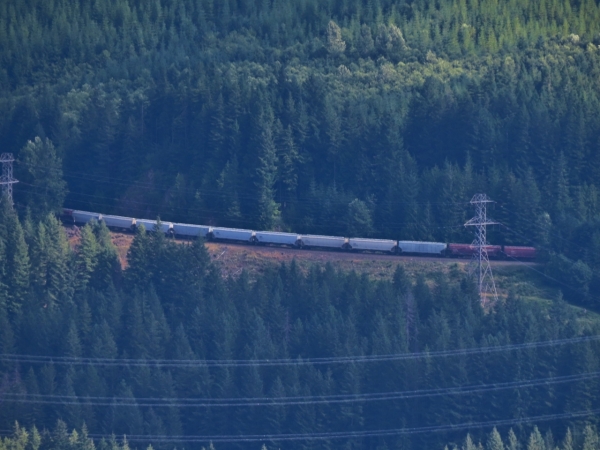 The Borup Loop carries trains between Borup and the Stampede Pass Tunnel en route through the Cascade Mountains. Between Borup at 2,270ft (691 m) and the west entrance of the Stampede Pass Tuneel at 2,900 ft (883 m), the elevation difference is 630 ft (192m) over a distance of 2.3 miles (3.7 km). Clearly visible in the satellite imagery as it crisscrosses Sunday Creek, the Borup Loop is not actually a loop at all, but an elongated 'S' curve formed from back-to-back horseshoes.
The Northern Pacific Railway completed the Stampede Pass Tunnel in 1888 as a direct means of reaching the Puget Sound from Yakima, WA, rather than the roundabout way along the Columbia River. The line operated for a century before being shutdown in 1984 by then-owner Burlington Northern. A little over a decade later, the line was resurrected to handle increased freight traffic into the Pacific Northwest.
We first learned of the Borup Loop at our campsite below Snowshoe Butte, where we watched from the south as several trains passed through. We got another view to the loop, this time from the north, while camped along Forest Road 5000625. This was another great campsite, with wonderful views across fields of wildflowers to the Snow Creek Valley. While there, we also tested out our new privacy tent and camp shower for an upcoming 3-night camping trip.
Below are highlights from Aug 14th and 15th, 2022. Click any image for a larger view, or click the position to view the location on a map. And a map with our most recent log entries always is available at mvdirona.com/maps.
8/13/2022
Overgrown

We didn't get very far exploring down National Forest Development Road 620 before it became too overgrown. We could have pushed through, but it's really tough on the car paint and we weren't confident enough that any good campsites were beyond.
NF-5000625

Retracing our path along NF-50, from NF-620, we found a lovely spot off the edge of NF-5000625 with wildflowers all around. The road dead-ends not far beyond our camp, and we only saw one other vehicle the entire time we were there.
Snow Creek Valley

Looking southeast across our campsite along NF-5000625 to the Snow Creek Valley in Mt. Baker-Snoqualmie National Forest.
Lunch

Lunch with a view across wildflowers to the Snow Creek Valley from our campsite along NF-5000625.
Train

We were super-excited to hear a train, and see one passing through the

Borup Loop

that we'd seen earlier from our campsite at

Snowshoe Butte

on the other side of the valley.
Snowshoe Butte

From our campsite along NF-5000625, we could see a truck with a roof tent at the

Snowshoe Butte

campsite we were at three weeks ago.
8/14/2022
Dawn

Dawn looking across wildflowers from our campsite along NF-5000625.
Privacy Tent

We're planning to take a 4-day camping trip at the end of the month and want to be able to shower. The first part of making that work is a

Your Choice Privacy Tent

.
Camp Shower

To have a shower at camp, we bought a

Kradl Portable Camping Shower

. The shower holds 2.9 gallons of water and builds pressure through a foot pump. Here James is testing out the flow, which seems pretty decent.
Camp Toilet

The shower enclosure also works well for our

camp toilet

.
Hill

Our little SUV doesn't have the ground clearance of a real 4×4. It can actually get up pretty steep hills, but where it quickly runs into problems is with ground clearance, especially forward.
Lake Campsite

The reward for taking on that steep hill is a beautiful private campsite overlooking a small lake.
Mt. Rainier

Mt. Rainier burst into view as we explored along NF-5078. Big ruts in the road prevented us from proceeding much further.
Pickers

As we explored today, we encountered several groups of people parked off the side of the road and off doing something in the woods. They didn't appear to be camping or picnicing, and likely were harvesting berries or some other plant.
The Commonwealth

The view from The Commonwealth at Snoqualmie Pass where we stopped for lunch on our way home from camping. The pickup backing out doesn't look unusually large in the picture, but looked towering when it was closer in the parking spot.
Boeing 777 Flyover

We caught another instance of the Boeing 777 Flyover for the Boeing Classic PGA golf tournament taking place at the Club at Snoqualmie Ridge. We'd seen this a couple of days ago,

from above

, at Mt. Si.
| | |
| --- | --- |
| | Click the travel log icon on the left to see these locations on a map. And a map of our most recent log entries always is available at mvdirona.com/maps. |