The Sunnhordland district of Fjord Norway includes the mountainous islands and waterways just north of Haugesund at the mouth of Hardangerfjord. The region is full of beautiful, sheltered anchorages and has many excellent view hikes and other attractions, highlighted in their informative tourism brochure.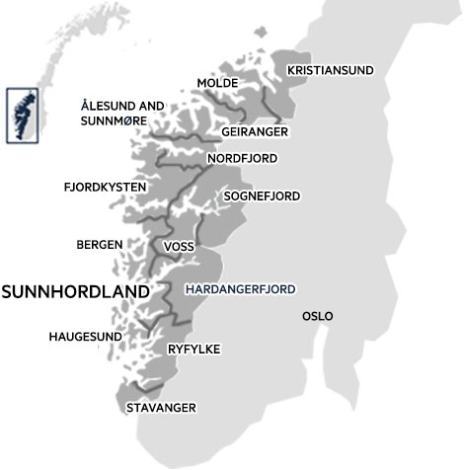 After three weeks leisurely cruising Ryfylkefjordane directly to the south, we continued that approach and spent nearly the same amount of time in Sunnhordland. While our progress in moving Dirona was relaxed, our pace off the boat wasn't. In addition to several long tender trips, we made seven fabulous view hikes, including 1555 ft (474m) Siggjo, 2,375ft (724m) Kattnakken, 3,300ft (1,005m) Mjelkhaug, 2,385ft (727m) Hovlandsnuten, 4,678-ft (1426m) Melderskin, 2,467-ft (752m) Tysnessata, and 4,767ft (1,453m) Fonnabu. Each hike brought us progressively closer to the Folgefonna icefield, until eventually we were standing on the glacier.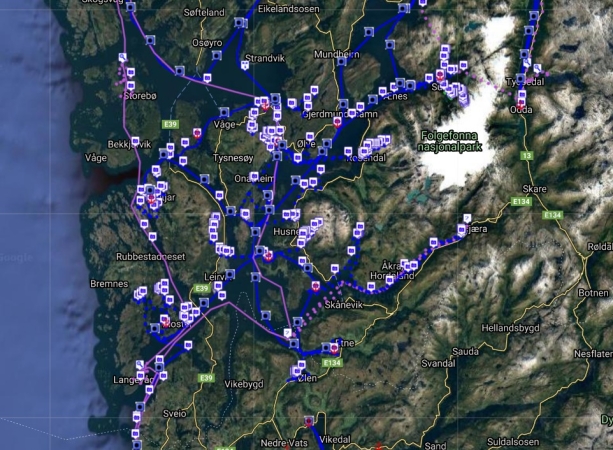 Below are highlights from August 8th through 26th, 2020. Click any image for a larger view, or click the position to view the location on a map. And a live map of our current route and most recent log entries always is available at mvdirona.com/maps.
Moster

According to Norse legend, the first Christian church in Norway was established on the island of Moster in 995. A millennium later, several notable projects in the area included the construction of the Kulleseid Canal in 1856, the Royksund Canal in 1859, and a successful limestone quarry at Mosterhamn on Moster.
Siggjo

Our second day at Karihavet dawned beautifully clear, so we set off in the tender to hike to the top of 1555 ft (474m) Siggjo. The 1.6-mile (2.6km) trail had many good viewpoints along the way up, with an added interest of several foot bridges crossing difficult sections.
Kattnakken

The large TV tower atop 2,375ft (724m) Kattnakken on the island of Stord was a common sight as we traveled around the mouth of Hardangerfjord. We first spied it from the summit of

Siggjo

on the adjacent island of Bomlo, and decided that would be our likely next hike.
Mjelkhaug

The five-hour return hike to 3,300ft (1,005m) Mjelkhaug is a combination of two other hikes: a three-hour circular loop to Nordjfell, with a one-hour extension to Varhaugselet and an additional hour to reach Mjelkhaug. All three hikes have excellent views west into Hardangerfjorden, while from Mjelkhaug the Folgefonna glaciers also are visible.
Matersfjorden

Matersfjorden is one of the wettest regions in the country and in 2005 received 8.8 inches (223 mm) of rainfall in 24 hours, the second highest ever recorded in Norway. The fjord also is home to the 230MW Blafalli Vik power station and some fabulous scenery, with 4,087ft (1,246m) Ulvanosa soaring above the waterway and beautiful lake Opstveitvatnet at the head.
Olsfjorden

While we were rounding the world in Dirona, so too was the oil rig Polar Pioneer, including a stop at our home port of Seattle. The rig circumnavigated in 2014-2016, starting in Norway, then to Singapore and on to Alaska for an assignment, then to Seattle and back to Norway via South America. While in Seattle, it was targeted by environmental protesters known as 'kayaktivists', who tried to stop it docking because it was being used to explore for oil offshore Alaska.
Hovlandsnuten

Hovlandsnuten soars 2,385ft (727m) nearly straight up along the east shore of the island Tysnes. On a beautiful, sunny day, we made a four-hour run from Etnefjorden and anchored directly below the mountain. A quick tender ride brought us ashore and we were at the top within two hours. We could see Dirona anchored directly below and got a yet-closer sighting of the Folgefonna Glaciers, 22 miles (35km) away.
Melderskin

The summit of 4678-ft (1426m) Melderskin has a spectacular view east to the Folgefonna Icefield. The vistas west along the way up are impressive too, but the eastward scene is breathtaking, all the more so because it's hidden from sight until the summit is reached. With an average grade of 26% over a 3-mile (4.8km) hike and a typical round-trip time of 7 hours, the trail to Melderskin is rated "extra demanding", the most challenging we've done on this year's trip to Norway.
Husnesfjorden

We enjoyed the anchorage below Hovlandsnuten so much that we spent a third night there. After climbing Hovlandsnuten and Melderskin, we gave our hiking boots and legs a break on that final day and toured Husnesfjorden by tender.
Gripnesvagen

Gripnesvagen is a beautiful, nearly land-locked anchorage at the north end of Tysnes with a great view to the islands's highest point, 2467-ft (752m) Tysnessata. From the east side of Tysnes we cruised through the narrow and scenic channel Lukksund to spend two nights at Gripnesvagen, where we toured the area by tender, hiked up Tysnessata on a clear and sunny morning, and enjoyed the idyllic anchorage.
Eldoy Islands

From the summit of Tysnessata, the complex group of islands we could see along the northwest shore of Stord looked ideal for exploration by boat and tender. We found sheltered anchorage there in the Eldoy Islands, where we stayed for three nights, extensively explored the area by tender and also waiting out a small weather system.
Sundal

Sundal has been a major tourist destination since the mid 1800s, when people flocked to the area to ascend the Folgefonna icefield. The town is situated along Maurangsfjorden, a 7.5-mile (12 km) fjord that branches into two arms amid soaring cliffs and countless waterfalls, including Furebergsfossen, one of the widest in Norway.
Fonnabu

After getting closer and closer to the Folgefonna Icefield with each hike, we finally reached the glacier from Sundal at Fonnabu. The hike was challenging, at 8 total miles (12km) one-way from Dirona with an altitude gain of 4,767ft (1,453m), but very much worth the effort.
Click the travel log icon on the left to see these locations on a map, with the complete log of our cruise.

On the map page, clicking on a camera or text icon will display a picture and/or log entry for that location, and clicking on the smaller icons along the route will display latitude, longitude and other navigation data for that location. And a live map of our current route and most recent log entries always is available at mvdirona.com/maps.