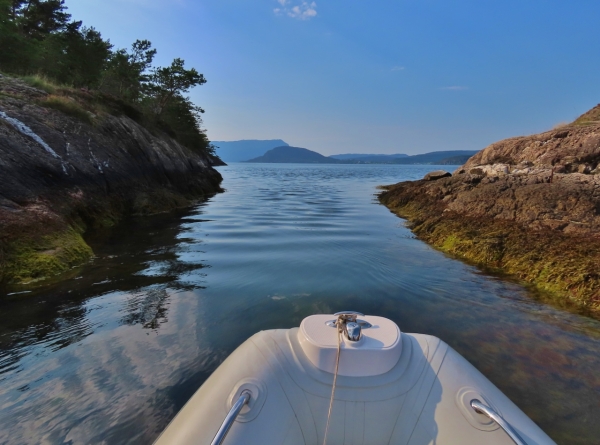 We enjoyed the anchorage below Hovlandsnuten so much that we spent a third night there. After climbing Hovlandsnuten and Melderskin, we gave our hiking boots and legs a break on that final day and toured Husnesfjorden by tender.
After passing through the scenic waterway Laukhammarsundet south of our anchorage, we crossed to the east side of Husnesfjorden for a closer look at the massive Hydro Husnes aluminum smelter that we viewed from 3,300ft (1005m) Mjelkhaug a week earlier. Then we continued south through the beautiful waterway Storsunde towards Rosendal, with views to Melderskin. And back on the west side of Husnesfjorden, we passed the Palfinger plant where we saw the lifeboats for the under-construction cruise ship Celebrity Beyond.
Below are highlights from August 17th, 2020. Click any image for a larger view, or click the position to view the location on a map. And a live map of our current route and most recent log entries always is available at mvdirona.com/maps.
Missing Oil Leak

An engine seldom "just get better"—close to never—but our generator was leaking vast amounts of oil from the rear main oil seal prior to the cylinder head replacement. And then a strange thing happened. After replacing cylinder head, the rear main oil seal leak went from intolerable to moderate. We were relieved and decided to defer the job until we had more time this winter. And then, about 150 hours back, it stopped leaking entirely!
Wake

We're about 30 miles south of Bergen and are seeing lots of large power boats in the area. This baby produced a wake that puts some ocean storms to shame :).
Onar Hamn

Out on a tender tour of the Husnesfjorden we passed the large guest harbour of Onar Hamn just south of our anchorage.
Construction

A common construction technique in Norway is to blast a wall away to open up space and then use the resulting rock to create additional land.
Laukhammarsato

Scenic 702-ft (214m) Laukhammarsato above the waterway Laukhammarsundet.
Laukhammarsundet

Navigation mark hung off the wall along in Laukhammarsundet.
Power Lines

Thousands of miles of high-tension power lines cross over and under Norwegian waters.
Hydro Husnes

The massive

Hydro Husnes

aluminum smelter that we viewed from 3,300ft (1005m) Mjelkhaug a week ago. Hydro Husnes is the third-largest aluminum producer in the country by annual production.
Extrusion Ingots

Stacks of extrusion ingots at Hydro Husnes, likely sized for sea shipment in containers. Extrusion is the process of forcing aluminum through a shaped opening in a die to form a specific shape. The ingots are then used in various markets such as manufacturing and consumer products.
Containers

Dozens of these containers were on the grounds outside Hydro Husnes. The outsides were heavily reinforced, with an inner liner full of square-shaped holes. We're not sure what these are used for.
T-Ingots

Stacks of T-ingots at Hydro Husnes, used by customers who will re-melt the aluminum to make their own products.
Made in Russia

The T-ingots were made in Russia, so likely Hydro Husnes has purchased them to re-melt and create other end-products.
Storsunde

View to Melderskin that we climbed yesterday from the scenic passage Storsunde leading towards Rosendal.
Small Boat Passage

Passing through a narrow and shallow small boat passage between the islands of Skorpo and Eidsvikoy.
Palfinger

Lifeboats for the cruise ship Celebrity Beyond at the Palfinger manufacturing plant in Olve on the island of Tysnes. The ship is currently under construction and is scheduled for launch in the fall of 2021. A sister-ship, the Celebrity Apex, was scheduled to start operations in April of 2020, but was delayed due to the pandemic.
Dirona

Looking north to Dirona moored at the beautiful anchorage at the island of Sandsoya off Tysnes.
Click the travel log icon on the left to see these locations on a map, with the complete log of our cruise.

On the map page, clicking on a camera or text icon will display a picture and/or log entry for that location, and clicking on the smaller icons along the route will display latitude, longitude and other navigation data for that location. And a live map of our current route and most recent log entries always is available at mvdirona.com/maps.