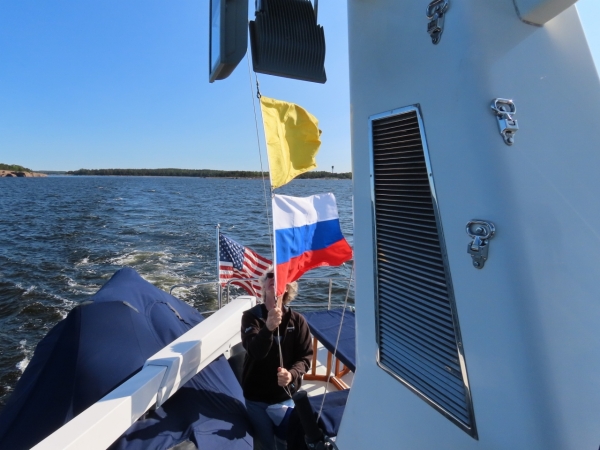 We've been to a lot of places over the years and seen many countries, but taking Dirona through Russia was never on our list of expected or planned trips. When we learned about Finland's Saimaa Lake region, however, we had to go. The Great Saimaa lake system is 1,690 sq mi (4,377 sq km) and is connected to the Baltic Sea via the Saimaa Canal, with two navigable branches extend inland about 220 mi (350 km). The lakes making up the region are interconnected by natural waterways and historic man-made canals, with a total shoreline length of 9,300 mi (15,000 km) and including about 14,000 islands.
The area is incredibly beautiful and well-worth visiting. But, to get to the region, one has to leave the Baltic Sea and sail through Russia. In many ways, that makes the trip more complex. On the other hand, this also makes the journey more exciting. The administrative overhead of the trip is reduced by Russia not requiring visitors to obtain visas in order to pass through to the lake, but all the other formalities are still required. We checked out of Finland at Santio, cleared into Russia at Brusnitchnoe Lock in the Saimaa Canal, and then had a detailed Russian Border inspection at Palli Lock before leaving Russia and then clearing back into Finland again at Nuijamaa.
Below are trip highlights from May 29th through 30th en route to and within the Saimaa Canal in Finland and Russia. Click any image for a larger view, or click the position to view the location on a map. And a live map of our current route and most recent log entries always is available at mvdirona.com/maps.
5/29/2019
Hevossalmi Bridge

We'd planned to exit the Helsinki area heading east through the Hevossalmi Bridge. According to the

Finnish Transportation Agency web site

and our cruising guide, the bridge opens every 30 minutes 24 hours a day. But we arrived at 5:20am to an updated sign indicating it was only open 7:30am to 11pm. Fortunately we hadn't gone too far out of our way.
Coast Guard

A large Finnish Coast Guard vessel was anchored off as we exited the Helsinki area.
Cable Ferry

Every cable ferry we've seen so far in Finland has been of similar design and painted bright yellow. This is the one between Sunintie and Timon.
Navionics

We've often heard that Navionics charts are more accurate than CMAP. As we travel the world, we've seen places where that is true and many places where it isn't. But in most cases they seem pretty close to the same. What's interesting is the Navionics charts "feel" better in that they often show more detail and, in extreme cases, the CMAP charts show gray ("unknown") whereas the Navionics charts shows depth contours. It seems like the CMAP charts are very conservative when they lack data and the Navionics charts makes estimate. The net result is the Navionics charts often look and feel more accurate even though they appear to be drawing from the same base chart data.

Here's an example where CMAP shows little detail (see screenshot) but indicates that it's safe to pass. The Navionics charts, pictured, show great detail but indicate the passage has less than 6ft of water. We need 6 ft 7 inches and had plenty of water—the least depth we saw was 26ft. The Navionics estimate wasn't close in this case. Having seen these "bugs" from both chart manufacturers, we often consult both when detail is important.
Heading to Russia

We are going to spend much of June in the Saimaa Lakes area of Finland, near the border with Russia. The lakes area accessible via the Saimaa Canal that is partly in Russia and partly in Finland and we need to pass through Russia to reach the canal. We don't need Russian visas for a transit voyage with no Russian port stops, but we do need a lot of paperwork.

We'll clear out of Finland and the EU, then pass through Russia to the first lock in the Saimaa Canal. There we will clear through Russian customs and continue into the Saimaa Canal until we near the border with Finland. At that point, we'll pass through Russian Passport Control to exit the country, then we'll clear back into Finland once we cross the border.

We need customs paperwork for each country, multiple copies of a crew list, plus paperwork to re-import Spitfire into the EU. We've been in and out of the EU many time since arriving in Kinsale, Ireland two years ago, but this is will be the first time Spitfire has left the EU.
5/30/2019
Watchtower

Nearing Santio, near the border with Russia, where we'll clear out from Finland. Not surprisingly, a Finnish watchtower was prominent on the island as we approached.
Santio

On the dock at Santio, waiting for the Finnish Coast Guard to arrive to clear us out. The big yellow sign on shore reads "Passport control and customs clearance for yachts and pleasure craft" and beside it are an EU and a Finnish flag. We're at both the Finnish and the EU border.

It used to be possible to clear out the evening before and overnight on the dock at Santio to get an early start, but the rules have changed so that boats must leave once they are cleared out. So we anchored a few miles away and planned an 8am arrival. We still needed to notify the Coast Guard at least an hour before we arrived, so called at 7am and their central dispatch would notify the Santio Island crew to head over once they arrived at work.
Coast Guard

The Coast Guard arriving shortly after 8am to clear us through. They inspected our ship's papers and passports, including Spitfire's, and stamped our customs declaration, James' passport and five signed copies of the crew list. They were courteous and efficient and we were underway by 8:30am.
Russian Flag

Raising our quarantine flag and a Russian courtesy flag prior to entering Russia.
Entering Russia

Crossing the border into Russia. As part of the lease agreement between Finland and Russia to allow voyages through Russia to and from the Saimaa Canal, no photography is allowed in the border zone between the two Finnish borders, and cameras are required to be in their cases and stowed below decks.
Megafon

Since we're back in Russia, we decided to use our Megafon SIM card that

we purchased

on our recent trip to St. Petersburg. Even now, there's lots left in that 40gig we purchased for just over €4.
Vodafone

Whenever we cross a country border, we get a text message from Vodafone informing us how roaming will work there. The EU "

Roam Like at Home

" rules means we don't pay roaming charges within the EU and that's normally what the Vodafone text says. But in Russia we'd pay a whopping €6,150 per gig in roaming charges—comparable to

BGAN satellite data

and ten times higher than we pay for our

KVH V7hts

satellite data.
Vyborg

While in open water we didn't feel particularly like we were in Russia, but it became a lot more "real" as we entered the channel towards the city of Vyborg where at least a dozen Russian Coast Guard vessels were moored. Bummer that we couldn't take any photos.
Russian Customs

Russian Customs clearance and control is at our first landing in the country, right before Brusnitchnoe Lock. The process was smooth and efficient—we handed the officer the requisite paperwork, it passed muster, and we could drop our quarantine flag and enter the lock.
Russian Border Control

We passed through five locks and cleared out of Russia at the Palli Lock. There they inspected and stamped our passports and two copies of the crew list. And, as expected, they also inspected the boat.

The Russian Border check definitely lived up to it's reputation. Absolutely every cabinet, floor board, or inspection way needed to be opened for them to see inside. Pictures were taken of most and, even with two Russian inspectors, that level of detail took some time.

It was, by far, the most detailed inspection we have seen in all of our travels around the world. Australia and New Zealand were careful, but this brought the inspection process to entirely new level. The entire inspection process was completed inside the lock, so the lock is unavailable for use during the time we're being inspected.
Nuijamaa

At the dock in Nuijamaa, just across the Finnish border, ready to clear back into Finland.
Cleared into Finland

The Finnish Border Guard arrived shortly after we did, having been notified of our arrival by the Palli lockmaster. They inspected our paperwork and passports, briefly inspected the boat, and cleared us through. James ended up with four stamps in his US passport for the day: one on exiting Santio, two at the Russian Boder check as we exited the country, and a fourth as we returned back to Finland at Nuijamaa.
Excursion Boat

It was past 6pm by the time we cleared through, so with permission from the Finnish Border Guard, we overnighted on the clearance dock. We're glad to have gone on the inside as several large boats went past throwing a substantial wake.
Saimaa Lake

This morning we checked out of Finland at Santio, cleared into Russia at Brusnitchnoe Lock in the Saimaa Canal, and then had a detailed Russian Border inspection at Palli Lock before leaving Russia and then clearing back into Finland again at Nuijamaa. It made for a big day, but it was exciting. We have three more locks to pass through in the Finland portion of the Saimaa Canal tomorrow morning and then we'll spend the next few weeks in the Lake Saimaa region.
Click the travel log icon on the left to see these locations on a map, with the complete log of our cruise.

On the map page, clicking on a camera or text icon will display a picture and/or log entry for that location, and clicking on the smaller icons along the route will display latitude, longitude and other navigation data for that location. And a live map of our current route and most recent log entries always is available at mvdirona.com/maps.