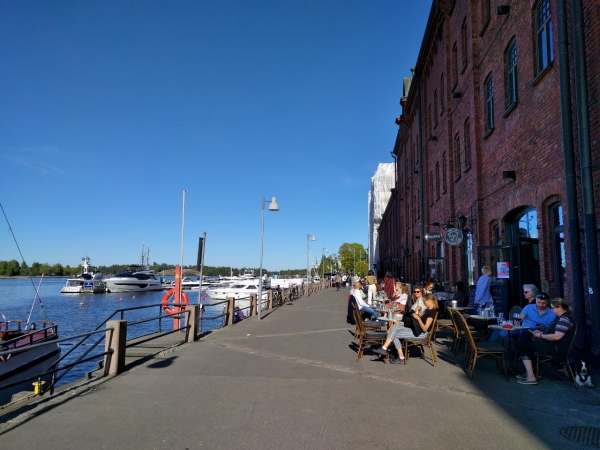 Helsinki Marina was an excellent home base for us for two weeks while we explored the city. The marina is right downtown, and within walking distance of many restaurants, bars and attractions. It also was a safe and secure place to leave the boat while we made a couple of longer trips to Tallin, Estonia and St. Petersburg, Russia, and is close to a tram service that brought us right to the ferry terminal.
We very much enjoyed our time in Helsinki and would have loved to have spent more time there, and would have if the Saimaa Lakes weren't calling.
Below are trip highlights from May 14th through 28th while moored at Helsinki Marina, Finland. Click any image for a larger view, or click the position to view the location on a map. And a live map of our current route and most recent log entries always is available at mvdirona.com/maps.
5/14/2019
Helsinki Arrival

Moored in downtown Helsinki after a two-day run from

Oro

.
Helsinki City Walk

Helsinki is a city of striking architecture, both modern and traditional, including Neoclassical, Art Nouveau and Modernist. The city also is full of sculptures and other works of art. As is normally our custom when arriving in a new city, we went on an extensive walking tour, this one a 10-mile Lonely Planet-inspired Helsinki "Iconic Buildings and Monuments" city walk.
5/15/2019
Katajanokka Island

Katajanokka Island is home to Helsinki Marina, where Dirona berthed for two weeks, and to several large commercial docks, including the Icebreaker Base and the terminal for Viking Line ferries. The island also has some beautiful Art Nouveau buildings and a wonderful modern construct, the Allas Sea Pool, with terraced decks overlooking the harbour.
5/16/2019
Tallin, Estonia

Tallinn, the capital of Estonia, was a German-dominated Hanseatic League port starting in the early 13th century and has a marvellously preserved Old Town, one of the best in Europe. The city also has an excellent maritime museum, a TV tower with great views and a wonderfully restored 18th-century Russian palace and grounds. And Tallinn also has some interesting, and sobering, remnants of the period from 1940 through 1991 when Estonia was under Soviet control.
5/18/2019
Bow Thruster

An historic boat navigating in the harbour and using a tender as a bow thruster.
Oil Change

Time for another oil and filter change on the main engine. It's been 240 engine hours and a surprisingly long 7 months since the last change.
Le Petit Chaperon Rouge

Enjoying a glass of wine with a view to the Helsinki harbour at Le Petit Chaperon Rouge.
Patrol Boat 55

When

Patrol Boat 55

appeared close alongside, we were expecting an inspection. But it's no longer a navy vessel and has been converted into a small cruise ship.
5/19/2019
Suomenlinna

Suomenlinna sea fortress was built on an island group outside Helsinki in the 18th century to protect Swedish-held Finland from a Russian attack. Today much of the fort is open to the public and is a popular day-trip from Helsinki. Besides the extensive fort ruins to explore, the island also is a prime viewing location to watch the big Baltic ferries that dock in Helsinki Harbour make their way through the narrow 400-ft (120m) channel between Suomenlinna and Vallisaari.
5/20/2019
KVH V7hts

Our V7hts continues to operate but it often looses signal when the boat turns and, at times, won't make connection after a disconnect without a reboot. The problem was remotely diagnosed as a slow azimuthing system and the main circuit board was scheduled for replacement at our next port of call. This picture is of the V7hts open for service showing the electronics control box in the bottom of the dome. You can also see the belt that turns the fully stabilized antenna.
Circuit Board

The now replaced V7hts main circuit board. We'll not know for sure until we're next in rough water but the system now tests out perfectly so we expect it'll do well on the water.
Junction Box

James is working on an intermittent I2C bus communications problem where the system works perfectly and never faults unless the engine is running. Actually the engine running is fine but when the alternators start charging, there are intermittent I2C bus errors. This is the junction box for the control system including the I2C bus, 16 channels of digital I/O, and the three engine room warning lights (Blue autostart on, yellow warning, and red alert). The problem appears to be noise on the 5V power supply to the I2c Devices. A cleaner power source has solved the problem.
Kuja

Delicious, and huge, burgers with craft beer at Kuja in Helsinki's Kallio district.
Kaisaniemenlahti

Looking east from the bridge over the small bay Kaisaniemenlahti as we return back to Dirona.
5/21/2019
Finnish Border Guard

This time when an

official boat

came close alongside, they were here for a reason: it was the Finnish Border Guard coming by to check our Schengen status. They didn't want to see ship's papers, only our passports. They seemed very serious about immigration enforcement and if we weren't compliant, we expect it would have been a serious problem.
Butts

We glanced across the harbor to this scene on one of the historic ships opposite us. It was indeed a warm day in Helsinki.
Cable Remote

The remote failed on the Glendinning shore power retractor for the second time in 9 years. The first time this expensive part failed, we replaced it with a $15 generic wireless remote. The bad news is our generic replacement lasted about the same as the OEM part. The good news is it's 1/10th the cost, easy to change, and we have a spare.
Power Wash

A thick pollen has been falling all over Helsinki the past few days—the water surface in sheltered areas has a thin green coating and so does all of Dirona. James gave it a power-wash today and you can see how green the water runoff is. No wonder James has been having allergy issues.
Mika and Katri

We last saw Mika Naatula and Katri Rosenberg of Nordhavn 64

Sweet Hope

while we were in

Southampton UK

early last year. Mika and Katri live in nearby Espoo and came by for a visit.
Allas Cafe

A delicious meal at Allas Cafe with great company and a wonderful view overlooking Helsinki Harbour. Mika Naatula and Katri Rosenberg of Nordhavn 64

Sweet Hope

have been giving us great advice on cruising in Finland and we'll be following more of it as we cruise Lake Saimaa.

If you are interested in cruising through some of the wonderful places we've visited in the past few weeks, or if you just want to spend some time learning about a Nordhavn, Sweet Hope is available for charter. Their boat is beautiful and it's hard to get more knowledgeable hosts than Mika and Katri. Check out some of the itineraries at the bottom of sweethope.fi/.
5/22/2019
Vacuum

Our engine room wet/dry vacuum stopped working. James took it apart and found connection damage from excess current draw and heat. It's back to running now but we'll need to replace it on our next trip back to the US.
Head

Our Tecma Silence Plus heads have been remarkably reliably. Nearly a decade later they have never failed. The one maintenance item is a small hose that plugs up. The hose bridges between the top and the bottom of the S-shaped hose that connects the bowl to the macerator motor. In steady liveaboard use it seems to go four or five years between replacements but this period will depend upon the mineral content of the flush water, where harder water will require more frequent attention. We cleaned out the big S-shaped hose and replaced the small clear hose that connects the top and the bottom.
5/23/2019
Princess Anastasia to St. Petersburg

St. Petersburg was high on our list of destinations, but visiting in Dirona would require obtaining Russian visas, not to mention the challenges of bringing the boat into Russia. Special rules for cruise ships and certain passenger ferries, however, allow visa-free stays for up to 72 hours. So we booked a trip from Helsinki on the Princess Anastasia that would give us two nights in the city and nearly three days to explore.
5/24/2019
The Hermitage

The vast Hermitage museum in St. Petersburg, Russa contains one of the world's greatest art collections. The main complex comprises five separate buildings, including the opulent 18th-century Winter Palace, with a total of 360 rooms. Even without the artwork, touring the spectacular Winter Palace is worth the price of admission.
5/25/2019
Peterhof Palace

Peterhof Palace is a UNESCO World Heritage Site 18 miles (29km) southwest of St. Petersburg, Russia. In the early 18th century, Peter the Great stayed in a small cabin in the area while overseeing the construction of the offshore fortress Kronshtadt. He liked it so much that he later built a small villa here, and then several palaces with extensive gardens.
5/26/2019
St. Petersburg Edifices

We spent our third and final day in St. Petersburg viewing some of the city's most famous tsar-initiated edifices. We started with Peter & Paul fortress, where in 1703 Peter the Great founded his new Baltic port city, and toured two spectacular churches: Church on the Spilled Blood and St. Isaac's Cathedral. We also viewed some smaller tsar-commissioned items at the the Faberge Museum, notably the ornate jewelled eggs traditionally given to their wives as Easter presents.
5/27/2019
Kappeli

We had an excellent meal in a fabulous class-enclosed private corner table at

Kappeli

. The cafe dates from 1867 and is a Helsinki fixture. We also had a great view to the bandstand behind us, where talented local music students put on a great show.
Jet Skis

A pair of jet skis roaring around the harbour.
5/28/2019
Fluorescent Ballast

The engine room fluorescent light went out above the engine. We changed the bulbs, but that didn't help so we changed them back to the old ones and replaced the fluorescent ballast. A fluorescent fixture in the lazarette also was out. We changed both ballasts and are back to white and bright.
Groceries

Picking up a load of produce and other groceries at one of Helsinki's several Lidl grocery stores in preparation for the upcoming Saimaa Lakes trip.
Click the travel log icon on the left to see these locations on a map, with the complete log of our cruise.

On the map page, clicking on a camera or text icon will display a picture and/or log entry for that location, and clicking on the smaller icons along the route will display latitude, longitude and other navigation data for that location. And a live map of our current route and most recent log entries always is available at mvdirona.com/maps.