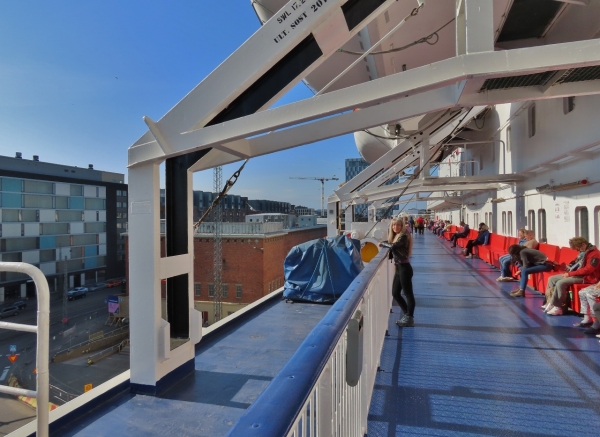 St. Petersburg was high on our list of destinations, but visiting in Dirona would require obtaining Russian visas, not to mention the challenges of bringing the boat into Russia. Special rules for cruise ships and certain passenger ferries, however, allow visa-free stays for up to 72 hours. So we booked a trip from Helsinki on the Princess Anastasia that would give us two nights in the city and nearly three days to explore.
We'd booked our trip to St. Petersburg back in early March while still in Amsterdam. In researching the trip (the Adventurous Kate blog post was most helpful), we'd learned 1) most cabins have twin beds 2) to avoid deck 6 cabins because some are below a disco and very loud and 3) the disembarkment and immigration process at the St. Petersburg end is a real nightmare with long delays, no queues and everyone just pushing forward to get to the front. We resolved all three issues by booking a Deluxe Cabin for about €200 (per person) over the base price of €107 for an interior, twin cabin. This put us on deck 5 with a window and double bed also and gave us VIP status, which included priority check in and disembarkment.
We were a little apprehensive entering Russia as US residents, given the strained relationship between the two countries, but passed through Russian immigration quickly and with no problems. The most difficult time we had with immigration actually was in departing Finland. The ticket agent said James wasn't allowed to travel if he'd been in the Schengen area for greater than 90 days and called for official approval. (Since Jennifer is a British/EU citizen, days James is accompanying her don't count against his Schengen 90-day limit). Unfortunately the Finnish Border Guard said the same thing as the ticket agent, despite a letter we had with us from the EU stating otherwise, but disappeared with our passports to check. 45 minutes later, within 15 minutes of the check-in closing, he came back with an approval to travel. Whew.
Below are trip highlights from May 23rd and 24th, 2019 en route to St. Petersburg, Russia. Click any image for a larger view, or click the position to view the location on a map. And a live map of our current route and most recent log entries always is available at mvdirona.com/maps.
More on our St. Petersburg trip is at:
Helsingin Kissahotelli

Spitfire checking out his new digs at Helsingin Kissahotelli where he'll be staying while we're away for four nights in St. Petersburg.
Bad Bad Boy

Helsinki's infamous 28ft (8.5m) Bad Bad Boy statue by the St. Peter Line ferry terminal. The work was unveiled in 2014 in the downtown harbor as part of an exhibition and was moved to a permanent home the West Harbour in 2016.
Schengen

After disappearing with our passports for 45 minutes, the Finnish Border Guard finally giving us approval to travel, within 15 minutes of the check-in closing. Whew.
Princess Anastasia

Our ride to St. Petersburg, the

Princess Anastasia

, that

we'd seen

a couple of weeks back en route to Arholma.
Cabin

Our cabin on the Princess Anastasia for the overnight run to St. Petersburg. We were right at the front of the ship with a view forward. As soon as the car deck bow door is lowered, we'll be able to see forward of the ship. After the major delay at checkin, we were quite relieved to finally be on board.
On Deck

Checking out the Princess Anastasia an hour before we depart Helsinki for the 14-hour run to St. Petersburg. We depart at 7pm and arrive the next morning at 9am.
MT Yuriy Kuchiev

The 755-ft, 50,000 DWT Icebreaking Gas Condensate tanker MT Yuriy Kuchiev under construction at the Arctech shipyard in Helsinki Finland. This one is so big it won't even fit into the large ship building at the Arctech Helsinki yard. Like all icebreakers, this one has a lot of power with 2 12 cylinder and 2 16 cylinder Wartsila main engines putting out a combined 42,054 hp. It can break 5′ meters of ice and, when operating astern, it can break a full 6 feet of ice at a continuous 2 kts. The ship is scheduled to be completed and delivered this year.
Deck 11

We loved deck 11 on the Princess Anastasia, where you could get up high and right behind the bridge.
Sky Bar

The deck 9 Sky Bar looking down from deck 10 on the Princess Anastasia. That empty round table in the left corner had our name on it, so we hustled down and snagged it for a drink on deck.
Bridge

Watching from behind the bridge as the captain operates from the wing to bring the Princess Anastasia off the dock at Helsinki.
New York City

We had a good dinner at New York City restaurant on the Princess Anastasia. The ship has a number of restaurants, but reservations can only be made for this one. We reserved a table as soon as we got on board and got a great window booth.
World Championships

While passing through the boat, we saw a hockey game playing in the casino and stopped to watch Finland playing Sweden in the Ice Hockey World Championships.
VIP Lounge

An unexpected perk of our VIP status was this VIP lounge right at the front of deck 8. It is pretty well hidden behind the casino and we just stumbled on it when exploring. Nobody else came in, so we had the place all to ourselves.
5/24/2019
Big Port of St. Petersburg

Our cabin on the Princess Anastasia was quiet and comfortable and we slept well before arriving into St. Petersburg the following morning. This is looking across the forest of cranes as we pass through the Big Port of St. Petersburg. The port is the second largest in the Baltic Sea and the third largest in Russia with 200 berths and 19 miles (31km) of berth space.
Coal

Piles of coal at the Big Port of St. Petersburg. The channel we're in is quite narrow, giving us a great view to the land on both sides.
Terminal

The St. Peter Line Ferry terminal in St. Petersburg. Disembarkment and immigration was a breeze. With the

priority disembarkment

, we were within the first ten off the boat and through immigration in minutes. James, travelling on a US passport, actually got through Russian immigration faster than Jennifer, whose British passport was carefully examined with a magnifier, perhaps because it carried no stamps at all.
Konnogvardeisky Bulvar

To qualify for the visa-free visit to St. Petersburg, our ferry ticket included the purchase of a mandatory guided tour. This really is just a shuttle bus that stops at a few hotels and then near St. Isaac's Square. We were then on our own for the rest of the time in St. Petersburg.

Here we are walking down tree-lined Konnogvardeisky Bulvar to our hotel shortly after getting off the shuttle bus. It's 9:53, less than an hour after we docked in St. Petersburg.
Click the travel log icon on the left to see these locations on a map, with the complete log of our cruise.

On the map page, clicking on a camera or text icon will display a picture and/or log entry for that location, and clicking on the smaller icons along the route will display latitude, longitude and other navigation data for that location. And a live map of our current route and most recent log entries always is available at mvdirona.com/maps.