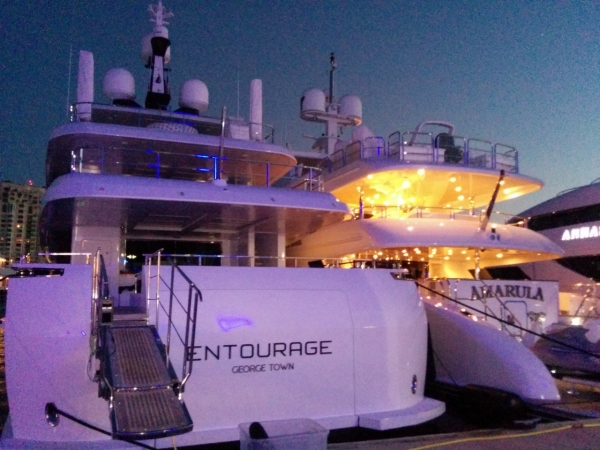 After our Naples trip we drove south to Fort Lauderdale twice, once to visit North Trail RV Center and the other to attend Fleet Week Port Everglades. In between, we visited Stuart to the north to check out a couple of boat yards.
Trip highlights from May 5th through 9th follow. Click any image for a larger view, or click the position to view the location on a map. And a live map of our current route and most recent log entries always is available at http://mvdirona.com/maps
5/5/2016
North Trail RV Center




We love adventure and exploring, and have always found RVs appealing. On the way to the Fort Lauderdale airport to visit

Metal Shark Boats

a few weeks back, we passed a large RV dealership and decided to drive down and check them out. We looked at pretty much everything on the lot, from compact Sprinters to full-sized buses. RVs seem to have even more compromises than boats.
American Social




After spending much of the day at

North Trail RV

, we headed down to Las Olas Blvd and had a great meal on the patio at American Social.
Snap-on




On our way back from Fort Lauderdale we noticed a large Snap-On display at the Marriott hotel parking lot, so stopped in to check it out. If you look carefully, this chopper is fashioned from dozens of tool-shaped parts.
Xfinity series




Snap-on sponsors Joey Logano's number 12 car in the

Nascar Xfinity Series

(after years of watching, we'll always think of it as the Busch series though).
NHRA




Snap-on also sponsors Cruz Pedregon's number 5 NHRA

Funny Car

. Funny Cars are one of the few ways possible to make boats appear to get excellent fuel economy. This car will burn 12 to 15 gallons in a 1/4 mile run. About half of that fuel is pre-launch fuel but, even discounting that, it's still a bit less than 0.04 MPG.
Torque wrench




Jennifer getting just the right amount of torque on a nut with a digital torque wrench. James had a beautiful set of Snap-on tools when he was an auto mechanic, but nothing as fancy as this. One of the few things we regret about selling everything from our house was his huge Snap-on toolbox.
Jack




We never did figure out what the Snap-on event was about, but we had a lot of fun checking out the displays.
5/6/2016
Breakfast




One of Soveral Harbour's many squirrels enjoying a big breakfast on James' bicycle seat.
American Custom Yachts




We've not yet decided on a yard for haulout, and drove north to check out a couple in Stuart today. Our first stop was

American Custom Yachts

. This is where Nordhavn Southeast did most of their yard work before relocating from Stuart to West Palm Beach. The yard is large, clean and appears well-run with pretty much any service you could imagine available. Several very large yachts were getting some major repair, upgrade and maintenance jobs done. Pictured are their 125-ton and 75-ton Travelifts. They also have a 30-ton lift.
Pirate's Cove




We had a great lunch in Pirate's Cove Marina overlooking Manatee Pocket.
Pelicans




Several fishing charter boats returned as we were having lunch. By the end of our meal, over a dozen pelicans had congregated below the fish-cleaning station looking for scraps.
SE Bridge Rd.




Returning south from Stuart, we took SE Bridge Rd to reach Jupiter Island for some ocean views. The route was through an incredible banyan forest that completely enclosed the road. They seem to take traffic violations seriously here—two police cars were monitoring speed less than a half-mile apart on a lightly-travelled road.
Beach




A public park was at the end of Bridge Rd., but most of the property on Jupiter Island was private. We did find a small beach access partway down and took a walk out onto the sand to see the ocean.
Villa




Many of the Jupiter Island houses were on large lots at the end of winding driveways and barely visible, or invisible, from the road. If the separate service entrances didn't give us enough of a hint to their size and value, the fact that Christie's International Real Estate has a page specific to

Jupiter Island

certainly does. We saw empty lots offered for as much as $5.75 million, and one developed estate was listed for $45.5 million.
5/7/2016
Fleet Week




This weekend we attended Fleet Week Port Everglades as a guest of

Mike Chan

, Protocol Officer with Navy Region Southeast, who was organizing the event.

Read more …
Water taxi




After a great day on the USS

Bataan

and the USS

California

, we took a water taxi from our hotel to the

Las Olas

district.
Sandbar Park




Dozens of boats were packed onto Sandbar Park enjoying the sunny Saturday.
Tarpon River




The water taxi left the Intracoastal Waterway for narrower and tighter Tarpon River. We'd be pretty nervous bringing Dirona through here.
Waterfront homes




Some pretty spectacular houses, and boats, lined the waterway.
Big City Tavern




After walking much of Las Olas Blvd, we finally settled on Big City Tavern for an excellent meal streetside.
Bahia Mar




After dinner we took the water taxi further north to the Bahia Mar area. An incredible number of super yachts are concentrated in this area.
5/8/2016
Boatyard




We got a late start to the day with a lazy and delicious brunch at the Boatyard restaurant along one of the canals off the Stranahan River.
View




The view from our hotel balcony, at the Hilton Fort Lauderdale Marina. In the distance beyond the 17th Street Causeway Bridge, you can just barely make out the Fleet Week ships at the right side of the picture. Jennifer shot the

footage of USS California

leaving the next day from here. We're pretty impressed with our

Canon PowerShot SX60 HS

for getting such clear shots at that distance. The SX60 is the latest in our series of non-SLR, lightweight, and relatively inexpensive

digital cameras

.
Blue Angels




The Blue Angels were one of several performers taking part in an air show during Fleet Week. We also saw the Canadian Snowbirds earlier in the day.
Allure of the Seas




The Allure of the Seas leaving Port Everglades. When we saw her, she was the largest passenger ship in the world with a length of 1,187 feet, a beam of 198 feet and a displacement of 225,282 gross tonnes. One week later, her sistership Harmony of the Seas went into service and took that title with a length of 1,188.1 feet, a beam of 217 feet, and a displacement of 226,963 gross tons.
Royal Pig




We returned to Las Olas for an excellent meal at the Royal Pig Pub. In an amazing coincidence, we ran into

Van and Tracy Anderson

of Nordhavn 55

Sunday Morning

.
5/9/2016
USS California




Today James got a rare opportunity to spend the day undersea on the nuclear submarine USS

California

.

Read more …
Click the travel log icon on the left to see these locations on a map, with the complete log of our cruise.

On the map page, clicking on a camera or text icon will display a picture and/or log entry for that location, and clicking on the smaller icons along the route will display latitude, longitude and other navigation data for that location. And a live map of our current route and most recent log entries always is available at http://mvdirona.com/maps.