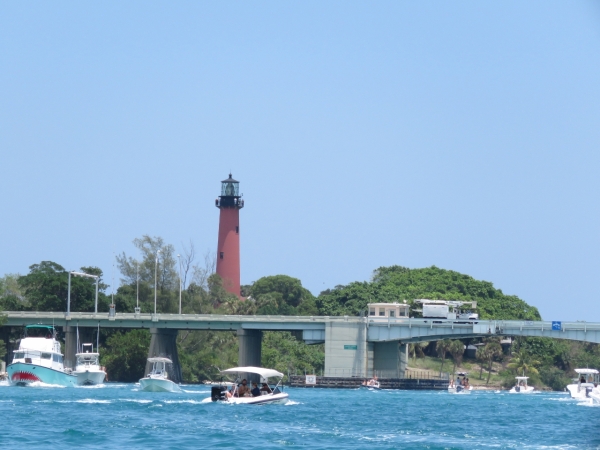 We decided to execute on the mission of sending two people to Jupiter and safely returning them to Florida. We got back in the same day, hardly used any fuel, and didn't even have to go into orbit. Jupiter, Florida is about six miles north of Soverel Harbour Marina—we went by tender along the intracoastal waterway. If the many low bridges, shallow water, and current hadn't already discouraged us from taking Dirona north through the intracoastal waterway, the busyness of the channel sure did.
Trip highlights from May 10th through 16th follow. Click any image for a larger view, or click the position to view the location on a map. And a live map of our current route and most recent log entries always is available at http://mvdirona.com/maps
5/10/2016
5/13/2016
Stella Maris




Pam and Bruce Harris

heading north on

Stella Maris

. Hopefully we'll see them again when we make our way north.
The Counter




James choosing from over a page of options to create his own burger at The Counter in the nearby Gardens Mall. They have great beers on tap, and the burgers are exceptional.
5/14/2016
Seminole Marina




We took the dinghy out for a run this afternoon. Seminole Marine, adjacent to Soverel Harbour Marina, has three Travelifts capable of carrying 60, 70 or 100 tons. Any of the three could lift 55-ton Dirona.
Harbourside Place




Several large yachts were moored outside the Harbourside Place mall complex.
Pete Damon Memorial Bridge




Lots of boat traffic at the Pete Damon Memorial Bridge. The intracoastal waterway is a busy place. These two relays will be contolled by the already-installed Raspberry Pi.
Indian River




Dozens of small boats were anchored bow-first below the sand cliff along the Indian River. People were swimming, sunning on the beach, fishing, barbecuing.
Rustic Inn




A late lunch on the patio at the historic Rustic Inn with a view to the iconic Jupiter Inlet Lighthouse. The light went into service in 1860 and, at 153 ft above sea level on a 105-ft tower, is visible at sea for 24 nautical miles.
Nordhavns




A surprising count of six Nordhavns were moored at Loggerhead Marina when we passed through. In the foreground is Nordhavn 64 King's Odyssey with N57 Jura on the right. The mast rising behind King's Odyssey is from Nordhavn 56MS Kindred Spirits. Not visible are N57 Bagan, N46 Hanuman and N43 Genesis.
Bella Leigh




Distinctive Nordhavn 6209 Bella Leigh hauled out at Seminole Marine. Original owners Ken and Roberta Williams named the boat Sans Souci. Icelandic singer Bjork purchased the boat in 2006, renamed it Dimma, and painted it black on the outside and pink and green on the inside. The boat was up for sale in New York in 2009, and now is here in Palm Beach Gardens with a new name.
Bottom clean




The boat beside us was out for the day, so we took advantage of the empty slip to power wash the bottom of the dingy and stow it back on the boat deck. Unsurprisingly, the the bottom of our dinghy had accumulated quite a bit of growth sitting in the water for the past few weeks, but we can only get it up and down when a boat beside us goes out.
5/15/2016
Measuring




One of our many orders to Soverel Harbour included a

Nikon Forestry Pro Laser Rangefinder

. We finally found some time today to test it out. The device is easy to use and appears incredibly accurate at determining horizintal and vertical distances. We'll use it to measure bridge clearances. Surprisingly, in many parts of the world, bridge clearances are neither charted nor marked on the bridge and a mistake can be expensive.
5/16/2016
Dowel




In large beam seas, the appliance garage doors behind the stove top occasionally slide open. So we cut a plastic dowel to fit in the track for when we are at sea.
Happy Hour




Happy hour drinks and appetizers at Carmine's Ocean Grill.
Click the travel log icon on the left to see these locations on a map, with the complete log of our cruise.

On the map page, clicking on a camera or text icon will display a picture and/or log entry for that location, and clicking on the smaller icons along the route will display latitude, longitude and other navigation data for that location. And a live map of our current route and most recent log entries always is available at http://mvdirona.com/maps.