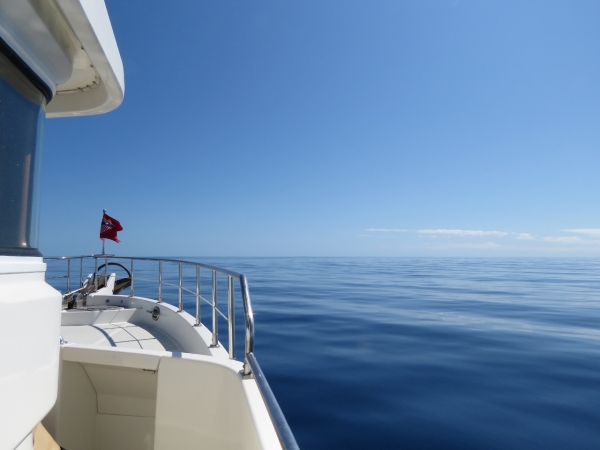 We reached the halfway point of our 3,005nm Indian Ocean crossing after ten days at sea. By that time, we'd drained all three of our deck bladders and were back to close to full fuel tanks for the remaining 1,500 miles of the trip. The weather for this first half of the passage has been remarkably good, with winds often below ten knots and mostly calm seas. Around the time we left Australian territorial waters, we finally escaped the strong counter-currents experienced for the first part of the trip.
All systems have been operating perfectly, particularly the Deere 6068AFM75 main engine. Nothing encourages respect of mechanical systems more than being 1,500 miles away from shore and not having seen another boat for more than a week. Amazingly, our KVH mini-VSAT satellite data system stayed connected over 1,000 miles into the Indian Ocean from Dampier. Eventually we did pass outside of its coverage area, and switched over to Immarsat BGAN.
Trip highlights from August 27th through Sept 4th follow. Click any image for a larger view, or click the position to view the location on a map. And a live map of our current route and most recent log entries always is available at http://mvdirona.com/maps
8/27/2015
7.1 knots




We escaped the clutches of that

strong counter-current

late last night and most of the day have been avereraging over 6 knots while well within our fuel economy goal. The negative current was a bit of a surprise. The recent

GRIBs

and

OSCAR

models indicated the current should be slightly with us. The

pilot charts

did show a 1/2-knot eastbound current to our south in the month of September–it's possible that current was stronger and further north. Another possibility is that we were in a backeddy of the south-flowing

Leeuwin current

. Whatever the cause, we're glad to be free of it and back to making close to the normal speed you'd expect at this fuel economy level in these conditions.
Cross-current




We passed through a strong cross-current today and

NAV mode

had the boat angled at 15 degrees to our course to keep us on track. This likely is the

West Australian Current

that flows northbound several hundred miles offshore. This isn't quite as bad as a direct counter-current, but it does reduce speed at a given fuel economy.
Boat




We saw what looked like a fishing boat about six miles away. This is only our third sighting of another boat in as many days.
Dishwasher




Our dishwasher is a standard household appliance and, like most houses, is designed to be on a level surface. If the boat is pitching and rolling substantially, water will slosh out. So we only use it in reasonably calm conditions.
6,000 hours




We just crossed 6,000 hours on our Deere main engine, and it's nowhere close to getting a rest–we have 2,426nm remaining in our Indian Ocean crossing. Love that Deere. We put 4,100 hours on our

previous boat's

Cummins engines. In total, we've now spent over 10,000 hours exploring, adventuring and having fun in boats.
8/28/2015
2,482 miles left




We've covered 523 miles and have less than 2,500 remaining. It's nice to know we still have 2,200 gallons of diesel on board.
Looking forward




We've been incredibly lucky with the conditions. Winds have generally been less than ten, if not less than five, with only a low, gentle swell. The boat is running perfectly and we're really enjoying the trip. The only negative to the trip so far are the sometimes very strong counter-currents.
Looking back




Our wake trailing behind us in the distance with no waves to wipe it away. It feels like we're on a protected lake rather than 500 miles out into the Indian Ocean.
8/29/2015
Moon




Purring along at 7 knots under a moon almost as bright as the sun.
Forward bladder




The forward bladder, made by

ATL

, sits securely in the portuguese bridge area and gives us an additional 360 gallons of fuel range. We still strap it down, but nothing short of turning the boat upside down will shift it. We tested this third bladder on the

Tasman Sea crossing

, but this is the first time we've needed it. And the first time we've had all three bladders deployed.
Draining forward bladder




To transfer fuel from the bladder to the main fuel tanks, we use the same system as described in

Fuel for the Crossing

with a fuel hose that runs directly from the bladder to the cockpit bulkhead fuel fitting.
Fuel transfer




James monitoring the fuel transfer from the forward bladder. Because the fuel bladder is plumbed directly into the

cockpit bulkhead

, which connects to our fuel transfer pump, the entire volume of fuel can be transfered from the bladder with nobody standing outside and no fuel tank openings exposed to weather and water.
Empty bladder




The forward bladder completely pumped down, but still secured on deck. We plan to fill it in Rodrigues, even though South Africa is only 1800 miles away, to give us the option to run much faster if we choose to since the weather is volatile and potentially dangerous in that area.
Tank levels




Nice to see the main tank fuel levels going up 725 miles from shore.
Power wash




Even though we just got some rain, it was just a small sprinkle and the boat still was crusted in salt from the run to Dampier. So James gave it a quick washdown with the power washer. It's sooo much nicer to be able to go outside without getting covered in salt.
Counter-current




We're back in a strong counter-current again and at times have had to reduce speed to four knots to maintain our fuel economy goal.
8/30/2015
Laundry




We've been out for a week, so it's time to change and launder the sheets.
12ft seas




In this screenshot of yesterday's

GRIB data

visualation, the red boat icon shows our current position and the blue boat icon our projected position for 4pm on Aug 30th. The slider along the bottom right visualizes the data for a given date and time. The model data indicated we'd be in 12-ft seas on a 14-second period right now and that's pretty much what we're seeing. The waves are big, but so far apart that the motion is gentle as we slowly rise up and down each one. And despite the wave height, our fuel-economy-limited speed is back over 6 knots.
Still connected




We love our

KVH mini-VSAT

satellite data system—the service is excellent and the data rates are very good. They cover most of the planet, but unfortunately not the central Indian Ocean, the South Pacific, or either pole. We weren't expecting it to last much more than a few days out of Dampier, and amazingly, it still is connected nearly 900 miles out. We expect to be out of range in a day or so through. Then we'll be using

Immarsat BGAN

and only connecting a few times a day instead of always on.
8/31/2015
Berries




The last of the strawberries and rasberries

from Darwin

. They lasted well, particularly the rasberries, with no losses. Our

Sub-Zero fridge

, with it's excellent humidity control, is a major factor in that.
Loose screw




The screws holding the barrel bolt on the guest stateroom door all backed out and the door was almost free to move. It's amazing what 6,000 hours and a lot of time at sea can do.
Conditions




The wind came up to around 20 kts overnight, kicking up the seas, and we've started to pitch and roll much more than the first few days. The maximum roll still is only around 13 degrees though. That orange indicator light at the bottom of the screen is our V7 (

KVH Mini-VSAT

) status. It shows green when the system is connected and orange when powered but not able to make a connection. Yesterday we were seeing more green than orange, today it's more orange than green as we approach the coverage boundary. The bigger seas aren't helping.
2,000 miles left




We've covered over 1,000 miles already and have 2,000 left to go. The orange line is our route from Dampier to Rodrigues. The other blue lines are various routes we've drawn to measure distances for planning and comparing alternatives. Right now we're almost directly south of Cocos Keeling.
Spaghetti




Spaghetti with meat sauce for dinner. Rodrigues is four hours ahead of Dampier so we've decided to move the clocks back in two increments so Jennifer can enjoy the sunset before she goes off watch.
9/1/2015
Stellar Ocean




We saw our first ship today since since the

unidentified boat

we saw five days ago. This one, the 1085ft (331m) cargo ship

Stellar Ocean

, was displaying AIS. The ship passsed about ten miles ahead of us en route to the port with designation CNTAO, likely somewhere in Asia.
Outside coverage




We just passed outside the coverage area of our

KVH mini-VSAT

satellite data system. We had sporadic, brief connectivity until this morning, enough to push the route updates through, but it eventually stopped entirely. We're amazed it lasted so far–over 1,000 miles into the Indian Ocean from Dampier. Today will be our first day using

Immarsat BGAN

since arriving in New Zealand.
9/2/2015
Conditions




Conditions have calmed down again and the seas are more on the stern than the beam. Winds are below 15 knots, pitch and roll (third and fourth from right on third row) have greatly reduced, and we're making excellent speed around 7 knots.
Are we there yet?




Spitfire scouting forward for land—it's going to be a while little feller. Conditions have remained calm, with light winds and a low swell.
9/3/2015
Aft bladders




We drained the cockpit bladders today. The bladders have been super-stable on deck, even when the seas kicked up (and the seas are building again today as you can see behind us). Before this use, the bladders were in storage for over two years in the hot flybridge brow, with a small amount of residual diesel inside from their

last use

. We were a little worried about algae growth, but detected no obvious issues. This time we treated the bladders with a biocide after they were emptied to hopefully head off any potential future problems.
Full tanks




We've now got all the fuel off the deck and into the side tanks where it belongs. Nice to see nearly full tanks again.
Halfway




We've a little over halfway now, at 1480 miles remaining. All systems are operating perfectly, especially that Deere main engine.
Click the travel log icon on the left to see these locations on a map, with the complete log of our cruise.

On the map page, clicking on a camera or text icon will display a picture and/or log entry for that location, and clicking on the smaller icons along the route will display latitude, longitude and other navigation data for that location. And a live map of our current route and most recent log entries always is available at http://mvdirona.com/maps.