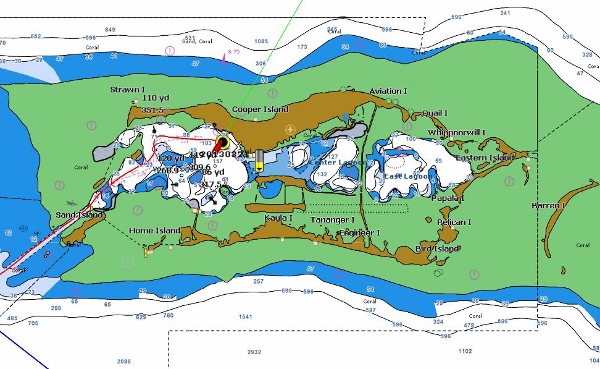 We arrived at Palmyra Atoll six nights after leaving Honolulu. Conditions on the run there were by far the best we've seen. We had the wind and current behind much of the way, and boat motion was minimal until the last night. Jennifer normally needs to wear a scopolamine patch for offshore runs, but didn't need to on this one and didn't feel the slightest bit queasy. We shot some video off the stern showing the relatively light conditions.
On the final night, the wave period decreased to six-seven seconds with seven-eight-foot seas on the beam. We were rolling ten degrees consistently and occasionally twenty degrees.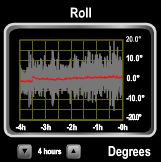 On the last day, the main fuel tanks had enough space that we could transfer the fuel from the bladders. So the main tanks are now full again.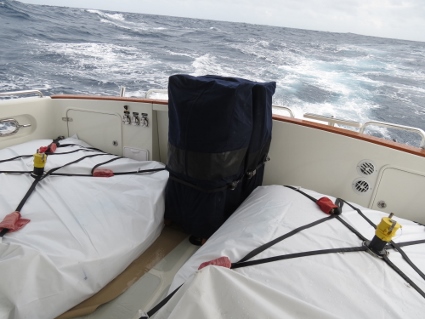 When we were about thirty minutes off the main channel, we radioed Palmyra to let us know we were arriving. Amanda Pollock, the Wildlife Refuge Manager for Palmyra Atoll and Kingman Reef National Wildlife Refuges, answered and would come up to guide us through the channel. Below is footage of our entry into the atoll. When Jennifer first appears on deck, she's removing the line that secures the anchor. The second time, she is attaching the snubber between the anchor chain and the boat. Snubbers take strain off the windlass, give the rode some elasticity, and isolate the boat somewhat from the noise of chain scraping across rock on the bottom.
Palmyra Atoll is absolutely beautiful. Palm trees crowd the shore above lush vegatation. Around the atoll, the sea color varies from deep aquamarine to pale turquoise inside a white frothy edge of breaking surf. But you can hardly hear the surf above the calls of the thousands of seabirds that wheel in the sky above us.
Amanda guided us to the designated anchorage. We'd corresponded with her while in Hawaii to obtain our visitor's permit–it was nice to finally meet in person. On board with her was Eric Pohlman of the Nature Conservancy. Once we were secure, Amanda and Eric came onboard to brief us on the island and rules for visitors. Spitfire, as usual, was the star of the show. One of Eric's first questions was "Where's Spitfire?" But Spitfire still has to follow the rules. Amanda jokingly gave him a stern warning to "stay away from my birds". We explained that Spitfire is more of a kibbler than a hunter.
An extensive research camp is on Cooper Island, the only island open to the public. The Nature Conservancy manages Cooper Island, while the Department of Fish and Wildlife is responsible for the rest of the reserve.
So now we are within six degrees of the equator–by far the farthest south we've ever been in Dirona. Oh–and we have WiFi.