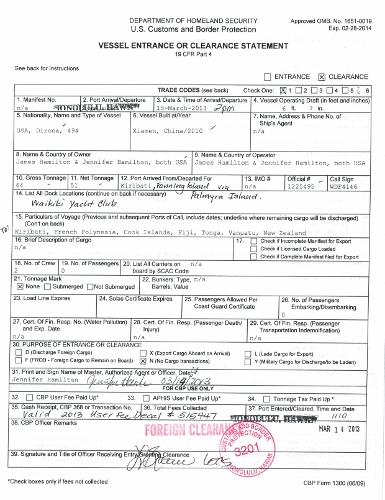 Yesterday we got our first ever outbound clearance paper, or Zarpe, leaving Honolulu bound for Fanning Island, Kiribati via Palmyra Atoll. While we've left the US before, so far it's only been to Canada, where a Zarpe is not required to enter the country. But Kiribati, and most other countries we will visit over the next few months, require a Zarpe from the previous country entered.
Our first leg will be 960 miles south to Palmyra Atoll, a US national marine monument in the Northern Line Islands. The Nature Convervancy owns Palmyra Atoll, and jointly manages the island with the US Fish and Wildlife Service. Access to Palmyra requires a permit for a maximum seven day stay, and only two boats can visit at a time. The island recently went through a major de-ratting–the FV Aquila that we visited in Bell Harbor was part of that operation. As a result, any boat visiting must have a rat inspection. We passed ours. Palmyra also is famous as the site of the Sea Wind murders, documented in the book and TV miniseries The Sea Will Tell.
From Palmyra we'll travel to another atoll in the Northern Line Islands: Fanning Island in the Republic of Kiribati. And we're finally actually leaving the US. We've travelled nearly 10,000 miles in Dirona, to Prince William Sound, up the Columbia and Snake Rivers to Idaho and across to Hawaii. But other than a couple of quick trips to Canada, we've never actually left the US.
We fueled up this morning and set off with 2,350 gallons of diesel, including all tankage. Our next fuel stop will be in Nuku Hiva, Marquesas Islands. That will be 2,550 miles, plus two to three weeks of generator time. We took on fuel from Mike Rossman's Marine Petroleum Corporation–great service, good fuel, and excellent pricing. If you're fueling in Hawaii, there's nobody else to call.
We'll be posting our route and other updates on the site (http://www.mvdirona.com/maps/locationcurrent.html). But for most of the trip through the South Pacific we will be out of range of our KVH V7 and will have to use the more expensive BGAN at a memorable $8,000 per gig. So our updates may be less frequent.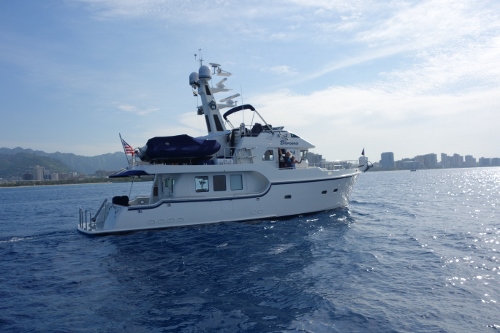 Don Stabbert was taking Starr into fuel with Mike after us, and took the picture above as we set off for Palmyra.