We have four Lenovo ThinkVison L1900p monitors for navigation. They have a low-profile bezel and controls in the front, so can readily be flush-mounted into the pilot-house dash. The display is crisp and clear, and we're very happy with them. But we found they were a little bright for night running, even with the screen brightness turned down and the chart plotter in night mode. So we needed some kind of dimming cover.
We wanted something that would be simple to use, and in particular wouldn't require dimming the monitor itself. We couldn't find a commercially-available product, so we asked Tap Plastics for a quote on building custom covers. The price turned out to be quite reasonable: ~$25 for two 1/8″ pieces of transparent solar grey acrylic bonded together to form a corner.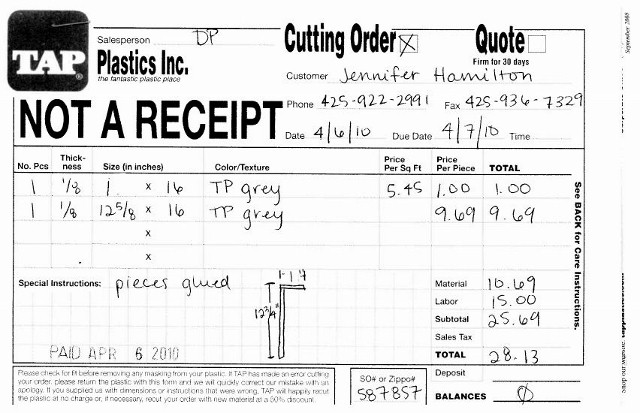 We had one built as a test and it fit perfectly. The monitors were still a little bright, however, so we added AT-5 (Limo) auto tint film to the covers and that solved the problem. With the covers in place, the monitors are acceptably dim, even with the chart plotter in day mode. And should we want additional light-reduction, we can change to dusk or night mode. The screens fit snuggly over the display and stay in place without attachment, although we do plan to add velcro attachments to secure them in rougher water.
We've found the covers handy when moored as well. We usually have a couple of monitors on to display weather and other data, but they are a little bright for sitting in the pilot house in the evening with the lights dimmed. Instead of turning off the monitors and losing the information display, we can just drop the covers in place.
Below is a shot taken before and after the cover is in place, with no adjustment made to the display brightness.