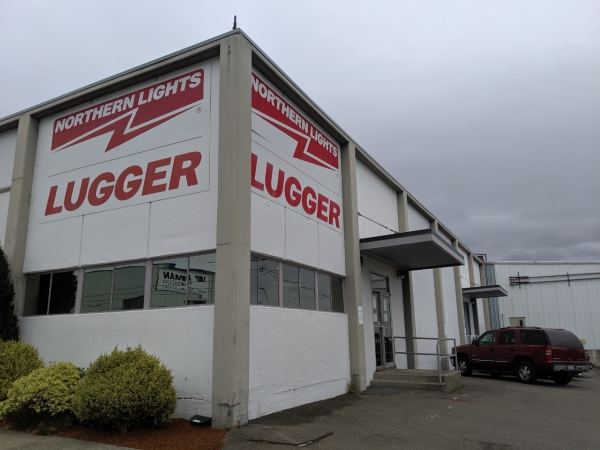 In mid-July, we made our annual summer trip to Seattle for James to participate in a multi-week AWS business review. It's a busy time, with lots of meetings, plus we picked up about 300 pounds (136kg) of spares and supplies to bring back with us. We also found time to have some fun, including attending a Sounders soccer and a Mariners baseball game, visiting with friends, and stopping by our old home port at Bell Harbour Marina.
Below are trip highlights from July 11th through 29th, 2019. Click any image for a larger view, or click the position to view the location on a map. And a live map of our current route and most recent log entries always is available at mvdirona.com/maps.
7/11/2019
Spitfire

We'll be making a two-week trip to Seattle tommorrow and Spitfire is heading to "the resort" tonight. We hate leaving him behind, but a transatlantic flight in the cargo hold wouldn't be easy on him either.
Djurtaxi

Husdjurs Transporter

djurtaxi (animal taxi) picking up Spitfire for transport to Ekbackens Kattpensionat. The cattery is a good hour's drive outside of Stockholm, so we're using a recommended pet taxi service.
Ekbackens Kattpensionat

Spitfire in his huge private room and terrace at

Ekbackens Kattpensionat

. He's playing it cautious now and staying in his bag, but soon will be out to investigate his new digs and also all those toys they've placed out for him. (Photo courtesy of

Husdjurs Transporter

.)
7/12/2019
ABBA Museum

Waiting for our tram to Stockholm Central station on our way to Stockholm airport for a trip to Seattle. The tram stop is outside the ABBA museum, topped with silver platform boots, dedicated to the famous Swedish pop band. ABBA were one of the best-selling acts of all time, with an estimated 360 million records sold worldwide and hits such as Dancing Queen, Knowing Me, Knowing You and Take a Chance on Me. The museum's tagline is "Walk in. Dance out.", so we're a little afraid to visit. :)
Stockholm Central Station

Jennifer sporting her new

Scania

V8 T-shirt at Stockholm Central Station. We will take the Arholma Express to the Stockholm Airport, Arholma, for a trip to Seattle.
Arholma Express

Riding the Arholma Express to the airport. We could easily have taken a taxi, but we find the trains a part of the adventure and prefer taking them when convenient.
100 MPH

The Arholma Express trains have a maximum speed of 125 mph (200kph) and make the 24-mile (39km) run to the airport from Stockholm Central station in just under 20 minutes. We have only two bags to check on our outbound trip. The bag closest to Jennifer has two more bags inside—we'll return with all four packed with spares and supplies.
Arlanda Station

Huge escalator rising from the Arholma Express station to the airport terminal.
Thames

The O2 indoor arena to our south as we fly over the Thames shortly before landing in Heathrow for our connection to Seattle.
Upper Deck

Heading to the upper deck of a British Airways 747-400 for the ten-hour flight from Heathrow to Seattle.
Whidbey Island

Looking southeast across Whidbey Island, north of Seattle, as we begin the approach to SeaTac airport.
Seattle

Great view east to Seattle on our approach to SeaTac airport. The large marina at far left is Shilshole Bay Marina and at bottom center is Elliott Bay Marina, where we had a slip for ten years. Downtown Seattle is at the right with Lake Washington beyond. The narrow inlet running southeast from Shilhsole is the Lake Washington Ship Canal that connects Lake Washington to the Puget Sound.
Commencement Bay

Puyallup River mud clouding Commencement Bay. The Port of Tacoma is on the right and the Marina at Brown's Point is at the top of the picture to our north.
7/13/2019
Fog Room

Lunch with a great view to Elliott Bay from the Fog Room on the 16th floor of the Charter Hotel.
Shore Power Out

Here's another advantage of our new

dual shorepower system

. We're plugged into two separate pedestals at Wasahamnen marina. Each only supplies 10 amps, but together they provide enough power to run

Dirona

comfortably. The power is out fairly frequently at this marina, so James ran one oft he power plugs a little further away to a separate branch circuit. The day after we arrived in Seattle, the power went out twice, once for 18.3 minutes and again for 50.8 minutes. Each power failure only took out one pedestal, so

Dirona

never lost power completely.
7/14/2019
Seattle Sounders

We went to a Seattle Sounders soccer game today and had a great time. The Sounders fans are incredibly enthusiastic.
Alaskan Way Viaduct

What's left of the Alaskan Way Viaduct, as it's slowly being torn down. It sure looks strange to see pieces of it missing like that after its been such a fixture in the city for decades. Our friend Filo D'Souza pointed us to this

excellent video

showing how the Dept. of Transportation is "reverse engineering" the viaduct.
7/15/2019
Packages

While James is attending work meetings, Jennifer went to our UPS box to pickup all our mail and packages we ordered. Here it is. It seems unlikely that will fit into four suitcases.
Packing

Three hours later, all the boxes have been opened and the process of packing the goods into suitcases is underway.
Luggage

Five hours later, everything from the mailbox is back at the hotel and mostly in the four suitcases, plus some carry-on bags.
7/16/2019
Hatton Marine

At Hatton Marine to pickup some Northern Lights spares, including a raw water pump a coolant circulation pump.
Don Kohlman

A visit with Don Kolhman at the Nordhavn Northwest office. We've known Don for years and he's no less enthusiastic than a decade ago when he

dove into the cold Puget Sound waters

to cut a crane strap free from our stabilizer as

Dirona

was offloaded from a cargo ship on a cold November day in Tacoma.
Emerald Harbor Marine

At Emerald Harbor Marine in Elliott Bay Marine to pickup a

new scanner unit

for our main radar. Radar magnetrons usually last 6,000-10,000 hours, so it's effectively a wear item, and that's why we're changing it.

The Emerald Harbour Marine team did the commissioning work on Dirona for PAE and also did all the original installation work for us. That equipment is still running strong, 10,000 hours and 9 years later. What's more amazing is they continue to help us to this day. Difficult-to-find parts or getting things to us in remote locations is Kelly Maxson's specialty at Emerald Harbor Marine. EHM also installed the furnace on our first boat back in 1999. They've been helping us for nearly 20 years and we really appreciate it.
Scanner Unit

The new scanner unit for our main radar definitely will not fit in any of our suitcases, but does at least fall below the 70lb (32kg) weight limit for our airline. So we can bring it back as an extra piece of luggage.
Amazon Spheres

James' team just moved to a new building across the street from the

Amazon Spheres

, part of the company's headquarters campus in downtown Seattle.
7/17/2019
Northern Lights

As part of our around-the-world tour, we love visiting leading engineering firms and touring their products. In the

Dirona Technology Series

we have covered a visit to

Metal Shark Boats

, mining truck manufacturer

Bell Equipment

, the 5,000 hp harbor assist tractor tug

SL Herbert

, the containership

Hanjin Oslo

, the Holland America cruise ship

Westerdam

, and a tour of diesel engine, truck, and bus manufacturer

Scania

.

We love seeing great engineering applied to real- world products and services. While in Seattle, we had an opportunity to visit Northern Lights, the renowned maker of reliable and long-lasting diesel generators. This visit was with the engineering team focusing on yet-to-be-released products so we can't take pictures and cover it as part of the technology series. But, as with every visit to Northern Lights, it was super-interesting. They always have great projects underway and this visit was a particularly interesting one.
Northwest Fishing History

The placard above this engine reads "This four-cylinder, 108-cubic inch gas engine is an example of the first engines used in Alaska's Bristol Bay salmon fisheries.

In 1952, engine-powered vessels were legalized in the Bay. At first power boats were used to pull the existing sailboats back and forth to the fishing grounds. Later engines, such as this Gray Marine 4108, were part of a power kit that companies like Bryant's Marine shipped to Alaska to install in sailboats. The engines worked so hard and reliably that the Bay fisherman called them "Luggers".

When Alaska Diesel Electric (later Northern Lights, Inc.) set out to build engines for the Northwest fisherman, the Lugger name personified this design philosophy.

Today, Lugger by Northern Lights diesel engines range from 40 to 475 horsepower. Although we no longer make them, the existing Luggers are at work in fishing boats, trawlers, tugs, yachts, battlewagons and workboats throughout the world. Every one carries a little Northwest history, and a lot of Northwest work ethic, with it."
M844DW3 Generator

An M844DW3 16kw diesel generator on display at the Northern Lights head office in Ballard.
7/20/2019
Skyline

Some of the Seattle skyline, once blocked by the Alaskan Way Viaduct, viewed from the ground below.
Bell Harbor Marina

Kayaker paddling through Bell Harbor Marina, our home port for our last four years in Seattle. During the summer, we moored at the end slip in the foreground.
Anthony's Pier 66

Dinner on the terrace with a view to Elliott Bay at Anthony's Pier 66 restaurant. The view year-round is fabulous and we frequented the restaurant often when we lived aboard in adjacent Bell Harbor Marina.
Downtown Seattle

View across Bell Harbor Marina to Elliott Bay and the downtown Seattle skyline from the Bell Street Pier Rooftop Deck. We just had dinner on the terrace at Anthony's Pier 66 at bottom left.
7/21/2019
UPS Waterfall Garden Park

We passed the UPS Waterfall Garden Park in downtown Seattle while walking to the Mariners baseball game. The park marks the location where the American Messenger Company, now the United Parcel Service (UPS), was founded in 1907.
Seattle Mariners

A great time taking in a Seattle Mariners baseball game on a sunny Sunday afternoon.
7/24/2019
Cactus

A great meal on the terrace at Cactus in Seattle after James finished up some work meetings nearby.
7/25/2019
Amazon Spheres

The Amazon Spheres at dusk, viewed from the 7th floor of the office building James' team recently moved to.
Chakra

Jennifer having lunch at the Malt and Vine in Redmond with her past teammates from Chakra, the codename for the Javascript runtime team she last worked on at Microsoft.
7/27/2019
Spitfire

Spitfire relaxing on the outdoor bed in his private patio at

Ekbackens Kattpensionat

. They did an extraordinary job of taking care of him. Spitfire has stayed in many catteries over his 16-year life but he's never come back looking so healthy and happy.
7/28/2019
Checked Bags

At the Seattle airport checking in our 300 pounds of luggage. We had three large bags at just under 70 lbs (32kg) each, the radar motor box at around 60 lbs (27kg) and one smaller bag at just under 50 lbs (23kg). Plus we each had two carry-ons full of gear. We were pretty much at our limit, but got it all checked through no problem.
7/29/2019
Missing Bags

Jennifer at the British Airways missing luggage counter in Stockholm airport. Only three of our five bags arrived into Stockholm with us. Fortunately the other two don't appear to be lost, but went on a later flight from Heathrow to Stockholm. We eventually got them back the next day.
Click the travel log icon on the left to see these locations on a map, with the complete log of our cruise.

On the map page, clicking on a camera or text icon will display a picture and/or log entry for that location, and clicking on the smaller icons along the route will display latitude, longitude and other navigation data for that location. And a live map of our current route and most recent log entries always is available at mvdirona.com/maps.