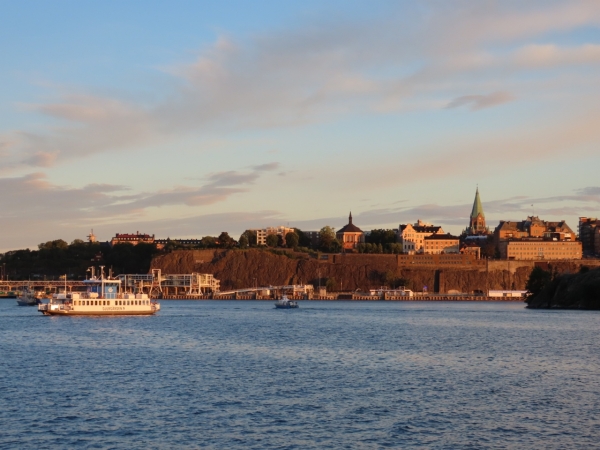 From late June to early August, we spent a fabulous five weeks at Wasahamnen marina in downtown Stockholm. Wasahamnen is centrally located with great views to the Stockholm islands, convenient access to ferry and transit services, and is close to many restaurants and local attractions. It was definitely one of the more busy marinas we'd stayed at, with boats constantly coming and going during the height of the busy Baltic summer boating season.
We spent the first two weeks there exploring the city and outlying areas, including touring the canals by tender; walking through Gamla Stan, Stockholm's 13-th century old town; taking in the Round Gotland offshore sailboat race; touring the royal palaces Kungliga Slottet and Drottningholm; viewing the remarkably well-preserved 17th-century warship Vasa; and making an exceptional site visit to the Scania manufacturing plant. Following a two-week work trip to Seattle, we spent the rest of our time unpacking and stowing the gear we brought back and preparing for our trip across Sweden via the Gota Canal.
Below are trip highlights from June 28th through August 1st, 2019. Click any image for a larger view, or click the position to view the location on a map. And a live map of our current route and most recent log entries always is available at mvdirona.com/maps.
6/28/2019
Stockholm Arrival

We arrived into our berth at Wasahamnen in Stockholm, our home for the next few weeks, after a 10-mile run from Vaxholm. Except for a

US Navy vessel

, we'd not seen single other US-flagged vessel the entire time we'd been in the Baltic. But when we arrived at Wasahamnen, we were only one of many boats flying the US flag.
6/29/2019
Gamla Stan

The island of Gamla Stan is Stockholm's old town, dating from the 13th century. The district is packed with narrow, cobbled alleyways, historic buildings, museums, and cafes, and is home to the Royal Palace Kungliga Slottet and Stockholm's oldest building, Stockholm Cathedral, consecrated in 1306.
6/30/2019
Round Gotland Race

The Round Gotland Race, formally known as the AF Offshore Race, has traditionally started and ended at the Royal Swedish Yacht Club outstation at

Sandhamn

, but recently has been starting in Stockholm. 218 vessels across at least 9 classes would pass south of our marina, head out to sea, and turn south to

Gotland

, then return north to finish at

Sandhamn

.
7/1/2019
Collision

Wasahamnen is a busy marina, with boats constantly arriving and departing. Only a portion of the berths are reservable and the rest are first-come first-served. Because it's such a popular and central location, boaters arrive pretty determined to find a berth. One boat,

Tulla

, collided with us while the skipper was attempting to fit into a too-small spot forward of

Dirona

. The video at

https://youtu.be/F2jsDt8KW1Y

shows the collision.

We took some damage and supposedly their insurance company will contact us. But we've not heard from them yet :).
Tulla

Tulla, the boat that collided with us, tying off to a pleasure craft further forward. Unlike most marinas in the Baltic, rafting isn't allowed at Wasahamnen, but people are determined to find a spot and will tie off anyway. The harbour master will have to find them a spot or ask them leave.
Work Barge

A work barge has twice overnighted against a pleasure craft forward of us, using dirty tires as fenders and leaving black footprints all over the deck. We really hope that doesn't happen to us. We're loving the marina, but this aspect make us a little nervous. A heavy steel boat with automotive tires as fenders with many wakes passing through isn't a great equation.
188 Volts

Here's an example of why a world-travelling boat needs to be very flexible on the shorepower configurations it can accept. Throughout the Baltic, we've rarely seen more than 10-amp shorepower connections. And here you can see a 230V service is operating under such heavy load that it's only delivering 188 volts. Our

dual shore-power system

operates well through even challenging conditions like these. And we can run all the appliances and air conditions without needing to run the generator.
Torbjorn Curtsson

Stockholm resident and longtime blog reader Torbjorn Curtsson came by today for a visit. Torbjorn has sent us a number of web cam shots of

Dirona

, such as our entry into the

Kiel Canal

last fall and our

arrival into Stockholm

. He's also been giving us great recommendations for the area, particularly the Swedish west coast. It was great to finally meet in person.
Outdoor Concert

A small outdoor concert theater near the marina is frequently busy with events in the summer.
Ferrari 488

While walking out to dinner we passed a dealership with a Ferrari 488 on display with other exotics.
Fountain

Fountain at Karlaplan park, created during the 1890s at an intersection of roads following the design of the Place de l'Étoile in Paris where the Arc de Triomphe stands.
Alegria Tapas Bar

An excellent dinner on the patio at Alegria Tapas Bar, about a 20-minute walk from our berth at Wasahamnen in Stockholm. This is becoming one of our favourite standbys.
7/2/2019
Voltage

The marina needed to bring the power down on all shore pedestals along the south side of our dock, including the one adjacent to our boat. Everyone plugged into the other side of the dock, but the extreme load all on one side pulled the voltage down to 185. The good news is that we run unaffected down to 195 volts and, even down at 185 volts, our chargers de-rate but still can maintain adequate charge.
7/3/2019
Vet Zoo

Spitfire was diagnosed with kidney problems in Amsterdam and now needs to be on a special diet. We

bought enough

in Amsterdam to get us to Stockholm and just received an order locally from Vet Zoo for enough to get us back to Amsterdam again.
Kungliga Slottet

The 608-room Royal Palace Kungliga Slottet was completed in the mid-1700s and still is the official residence of the Swedish Royal family, making it the largest in the world still used for its original purpose. The palace and much of the grounds are open to the public, however, and a popular changing of the guard ceremony is held daily.
7/4/2019
Google Translate

In most places we've travelled in Europe, we've usually been able to communicate in English. Shopping at the local grocery stores, however, can be a bit more challenging. Some products have English on the labels, but the majority do not.

Google Translate running on our mobile phone is a real help—we can pass the phone over a label and it automatically translates the text. The picture on the left is a photograph of what we think is a jar of thyme, and on the right is a screenshot of the Google Translate result, confirming that it is indeed thyme.
7/5/2019
Vasamuseet

In 1628, the warship

Vasa

set off from Gamla Stan on its maiden voyage. The flagship of the Swedish fleet, designed to be the most powerful warship in the Baltic, the

Vasa

was 226ft (69 m) long, over 164ft (50 m) tall from keel to mast-top, and weighed over 1,200 tonnes including its ten sails, 64 cannons, and 120 tonnes of ballast.

The vessel travelled barely a half-nautical mile before heeling to port in a gust of wind. Water rushed in through the gun ports and the ship sank within minutes.
Power Outage

The shore services throughout the region are rarely more than 10 amps. Our

dual shorepower system

allows us to operate the boat on fully on extremely low-amperage services, so this hasn't been an inconvenience. The Wasahamnen shorepower system introduces some new challenges. The first is voltage sag, where the nominal 230 volts sometimes is as

low as 185

. Our system works fine at these voltage levels. The second challenge is that large parts of the marina suffer power failures multiple times per week. We speculate this is caused by sensitive Residual Current Devices coupled with arriving boats having small power problems or insulation defects. We commonly see people either opening the pedestal to check the breaker, or moving their power cord to a different pedestal in the hopes of finding power.
Drottninggatan

The pedestrian street Drottninggatan is full of shops and cafes, and is packed with people on this warm July evening.
Maskrosbollen Fountain

We passed the beautiful Maskrosbollen Fountain, known as the "Dandelion Ball", on our way back home after dinner at La Neta.
Concert

Concertgoers attending a show at the outdoor amphitheatre adjacent to our marina.
Sodermalm

The steep cliffs on the north side of the island of Sodermalm aglow in the evening light, viewed from our berth at Wasahamnen, Stockholm.
7/6/2019
Drottningholm Palace

Drottningholm Palace on the island of Lovon was completed in the late 1600s during Sweden's time as a great power. The Swedish royal court resided here regularly during the 18th century and it remains a summer residence for the Royal Family, but is also open to the public. In 1991, the palace and its grounds were designated a UNESCO World Heritage site for being "the finest example of an 18th-century north European royal residence inspired by the Palace of Versailles".
7/7/2019
Rob Westermann

Rob Westermann, owner of Artnautica 58

Britt

stopped by for coffee and a chat. We'd not seen Rob since we left

Harlingen, NL

early in 2018, so it was great to get together and catch up.
Alegria Tapas Bar

Another great meal at Alegria Tapas Bar about a 20-minute walk from our berth.
Galarvarvet

Bronze model outside the Vasamuseet showing the Galarvarvet (Galley Wharf) area in 1942. Galley ships were built here starting in the early 1700s and it was a part of Stockholm's military shipyard until 1969. The dry dock at center is where the

Vasa

now rests and the area at right is now the Wasahamnen guest harbour where

Dirona

is moored. The large building at upper left is the Nordic Museum that covers the cultural history of Sweden.
7/8/2019
Scania Site Visit

Today we visited the Scania manufacturing plant just outside Stockholm, Sweden. We had a fabulous time at the museum there and particularly enjoyed touring the chassis and engine plants. We ended the day at the Scania Demo Center, where we got to test drive current model Scania trucks and buses and also got to go off-roading in a Scania 6×6.
Restaurant J

We had a great meal with a water view at Restaurant J in Nacka Strand southeast of Stockholm center. The restaurant is themed and named after the J-class boats raced in the American's Cup in the 1930s. During our site visit, Asa Bennerstam of Scania had recommended we try the restaurant, so we stopped in on our way back to Stockholm.
Traffic

We loved the view from Restaurant J to the traffic at the adjacent Nacka Strand ferry dock and the big Baltic ferries and cruise ships coming and going from Stockholm.
Funicular

Funicular railway behind Restaurant J between sea level and the hills above.
God, Our Father, on the Rainbow

Spectacular 60ft (18m) statue by renowned Swedish Carl Milles just outside Restaurant J depicting God hanging stars in the sky tossed by an angel standing a the bottom. The work was originally intended for the UN building in New York, but financing fell through and it was placed here instead.
Ferry

Our ferry back to Stockholm from Nacka Strand arriving at the dock.
Apartment Buildings

Striking modern apartment buildings in Stockholm's recently-developed residential district Kvarnholmen.
Historic Industrial Building

History industrial building in Stockholm's Kvarnholmen district.
Elite Hotel

Elite Hotel Marina Tower, built in a renovated historic waterfront mill building, viewed from our ferry ride home from Nacka Strand.
7/9/2019
Valve Adjustment

Our Northern Lights 12kW generator was due for its 1,000-hour valve adjustment. The generator recently reached 6,000 hours. We've had to replace a few minor parts along the way, but it's generally been super-reliable.
Harbour Master

Wasahamnen guest harbour, where Dirona is moored, is extremely busy in the summer. The harbour master, in the skiff at right, is often on the docks directing boaters to a berth, asking them to move from a place they shouldn't be, and sometimes is even out on the water helping them in.
Lo Scudetto

Pizza for dinner at Italian restaurant Lo Scudetto in Stockholm's Ostermalm district, about a 20-minute walk from the marina.
Scooter

Electic rental scooters are common in Stockholm and, like rental bikes, are often parked in annoying places. It's hard to know what happened here, but this one appears to have been run over by a car.
Wasahamnen

Evening light looking east across the inner berths at Wasahamnen, our marina in Stockholm. The orange buoys support boats mooring bow-to or stern-to the dock, with the other end secured to the buoy, similar to med-mooring. Dirona is moored just out of the picture to the right.
7/11/2019
Windshield Replacement

The windshield being replaced in a large yacht berthed at Wasahamnen. The structure around the windshield flexed underway, shattering the glass.
Hot Air Balloon

A Shrek-themed hot-air balloon flying over Stockholm.
Two Weeks in Seattle

In mid-July, we made our annual summer trip to Seattle for James to participate in a multi-week

AWS

business review. It's a busy time, with lots of meetings, plus we picked up about 300 pounds (136kg) of spares and supplies to bring back with us. We also found time to have some fun, including attending a Sounders soccer and a Mariners baseball game, visiting with friends, and stopping by our old home port at Bell Harbour Marina.
7/29/2019
Unpacking

Some of the contents of the three bags that did make it from Seattle to Stockholm with us.
7/30/2019
Water Police

The water police made a pass through the marina on jet-skis today.
Missing Luggage

Our two

missing bags

were delivered to the boat today. We weren't hopeful we were going to see them again any time soon, but everything eventually arrived undamaged.
Old BBQ

One of the items in our checked luggage was a new barbecue. The old one has seen a lot of use in the past nine years, and has been overhauled twice. We could overhaul it again, but its in pretty rough shape, so we decided to replace it.
New BBQ

The

new barbecue

is the same model as the old (

Magma Newport 2

) and didn't require any modifications to fit in the barbecue console. It looks great and works wonderfully. Nice, even heat is so much easier to manage.
Shark Navigator

One of the options we'd selected when purchasing

Dirona

was the standard built-in vacuum, a Nu-Tone CV350. But we haven't been very happy with it—the air-driven power head frequently rusted up or seized and we were constantly messing with it. We'd tried a different power head that didn't rotate, but it wasn't very effective at cleaning the carpet.

So we decided to try a different approach and purchased a Shark Navigator upright vacuum. The Shark got great reviews, had an electric power-head, and could disassemble easily into a small package to simplify stowing. Unfortunately it was one of the items in our two missing bags, and we were really looking forward to trying it out.
Dirt

The suction on the

Shark Navigator

is vastly better than the Nu-Tone CV350 built-in vacuum we've been using for the past decade. We were astonished at the amount of dirt the Shark pulled out of our pilot house carpet. This is really just from the small carpet in the pilot house—perhaps five square feet on total. No wonder we've been having trouble with dust build-up inside the boat.
Stainless Prop

Stainless steel props are reputed to deliver slightly more speed than aluminum props. Certainly stainless props will suffer from less blade deflection and this could allow slightly more speed but we've been skeptical that it would make a noticeable difference. But, we had an opportunity to get a stainless steel prop at a good price so we decided to give it a try on the tender.
Heat Sink

The navigation computer runs inside a cabinet that can get warm, especially when the boat interior is warm. This doesn't cause any problems as the computer fan just will run faster. But we decided to get a large aluminum heat sink to dissipate computer waste heat more efficiently with less fan speed required. The heat sink gets warm quickly and appears to work well.
7/31/2019
KVH V7hts Coverage Area

It looks like KVH has further improved the coverage of the their

HTS

(High Throughput Satellite) system. It's now impressively broad with only a slice of the South Pacific and both north and south polar areas missing.
8/1/2019
Water Leak

As we were stowing some of the supplies we'd brought back from Seattle, we noticed a pool of water under the master stateroom head floor. Fortunately it was an easy fix. A pipe-to-hose connection was seeping and this was made somewhat worse by a partial hose obstruction further down towards the grey water tank.
New Dipstick

Over the years the seal at the top of the generator dipstick has been hardening and recently it's been sealing less effectively. On the last trip back to Seattle, we stopped by

Hatton Marine

and picked up a new dipstick.
Groceries

Jennifer returning with a load of groceries in preparation for our cruise across Sweden via the Gota canal.
Synology Drive

We'd been getting occasional I/O errors on one of the drives in our Synology RAID backup system. While we were in Seattle, the errors got more frequent, so we replaced the drive with one of the three spares we carry. We run RAID 6 so even two complete disk failures won't lose any data.
Water Police

The water police passing by our Stockholm marina in a high-speed RIB with a video camera crew in pursuit.
Click the travel log icon on the left to see these locations on a map, with the complete log of our cruise.

On the map page, clicking on a camera or text icon will display a picture and/or log entry for that location, and clicking on the smaller icons along the route will display latitude, longitude and other navigation data for that location. And a live map of our current route and most recent log entries always is available at mvdirona.com/maps.