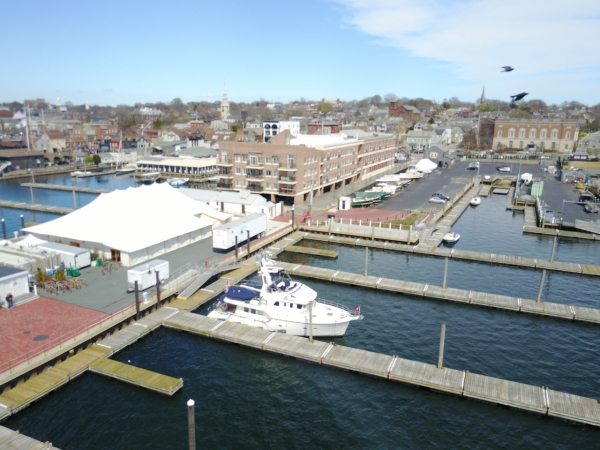 In January of this year, while walking in St. Marys, Georgia, we heard a drone and went to check it out. What really caught our interest here was that the person with the controls wasn't even looking at the drone. It was a DJI Mavic Pro that had some really impressive features, including the ability to fold up into a small, portable package and a mode where you could set the drone to follow a certain object or person.
We've wanted aerial shots for a long time. And back in 2013 Daniel Buchmueller and Fabian Hensel visited us in Hawaii. They were in town working on a remote-control drone they had built to do image acquisition for geospatial applications. They did a few test flights over Dirona and nearby Ala Moana park and took some striking photographs of the boat and the Waikiki skyline. Daniel and Fabian went on to become part of the Amazon Prime Air team, while we personally achieved less success with drones. Shortly after their visit, we bought a DJI Phantom II, but it was far from a point-and-shoot camera platform. We found it quite challenging to fly.
Seeing the Mavic Pro hovering far above us in St. Marys with the operator not even paying attention to it looked like exactly the platform we were after. We ordered one immediately. But they were back-ordered, so we didn't actually receive it until a few weeks ago. We've been busy with other projects, and finally got a chance to test-fly the drone over the last couple of days. We were quite impressed. The Mavic Pro is remarkably easy to fly, and takes surprisingly good pictures.
We started out in the parking lot behind the marina with a few test take-offs and landings. Winds were a bit below 10 knots, with gusts up to 12-15, and hardly impacted the drone.
We quickly were comfortable enough to try some limited over-the-water flying around the marina wharf, along with a roof-deck landing.
The following morning, we took it out for another test flight, this time taking it further over the water and away from us, while we stayed in the parking lot.
The video below is from a vantage point 50 to 100 feet over Bannister's Wharf and the downtown area of Newport, with some aerial shots of Dirona at Newport Yachting Center. If you look closely, you'll see the drone was occasionally under attack by a few birds apparently not encouraging a new "bird" to join the neighborhood. The Newport marinas are just getting ready for the summer season, but still aren't formally open yet. It's fun being the only boat in a downtown Newport marina.
The first picture below is of our lightly-used DJI Phantom II. In the second picture is our DJI Mavic Pro, which already has flown ten times further than the Phantom ever did. Another exciting aspect of the Mavic Pro is that it folds up to a compact package about the size of a small lunch bag.