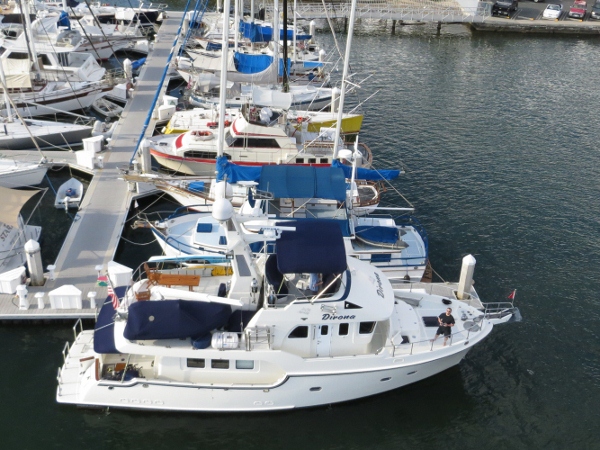 Earlier this month, Daniel Buchmueller and Fabian Hensel dropped by to visit. They were in town working on a remote-control drone they built to do image acquisition for geospatial applications. They did a few test flights over Dirona and nearby Ala Moana park. The aerial photographs they were able to take of the boat and the Waikiki skyline are striking.
With four rotors, GPS, and inertial-stabilization, the drone is remarkably stable, even in gusty winds. James took a turn at the controls and found it surprisingly responsive and controllable. It can get pretty high in the air too, and travel at speeds of up to 50 mph. The drone carries a car-backup-type camera for in-flight viewing via goggles, and either a GoPro camera to shoot video or a small digital camera for still shots. The pictures and video were simply amazing.
Below are a couple of photos of Dirona taken relatively close to the water.
The view higher up, looking west over Ala Moana park and north to the Ala Moana shopping center:
Higher still and looking east across the Ala Wai Boat Harbor, and north down the Ala Wai Canal:
Daniel and Fabien took these two over Waikiki Beach earlier that day:
And here is some video footage from the GoPro:
Daniel and Fabian built the helicopter for commercial geo-spatial work but, after looking at the pictures they were able to capture, it's hard not to want to get one.