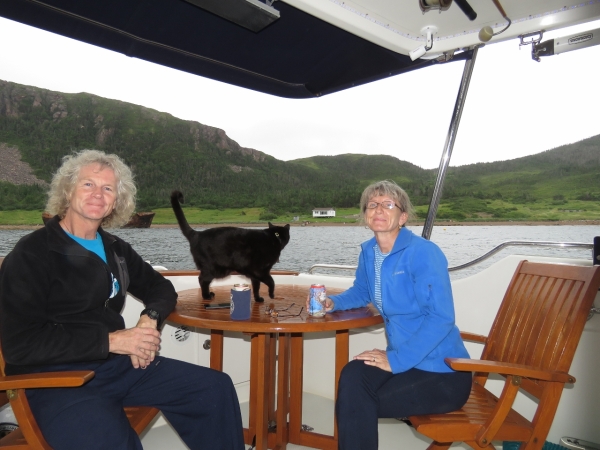 After fueling up in Boston we ran directly to Newfoundland, with a brief stop in Lockeport, Nova Scotia to clear into Canada. We adjusted course a couple of times to working through a mass of floats at Parker Ridge on the first night out of Boston and a group of fishing vessels off Nova Scotia on the second night, but the trip was otherwise pretty easy and uneventful. Nearby Maine is world-renowned for nearly impassable lobster traps fields, but that has not been a problem in Nova Scotia or Newfoundland. Five nights and 748nm after leaving Boston, we were anchored in beautiful Jersey Cove on Newfoundland's south coast and looking forward to beginning the next adventure.
Trip highlights from July 31s through August 5th follow. Click any image for a larger view, or click the position to view the location on a map. And a live map of our current route and most recent log entries always is available at http://mvdirona.com/maps
7/31/2016
Asteria

Waiting at Harbor Fuels behind New England Aquarium Whale Watch vessel Asteria to take on a load of diesel as we leave Boston.
Fueling

Harbor Fuels had us moor against their barge on inside of the fuel dock to refeul because the commercial boats would be fueling all morning on the main dock. Oddly, we are fueling from the pump on the main dock, while the Provincetown ferry against the main dock is fueling from the barge we are moored against. This is because the commercial boats are in a hurry and are using high-speed pumps from both the main dock and the barge. With a quantity discount, we paid an amazing $1.94/gallon for diesel. We haven't seen a price that low since Hawaii.
Gasoline

The main commercial dock doesn't have gasoline, so we moved to Harbor Fuel's small-craft location a short distance away to fill our two 29-gallon gasoline deck tanks.
Underway

Underway for Newfoundland behind two of the Boston Harbor Cruise boats that we saw at Harbor Fuels this morning.
Discharge area

The blue box on the chart just south of our boat is the effluent discharge area for the

Deer Island Treatment Plant

, circled in black at the left of the screenshot. The book

Trapped Under the Sea: One Engineering Marvel, Five Men, and a Disaster Ten Miles Into the Darkness

describes the building of the 9.5-mile tunnel, one of the largest underwater tunnels in the world, and the tragic deaths of two divers in 1999 during its construction.
Replacement cap

We have a Glendinning power cord storage system that automatically pays out and retracts our power cord through a hawsepipe at the stern. The bolts holding the hawsepipe cap had corroded and when we tetratced the cable this morning the cap flipped off and fell in the water. We built a temporary replacement using the rim of a tupperware container secured with hot glue into a larger lid.
Cap in place

The temporary replacement cap for our Glendinning power cord system fits snugly and doesn't look half-bad.
8/1/2016
Floats

We've not seen much traffic or anything else since leaving the Boston area, but shortly after midnight faced a mass of radar targets on Parker Ridge. None were moving, so likely they were floats similar to what

we'd seen approaching Rhode Island Sound

, although in a more random pattern.
Course change

With a few course changes we were able to pick our way through the mass or radar targets with about 600-700 yards space on either side. We generally don't like to get closer than two miles to anything at night, but trying to get that distance would have taken us miles off course. Once beyond Parker Ridge, the way was clear.
Conditions

We plan to clear into Canada at Lockeport, Nova Scotia then continue directly to Newfoundland. Canada Customs isn't open for clearance at Lockeport until 8:45am on Tuesday morning, so we're making a slow, leisurely run to arrive when Customs opens. Conditions have been wonderfully calm so far, and we expect this for the remainder of the run. The current has been quite variable most of the run—in maintaining a consistent speed our RPM has varied between 1250 and 1500 (see the min and max tell-tale markers on the tachometer at top right). We're in a positive current now and are making 6.2kts at 1252 RPM, with excellent fuel-economy of 2.75nm/g. At that RPM, we'd expect to do about 5.5kts in flat water.
Sunrise

Sunrise this morning painted the sky and water the colors of the rainbow.
Traffic

After a fairly uneventful day, we started seeing a lot of traffic, mostly commercial fishing vessels, as we neared Nova Scotia. With boats coming at us from both directions, we had to change course to maintain a half-mile separation.
8/2/2016
Current

We're getting a good push from the current now and are doing 6.5kts at 1135RPM with a fuel economy of 4.05nm/g. At that RPM we'd expect to do about 5.2kts in flat water.
Fog

Soon after we cleared the pack of fishing vessels, we entered a thick fog with visibility of perhaps a half-mile so we've got our foghorn running. The good news is we've seen no signs of any traps or floats. Nearby Maine is world-renowned for nearly impassable lobster trap fields. So far that hasn't been a problem in Nova Scotia.
Grande Caribe

The shallow-draft 180ft pocket cruise ship Grande Caribe passing north of us en route to Halifax shortly before we turn north towards Lockeport.
Sunrise

Another gorgeous sunrise as we approach Lockeport to clear through.
Lockeport

The view from Lockeport Harbour looking southwest over the breakwater to the town of Lockeport. It looks very much like the maritime fishing town that it is.
Carters Island

A lighthouse was first built on Carters Island in 1872 for $460, and was replaced in 1930. The historic structures were demolished in 1982 when no caretakers could be found and replaced with the current fiberglass structure.
Spitfire

Spitfire getting his first smell of Nova Scotia as we approach White Gull Marina in the Lockeport inner harbour.
White Gull Marina

We tied off on the leftmost pier at White Gull Marina to call Canada Customs to clear into the country. No telephone was visible on the dock and we had no cell coverage, so we used our satellite phone to call in. The check-in process was smooth and efficient, possibly because we'd pre-registered our arrival via email last week. We were cleared through and back underway within 20 minutes of landing.
Hemioms Head

The lone house on windswept Hemioms Head to our north as we exit Lockeport Harbour.
NDT

We moved the clocks forward 1.5 hours to Newfoundland Daylight Time (NDT). Except for when we returned from

Prince William Sound to Seattle

, this is the only time we've moved our clocks forward on

Dirona

. All of our travels have been westward so far and we've been moving the clocks backward. The unusual time zone exists because Newfoundland was not part of Canada when time zones were established and was free to choose its own. Officially NDT applies to the entire province of Newfoundland and Labrador, but only the island of Newfoundland observes it, with Labrador observing Atlantic Time. Growing up in Canada, we often heard phrases like "Airing at 6pm, 6:30 in Newfoundland" for broadcasts timed to air at the same local time nationwide.
Halifax

The 384ft tanker Asphalt Spring crossing two miles ahead as it exits Halifax Harbour, with the fishing vessel Alfred Needler to our southwest. We were expecting much more traffic around Halifax Harbour, but this was pretty much it.
8/3/2016
Pitching

The winds were predicted to be 10-15kts from the northeast, but we've been seeing steady 20-25 with seas on the nose (wind graph rightmost of the four graphs at the center of the screenshot). We need to run at 1865 RPM to meet our speed goal of 5.8knts and our fuel economy is a not-so-great 0.903nm/gallon. The boat is moving a fair bit, with maximum pitch over the past hour at 14.8 degrees (near bottom left of screenshot) and the pitching has been pretty steady over 10 degrees (pitch graph right of nm/gal reading).
Dolphins

A small pod of dolphins swooped in and played in our bow wake for a bit.
Veendam

Around midnight the 772ft cruise ship Veendam passed us heading south en route to Halifax, likely on a seven-day cruise between Montreal and Boston. The ship was lit up so brightly we could see it well over ten miles away. We adjusted course slightly to allow them to pass.
8/4/2016
Bras d'Or Lake

We're just passing the renowned cruising ground of Bras d'Or Lake in Nova Scotia. We plan to visit on our way back south.
Conditions

The winds started falling late last night and early this morning are now below 5 knots. Pitching has reduced to below 5 degrees with a maximum over the past hour of 7.8 degrees. Much nicer. We expect the calm conditions to last until later this morning, when winds will pick up from the southwest and reach up to 20 knots by Friday. But they'll be behind us, so the ride should be much more comfortable than yesterday.
Sunrise

We've been getting some really spectacular sunrises on this trip.
Loudhailer

When we needed to use our

foghorn

the other day, we discovered our forward-mounted loudhailer had failed, so we used the aft one mounted in the cockpit instead. Today James replaced the failed forward loudhailer with a spare. It's particularly important as we approach foggy Newfoundland that we have it working.
Laurentian Trough

We're just passing over the Laurentian Trough. With a mean width of 50 miles (80km) and depths as great as 1,700ft (518m) below sea level, the submarine glacial trough is considered the most impressive on the planet.
Federal Saguenay

We were expecting to see a lot of shipping traffic in this area, as most traffic into the St. Lawrence Seaway passes through here. But the bulker Federal Saguenay was the only ship we saw as we crossed.
Conditions

As expected, the wind picked up to 15 to 20 from the southwest. The seas are 6-8ft, closely packed with some breaking. But since we're going with the seas the ride has been pretty smooth. We're doing 6.6 knots and getting good fuel economy of 1.90nm/gallon at 1500RPM as we surf along on the waves.
8/5/2016
Traffic

We eventually saw two more ships tonight, the 656ft cargo ship

Federal Baltic

en route to Trois-Rivieres, Quebec and the 689ft ferry

Atlantic Vision

on its overnight run from Argentia, Newfoundland to Sydney, Nova Scotia. That will be one tough ferry given the weather conditions in this area.
France

We're just passing north of the French islands Ile Miquelon and Ile Saint-Pierre. Even though we both grew up in Canada, we didn't realize until we planned this trip that France had holdings barely 10 miles off the Canadian coast.
Connaigre Head

Rugged-looking Connaigre Head to our northwest as we near Newfoundland.
Fishing boats

Small fishing skiffs below the cliffs at Western Head to our north. The boats often are painted bright colors to make them more visible in the frequent fog.
Rocky Point Light

The red-and-white striped lighthouse on Rocky Point visible to our west as we enter Harbour Breton.
Eidsvaag Vinland

The Eidsvaag Vinland moored off the town of Habour Breton. The Holland-built and Halifax-registered bulk fish feed carrier shuttles between St. Andrews, New Brunswick and various fish farms in Newfoundland. The ship is owned by Eidsvaag AS of Norway, and is on contract with Skrettling Canada Inc, of Vancouver, BC whose parent company, Norway-based Skrettling, is the largest aquaculture fish feed supplier in the world.
Graveyard

Graveyard at the edge of Jersey Harbour to our north. 250 people once lived on these shores, but the community was resettled to Harbour Breton and Grand Banks in the late 1960s and early 1970s. Between 1954 and 1975, 300 communities and nearly 30,000 people were relocated in the Newfoundland government's attempt to modernize the province's economy by consolidating the population into designated growth centers. The controversial resettlement program, rooted in the work of 17th century British economist William Petty, encouraged resettlement of outlying communities by paying families a certain amount to move, but only if 80%-90% of the community agreed to relocate.
S.S. Home

The wreck of the 155ft cargo and passenger vessel S.S.

Home

beneath the cliffs of Jersey Harbour. The ship was driven ashore in 1952 after its moorings broke.

Update 04/04/2022: Blog reader Michael Patey told us this is a fishing trawler, the Rupert Brand II, that was beached and abandoned there back in the 60's. The S.S. Home wreck is in the same area and is laying on it's side. Here's two pics of the S.S. Home taken in the 80's:

https://mha.mun.ca/mha/pviewphoto/Record_ID/5242

https://mha.mun.ca/mha/pviewphoto.php?Record_ID=5157&pagev=1
Newfoundland!

Celebrating landfall in Newfoundland. Nova Scotia is the farthest east we'd been in Canada before this trip–this is our first time in Newfoundland.
Oil change

Time for our sixth oil change this calendar year. We've not been moving a lot, but we've been covering the ground when we do.
| | |
| --- | --- |
| | Dinner |
Click the travel log icon on the left to see these locations on a map, with the complete log of our cruise.

On the map page, clicking on a camera or text icon will display a picture and/or log entry for that location, and clicking on the smaller icons along the route will display latitude, longitude and other navigation data for that location. And a live map of our current route and most recent log entries always is available at http://mvdirona.com/maps.