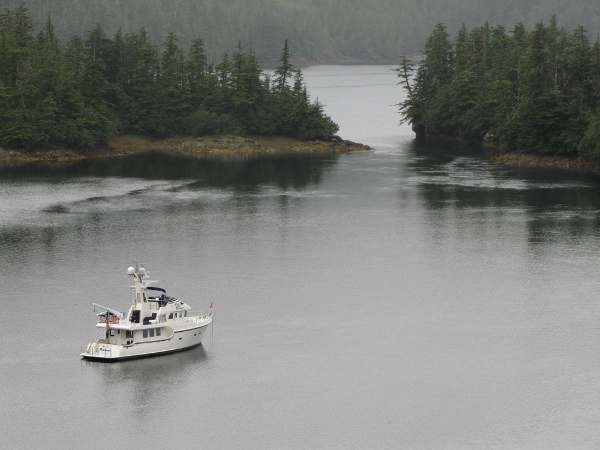 Disk Cove (Bing/Google map) is a sheltered, nearly landlocked cove with mountains all around.
We were out in the dinghy soon after we'd anchored yesterday. Several hills around the cove looked easy to climb, and would have good views. A ten-minute, easy climb from a creek along the east shore brought us to a meadow with a good view of the anchorage below. After the hike, we set off on a tour around Disk Island. At the north end of Foul Pass, a waterfall on Ingot Island spilled down from high above. Foul Pass was complex and interesting to explore, and soon we were almost all the way around. This would have been a nice, easy paddle around the island in the kayaks.
Louis Bay, to the southwest, had even better dinghy territory. At the extreme head of the east arm was a narrow slot with waterfall as backdrop and steep cliffs around–a good place to stern anchor/tie since there wouldn't be wind on the beam. The head of west arm was even more interesting. On the east side was a fairly large and tranquil basin that the dinghy could easily enter on a mid-tide. It looked like a good place to find bears.
On the west side we followed a narrow channel alongside a steep cliff. The channel was deep enough, but the current was strong, so it took a bit of effort to keep the dinghy off the walls. Inside was a tiny tranquil basin with a waterfall behind and cliffs on each side. I went ashore to take some pictures of James in the dinghy, when James yelled "Bear!". A small black bear was lumbering along the waterfall towards the basin. At first we weren't too concerned, as he couldn't reach me by shore, but then we remembered how well bears can swim. I got back in the dinghy pretty quickly after that. The bear didn't seem interested in us though–he clambered up the shore on the other side of the falls and into some shrubs. We could see the bushes shaking for a while after–perhaps it was eating berries.
Two sailboats, Rag Doll of Valdez and Accomplice, already were at opposte sides of the cove inside when we had arrived mid-morning. Later in evening a small cruiser with three boys arrived, avid fisherman all. The three had fishing poles in the water within seconds of the anchor dropping. And after them a large cruiser, Outer Limits, anchored near us with at least five people on board. They worked flat out for at least a couple of hours processing fish. I wonder how much they'd caught?
Anchoring notes: The entrance is tight but doable–we'd comfortably take a larger boat such as a Nordhavn 55 or 63 through. We followed Lethcoe's directions and saw min 20′ on a 2′ tide, with no current through the entry. We anchored off the east shore in 80' with room for 3:1 scope. The anchor, and chain, came up coated with thick, smelly mud.