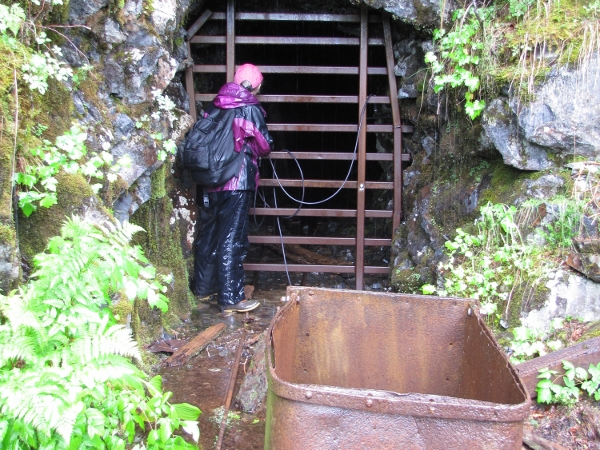 In the early 1900s, nearly 25,000 ounces of gold were extracted from Granite Mine, making it one of the more productive in Prince William Sound. From our anchorage in Bettles Bay (Bing/Google map), we ran the dinghy north to five miles north to Hobo Bay to hike to the mine ruins.
The trail led for a mile across open bog, with nice views into Bettles Bay at the start and across a tidal lagoon into Port Wells on the other side.
Then we picked up the old corduroy road to the mine and started seeing ruins–scattered equipment, collapsed buildings with an old fridge full of rusty tin cans, and even an old shoe. One piece of equipment read "Joshua Hendy Ironworks S.F. CA". (Corduroy roads, with closely-spaced crosslogs, were built over boggy ground so animals and equipment would not sink in.
The stamp mill, where rocks were crushed to extract the gold, was about a half-mile down the corduroy road. It has collapsed a lot since Lethcoe's photograph, but the massive beams supporting the crushers still stand on their concrete footings.
Another half-mile along the road, we found a mine shaft. A drill machine stood along the tracks a short distance in front of the opening. Hydrualic hoses, fittings and various pieces of equipment littered the ground around it.
Trail notes: Land on the sloping black shale beach in the northeast corner of the Hobo Bay, directly north of the buoy charted on 16711 (we didn't see it), where several stumps stand in a creek delta. The trail isn't visible from the water, but is obvious just south of the creek once you are ashore. The trail runs northeast for a mile across the bog, just east of where the woods thicken and the land slopes upwards. Once you can see the tidal lagoon, the trail continues northwest along the east side of the alder line to a collapsed building, then the corduroy road runs northeast for about a half-mile to the stamp mill. The mine shaft is another half-mile beyond, atop a stable rock pile. Wear waterproof footwear. The trail, particularly the first mile through the bog, is soggy. Note: Lethcoe says the mine is a half-mile walk from Hobo Bay, but it's actually about 1.5 miles to the stamp mill and another half-mile to the mine shaft.