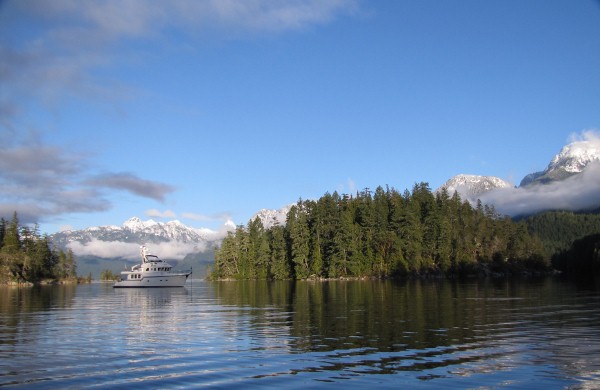 We spent Christmas this year in Desolation Sound (map of area). The area is so popular in the summer that Kenmore Air has regular float-plane service to one of the anchorages there at Prideaux Haven (pictured above). That's way too busy for us–we prefer the winter, when we can have it all to ourselves. We made our initial Christmas trip there in 2002 in the 4087, but this was our first visit in the new boat.
Desolation Sound is about 200 miles from Seattle and would take about 25 hours of running at eight knots, or nearly 3 days if we didn't run at night (we barely get 8 hours of daylight in the winter). We decided to run 24×7 to get there, partly because we are time-constrained, and partly to gain more experience in running overnight. Besides this being a much shorter run than the one to Alaska, we expected to encounter more traffic and more wood in the water. And we would need to clear Customs to enter Canada.
We left Seattle around 6pm. I had the helm while James finished off some work until we reached Port Townsend at 10pm. The next leg was to cross the Strait of Juan de Fuca and clear customs in Oak Bay, where we expected to arrive about 2:30am. Because the trip would only be a night or so, we didn't bother establishing regular shifts, and just tried to get sleep where we could. On the first night of a trip, James usually needs a while to relax before sleeping, and I can sleep pretty much anytime. So I slept until about midnight with James at the helm, then we switched until about a half-hour before reaching Oak Bay.
Conditions were reasonable across the Strait, although they kicked up a bit (as they always seem to) off Oak Bay. We'd not seen much traffic on the way up, but a couple of large ships were in the traffic lanes off Victoria. We could see them clearly via AIS and radar though, and could learn about them on the VTS channel. We also ended up participating in VTS ourselves pretty much the whole way to Desolation Sound. Dirona is under 20 meters long, so we aren't required to participate, but Traffic often contacts us because they can see us on AIS. As we exited the lanes in the Strait of Juan de Fuca around midnight, Seattle Traffic had asked our destination and then later had handed us off to Victoria Traffic, who presumed we were participating and requested we call in at various points. We didn't mind, as it increased our "visibility" to other vessels, even though most could see us in AIS anyway.
We are NEXUS card holders and can clear into Canada or the US over the phone. On the US side, once cleared you can go where you want, but Canada Customs still requires boaters to present themselves for possible inspection at one of several designated docks. We like to clear in Oak Bay, as it's right at the border and doesn't take us too far out of our way. We'd entered Oak Bay many times before during the day, but were surprised how difficult it was at night–the channel felt half the size that we remembered. Entry requires a bit of a dogleg around the breakwater, and the starboard buoy just inside appeared to be right in the middle of the channel. The overhead spotlight helped, but it still felt pretty tight. We generally don't like entering new harbors at night, and entering this familiar harbor only emphasized that feeling.
| | |
| --- | --- |
| | |
James took the helm for a few hours until the south end of Sidney Island while I slept, then I took over and brought us through Active Pass while James slept. We saw a bit more traffic en route, mostly ferries, but again all were clearly visible on AIS. And we didn't see much wood in the water, which was a real surprise, and one of our concerns running at night through the inside passage. The wood part did change as we got further north though. One thing we had done since the last overnight run was to get a proper-sized fitted sheet for the off-watch berth, plus a sleeping pad. This helped tremendously–the bed was much more comfortable.
We popped out in the Strait of Georgia around 8am and continued north as the sun rose. We realized then that we'd beaten the 4087 again. In the 4087, had we left Seattle the night before, we likely have stopped at Port Townsend that night and crossed the Strait of Juan de Fuca early the next morning. There would have been no point in running across overnight, as we'd need to refuel, and the fuel dock wouldn't open until at least 8am. We would need another 3-4 hours to reach the east entrance to Active Pass from Oak Bay, and probably wouldn't reach there until at least noon.