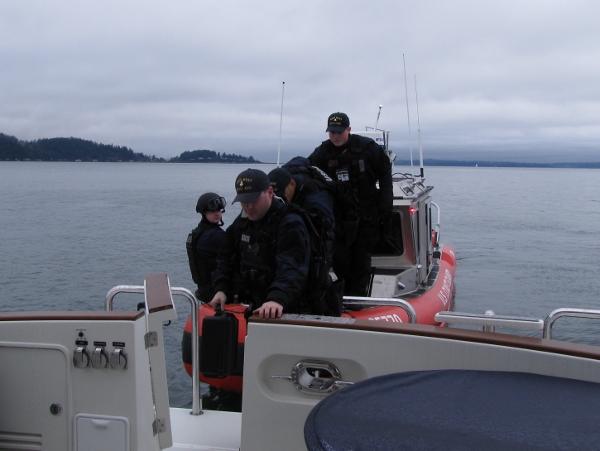 Two weeks ago, while anchored off Blake Island, a Defender Class Coast Guard boat approached. Rare before 9/11, we now frequently see these boats around Elliott Bay, accompanying ferries, patrolling the shoreline, or passing through Bell Harbor Marina where we often keep our boat. This one approached unusually close, and the crew indicated that they wanted to board us.
As they approached Dirona from the swimstep, a crewman at the bow counted down the feet between the two boats so the helmsman could stop their vessel just shy of contact. Then three of the five heavily-armed crew came aboard to inspect the boat, while the other two stayed aboard a short distance away.
The boarding crew introduced themselves and explained the process. The first question was if we had any firearms on board. Then they asked to see our identification and proof of ownership/registration. The next item was checking for sufficient lifejackets. We carry 2 Mustang MD3183 inflatables, 2 Mustang 2175 flotation suits, a Mustang Floation Bomber Jacket, 2 offshore lifejackets, 2 Stearns 29-79 Type III vests, 2 Stearns waist-pouch inflatables, and 6 near-shore Type IIs.
After the lifejackets, they asked about pyros. I wondered to myself why they would care if we had pyrometers on board, but it was pyrotechnics (flares) they were after. The final concern was that black water didn't discharge overboard, and then we were done. The boarding crew was polite and efficient–the whole process took less than 15 minutes.
Since we're out on the water so much over the past decade and the Coast Guard has never boarded any of our boats, we felt due. Most boardings we're familiar with have, however, been of vessels underway. The weather that day might have been part of the reason for the at-anchor boarding–it had been foggy earlier that morning. The boarding crew told us that they were out boarding boats and were worried there wouldn't be any out there in the fog.