Our Alaska trip was simply amazing. The glaciers and mountain scenery were incredible—we spent over a week in Glacier Bay National Park and several days in Tracy and Endicott Arms (trip map). We also cruised the complex outer coasts of Chichagof, Baranof and Prince of Wales Island, but barely scratched the surface there. The outer coast wildlife was particularly impressive—we saw hundreds of sea otters, pods of humpback whales, and coves so thick with salmon that you could walk across the surface on the protruding fins.
We ran 24×7 directly from Seattle along the west coast of Vancouver Island and the Queen Charlotte Islands, and reached the Glacier Bay area in 5 days. The total distance to our first anchorage was about 875 nautical miles. As is often the case for us, the worse conditions we hit were close to home. We left Seattle in the early evening and near midnight reached the Strait of Juan de Fuca, where the traffic lanes converge for all vessels moving in and out of the Puget Sound, Victoria and Vancouver. There, a westerly near-gale blowing against an ebb current was producing steep and closely-packed waves. Traffic was heavy and a thick fog reduced visibility to less than a half-mile. With the wind and waves on our bow, we slogged through that overnight and into the next morning, at times slowing down to 4.5 knots to reduce boat motion. The seas settled down as we exited the strait.
The rest of the run north was mostly uneventful. We ran about 50 miles offshore all the way, and encountered little traffic beyond the south end of Vancouver Island. The wind often blew 20-25 knots from the northwest and the waves sometimes were quite large. At times we could look straight out the pilot house to the wave tips (pictured below), but they weren't tightly packed as in the Strait of Juan de Fuca. With the active stabilizers on, the ride was reasonably comfortable, although moving about inside the boat required care. Frequent thick fog limited visibility, but this didn't pose much of a concern either with so little traffic. Overall, Dirona handled the trip with ease. Thanks to PAE and South Coast Marine for building a strong and capable boat, and to Emerald Harbor Marine for a high-quality commissioning.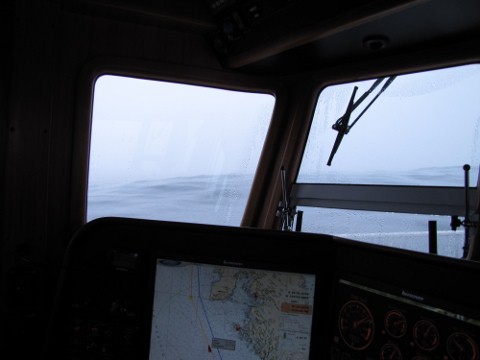 In planning the route, we originally had considered clearing Canadian Customs in Victoria, then heading up the west coast of Vancouver Island and passing east of the Queen Charlotte Islands, through Hecate Strait, to clear U.S. Customs in Ketchikan. But the more we learned about Hecate Strait, the less appealing that plan became. The waterway is relatively shallow throughout, a few hundred feet at best, with only tens of feet at the north end. Southerly winds funnel through and steep seas develop quickly. One of our favorite local weather books, the now out-of-print Marine Weather Hazards Manual, says of Hecate Strait: "Because of the speed that the winds and seas can change, it has been said that Hecate Strait is the fourth most dangerous body of water in the world." So we decided to just run offshore the whole way and perhaps clear in Sitka rather than in Ketchikan. Clearing customs, however, takes time in having to divert our course to an appropriate reporting station, and we'd have to deal with food and alcohol restrictions. Canada Customs said they had no policy on allowing alcohol beyond a very small amount to be carried through by boat, although an officer could choose to allow it. To be on the safe side, we'd need to stick to the limits and stock up when we cleared back into the US, costing more time. We weren't planning to stop in Canada anyway, so we decided not to clear customs, saving many hours. If we did have to stop for safety reasons, we were told we could clear over the phone via Nexus, but they might send the RCMP out to inspect us as there are no reporting stations on the west coast of Vancouver Island or the Queen Charlotte Islands.
Alaska is a trip that we've wanted to make for a number of years, but you really need 3 months to do it right, and 2 months at a minimum. A large chunk of that time is spent just covering the 600 miles to the Alaska border, plus another 350 to reach Glacier Bay proper. We've never had more than four weeks off at a time, so the trip just didn't seem feasible. But what we have been finding with the new boat is that, rather than the slower speed restricting where we can go compared the previous boat, we actually are travelling farther.
We were able to reach the Glacier Bay area in 5 days running 24×7. Reaching the same area in the previous faster boat, a Bayliner 4087, would have taken longer. To travel longer distances in the 4087, say 400 miles from Seattle to Queen Charlotte Sound, we typically ran from dawn to dusk, or about 14 hours per day. We cruised at about 14 knots, but often would average about 12 with wind and current. At that rate, we'd need to replenish our 220-gallon diesel supply daily, costing up to two hours to divert to a fuel dock and fill, and we'd likely have to slow down to manage our fuel consumption as fuel docks aren't very frequent north of Vancouver island. So at best we could cover about 150 miles per day. In perfect conditions, it would take about 6 days to cover the same 875-mile distance to the Glacier Bay area, plus another half day to clear customs in Ketchikan and stock up on anything we couldn't bring through Canada. In that period, however, there'd almost certainly be a weather delay, so the total trip likely would take more than a week. And we'd be tired at the end of that run. The 4087 wasn't particularly loud, but the interior noise and vibration from the engines is substantial, and running at 14 knots requires a fair amount of focus at the helm.
That the 52 is so much quieter and comfortable underway is one of the reasons we've been finding that we can cover more ground. After our 5-day, 875-mile 24×7 run, we arrived at our first anchorage in surprisingly good shape. We certainly slept well that first night, but first we had dinner on deck and a relaxing evening.