Dirona has plenty of storage space—we've not yet come close to filling all the lockers despite living aboard. But it is a boat, and storage space is at a premium. So we're always looking for ways to make the most efficient use of the space we have. When we visited the yard during construction, one of the items on our checklist was to add lockers in any inaccessible void spaces, or to modify standard lockers to make best use of the space available.
As we organized the galley, one product we've found useful is Seville Classics iron expandable kitchen shelf. We've purchased five so far, and keep finding new uses for them. We initially got one for the locker above the washer/dryer that we use as a pantry: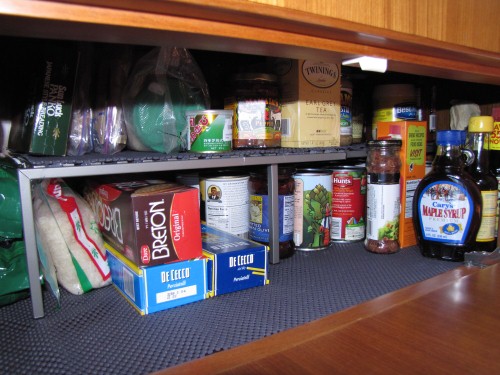 Then one for the dry-goods locker above the port counter: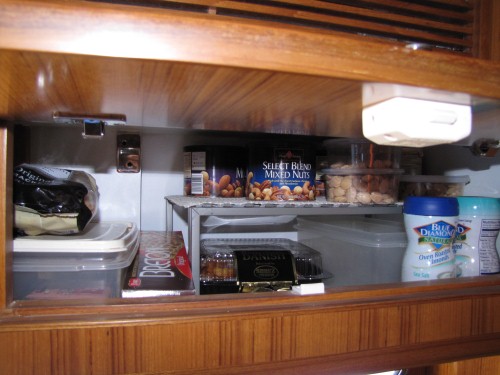 And another for the shelf below the port counter: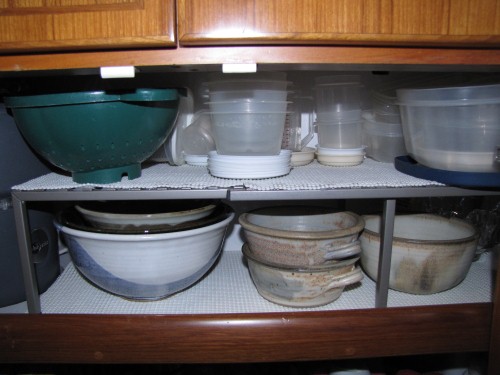 And one for for our mugs and glasses cupboard above the main counter: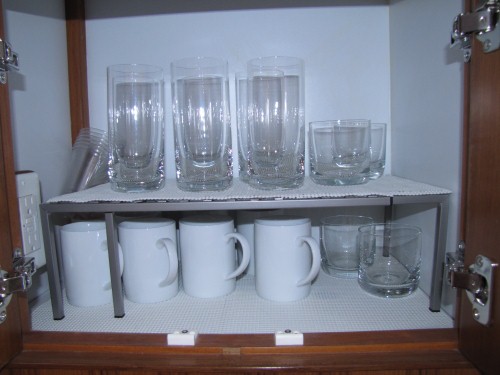 Recently, we realized one would fit in the appliance garage behind the stove: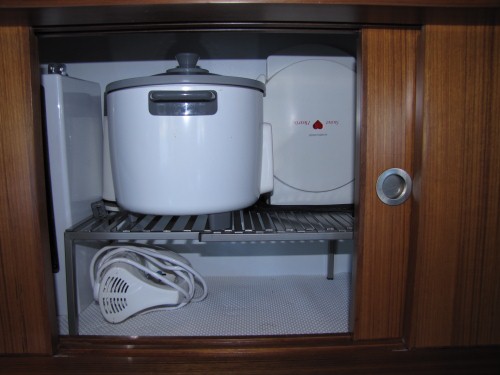 Seville Classics also has an iron two-tier shelf. By some fluke of luck, two fit exactly into our center overhead cupboard and really maximize our use of that space: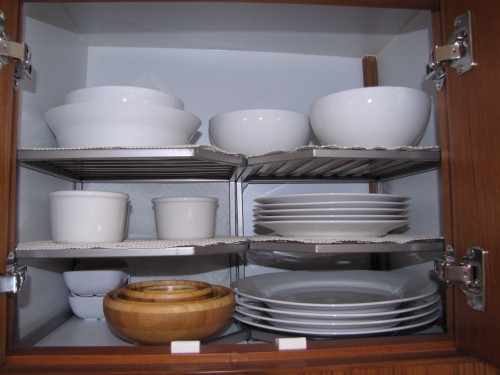 The shelves have little friction, so we've glued on non-skid material to keep things from shifting.
For dishes and coffee mugs, we are using Aspen from Crate and Barrel. We had Aspen coffee cups in storage from our house and brought them aboard the new boat. Before we put non-skid in the cupboards, the mugs had survived sliding and banging into each other so well that we decided to buy the plates and bowls too. So far they're working out well. The bowls are a little on the large side, but are multi-purpose.
We purchased the shelves from our local Bed, Bath and Beyond store, but they also are available from Amazon.com.