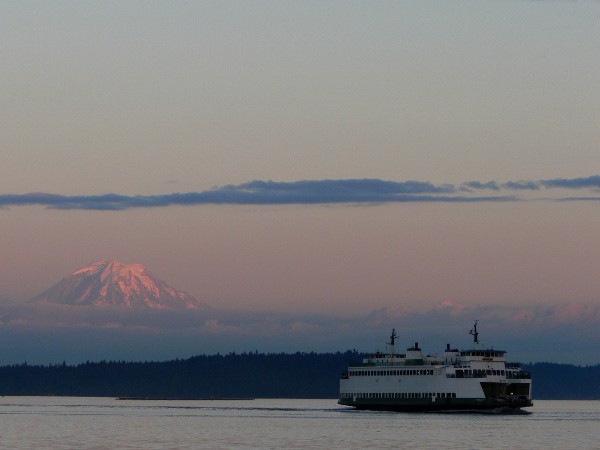 Lynwood Center, tucked into the corner at the west end of Rich Passage, has become one of our close-to-home favorites. It's nearness to the ferry routes and other traffic in Rich Passage make it an unusual anchorage. When we first stopped there, we expected that ferry wakes in particular would toss the boat a fair bit, but the anchorage is surprisingly calm (we surmise through a combination of the ferries slowing to take the corner and their east-west wake cancelling out the north-south wake.)
Diving birds provide constant entertainment, and on clear days the anchorage has a great view to Mount Rainier, but we especially enjoy watching the traffic through Rich Passage. Most memorable was a navy submarine that passed through from Bremerton with an impressive escort of two Coast Guard cutters, three high-speed Coast Guard RIBs and two large Navy tugs.
Public shore access is close by at the Schel-chelb Estuary, owned by the Bainbridge Island Parks and Recreation District. You can land there and walk a short distance to Lynwood Center. We stopped once at the bright and airy Treehouse Café for an excellent thin-crust pizza with a microbrew on tap. Lynwood Center also has a small grocery store, a movie theatre and a couple of other restaurants. Returning, we discovered that the tide comes in a long way. James had to wade out in his jeans, in cold winter weather, to rescue our stranded dinghy.
Last weekend we anchored there in the new boat for the first time. We had expected the 52 to roll significantly more than the hard-chined 4087 when a wake did come through, but so far we've been pleasantly surprised.
Anchoring notes: Anchor in 3-4 fathoms in the bight along the north shore at the west end of Rich Passage. North and southeast wind protection is good, but southwest winds blowing across Port Orchard can force substantial waves into Rich Passage. The Schel-chelb Estuary (see http://www.ci.bainbridge-isl.wa.us/shoreline_access_guidebook.aspx) is at the north corner where the road passes over a culvert.