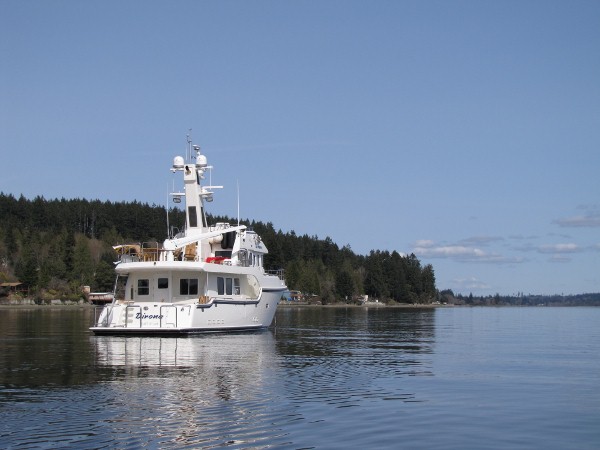 We spent the final two nights of our mid-March shakedown cruise in Hammersley Inlet. Shelton and the Oakland Bay Marina are at the elbow of Hammersley Inlet, where it bends into Oakland Bay. We've anchored in the area many nights, and spent hours exploring the area by dinghy and on foot. We enjoy the industry: the timber mill off Shelton, Taylor Shellfish Farms, and a complex gravel mine conveyer and barge-loading system that moves the barge back and forth rather than the conveyor. We even enjoy seeing the trucks full of logs pass on nearby State Route 3 on their way to the mill. And at night, the sky glows in the distance from the mill lights. There's also plenty of nature to enjoy, particularly at high tide when a dinghy can reach into deep into the drying heads.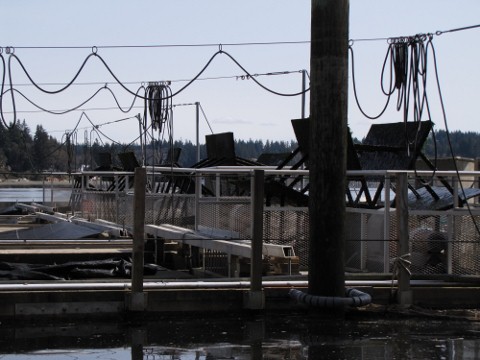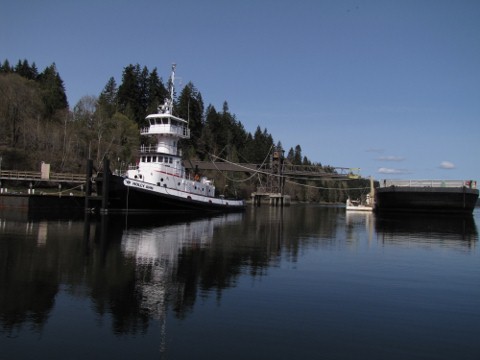 We rarely see other boats at anchor in the area. A major reason is navigating Hammersley Inlet. The waterway looks difficult on Chart 18547 (and even harder on a smaller-scale chart), but is generally wide and reasonably deep. Only a few tight spots require careful course selection. The main navigation challenge is oncoming traffic, particularly tugboats with barges. In that case, the tugboat operator selects their course, and you take what is left. We didn't encounter any tug traffic this trip, and visibility was much better than on some of our previous visits, when the fog was so thick we could hardly see the shore on either side.
We travelled to Hammersley Inlet from Stretch Island Marine Park at the north end of Case Inlet (route details). The most direct route there is through Pickering Passage along the west side of Harstene Island. Halfway along is the Harstene Island bridge, with a clearance of 31 feet at mean high water. The tide level was 13 feet and mean high water there is 24 feet. With our estimated air draft of 30 feet (we'd not yet measured it) there should be ten feet between the bridge and the top of our the stack. We approached slowly, judged we had sufficient room, then carefully worked our way through. We had plenty of room, although the clearance seemed more like five feet than ten.
| | |
| --- | --- |
| | |
| | |
| --- | --- |
| | |
Given the clearance appeared closer than documented, we wanted a way to precisely check the close ones. So we measured our air draft with a Fluke 411D laser distance meter and got 30.5′ feet from the waterline to the top of the stack. We then measured the distance from a fixed point on the bow to the waterline and got 7.1′. That means we would need 23.4′ (30.5′-7.1′) above the bow in order to clear a bridge.
Now when we approached a bridge, we can put just poke the bow under, and measure the distance to the bridge with the laser meter. If we have at least 23.4 feet, then we can clear.