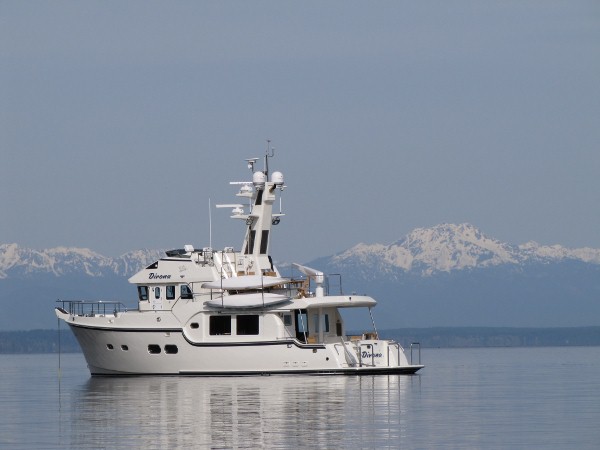 From Eagle Island, we made a short trip to another favorite anchorage at Nisqually Flats. The anchorage is a bit unusual, but we love the mountain views in both directions. Conditions generally are calm unless the winds pick up from the north, so even on overcast days, its a good anchorage. Mount Rainier wasn't quite as visible as at Eagle Island yesterday, although still was dramatic, but the Olympics were very clear. And we were happy to hear the piper as she walked along the shore.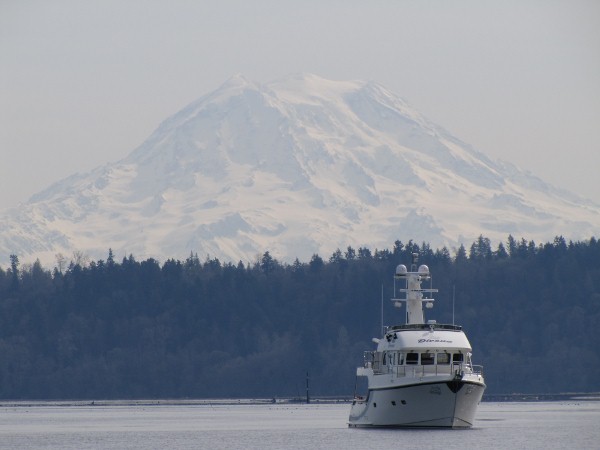 We spent a couple of days at Nisqually, unpacking our endless pile of boxes and testing out the various systems. The warm weather continued, and the temperature was warm enough that we could have a morning coffee break outside on the boat deck.
The boat deck on the 52 is 2 feet longer than the 47, giving us plenty of space for a table. But that extended deck, plus a deeper swim platform, made launching the dinghy from stern a challenge. The capability to launch to all three locations–port starboard and stern–was important to us though. To accommodate a stern launch, we upgraded the davit from a Steelhead SM1500R with a 12′ reach to a custom Steelhead ES1100 with a 16′ reach, and moved the standpipe aft 1'3″. This has worked out well–we can launch the dinghy single-handed to all three positions.
| | |
| --- | --- |
| | |
We also tested out deploying the flopper stopper, which was relatively straightforward. Conditions were so calm that we couldn't gauge how well it would work though. Since the stack on the 52 has been moved aft compared to the 47, we moved the whisker pole mount aft a similar amount, so that the topping lift would connect directly above the pole on the exhaust stack.