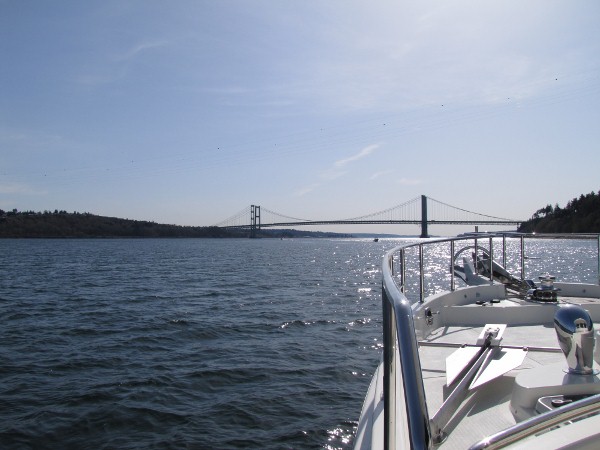 Friday afternoon we cruised south from Bell Harbor Marina for a week-long shakedown cruise in the South (Puget) Sound. We visit there frequently–it's easily accessible from Seattle and has excellent anchorages, many with views to Mount Rainier and the Olympic Mountains. Relatively few boaters visit however, compared to the cruising grounds to the north, such as the San Juan Islands. We know many people who have cruised the Pacific Northwest for years, but have never visited the South Sound.
Definitions of the South Sound vary, but we never feel officially there until we've passed under the Tacoma Narrows Bridges.
The weather was clear and at 59°F, unseasonably warm for March in the Pacific Northwest, with great mountain views. Below are the snow-covered Olympic Mountains viewed over the Fox Island bridge.
That night we stopped at Eagle Island Marine State Park, a long-time favorite of ours. Mount Rainer was out in fully glory, with a colorul sunrise the next morning.
While underway yesterday, we received an email from Paul & Linda Dugger, saying "What a beautiful craft. Your new boat is glistening in the morning sun." They had noticed Dirona at anchor and sent some pictures taken from the deck of their house on Anderson Island. What an amazing view they must have from their deck, and we sure appreciate them sending us the pictures.