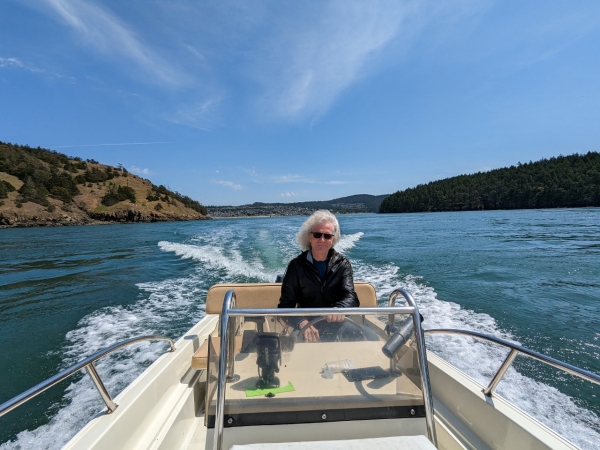 With two large marinas, Anacortes, WA is a popular boating destination close to the beautiful San Juan Islands. The city also is the gateway to the islands for those without a boat, with nearly a million arriving by ferry in 2021. That is how we visited the islands last fall. And Anacortes has been the home of the Trawlerfest in the Pacific Northwest for over a decade.
This year, we stayed in Anacortes for two nights while we presented at Trawlerfest. For past presentations, we'd stayed on our own boat. But boatless this time, we stayed at the Majestic Inn in a room with great view to Guemes Channel and towards the San Juan Islands.
We arrived the morning of our talk, and had lunch at the Brown Lantern Ale house before heading over to the seminar area. We had a little time before we started, and spent it amongst beautiful native art work at the nearby Samish Indian Tribe offices.
After our talk, we enjoyed lunch outside with John & Tina Philippson, previous owners of Nordhavn 7502 Sockeye Blue. We'd not seen them since Florida in 2016 and really enjoyed catching up. We walked the docks at Trawlerfest after, and had chatted with Yacht Tech James Knight, who did an amazing job of preparing Dirona for market and closing the sale.
Our final Trawlerfest event for the day was the "Trawlers at Twilight" cocktail party, where we had such a good time we forgot to take any picture. But we did get some great sunset views from the rooftop bar of our hotel later that evening.
The following day, we made our first foray back into boating with the rental of a Boston Whaler from Anacortes Yacht Charters. We had a fabulous time touring the San Juan Islands in the high-speed boat, visiting many of our old haunts. In between visiting various marine parks, we stopped for lunch at the Lopez Island Resort on Lopez Island, and had a drink at the Madrona Bar and Grill in Roche Harbor.
We had a fabulous time being out on the water again, and it got us more seriously thinking about what the next boat should be.