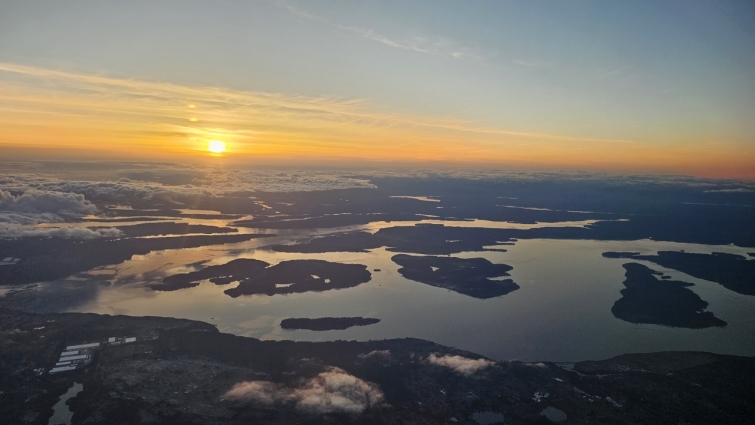 James made a business trip to San Francisco for a day and the clear, calm weather on both his outbound and return flights provided some wonderful photo opportunities.
Below are highlights from April 4th, 2023. Click any image for a larger view, or click the position to view the location on a map. And a map with our most recent log entries always is available at mvdirona.com/maps.
4/4/2023
CLEAR Queue

The

CLEAR

program is designed to expedite security checking. Streamlined identity checking allows passengers to bypass the TSA identity check queue and go right to the physical security check. But today something like a hundred people were lined up in the CLEAR lane, whereas the TSA preCheck identity queue was nearly empty.
San Francisco Bay

San Francisco Bay, viewed from James' flight on a quick business day trip to San Jose. The marina that we lived at for several weeks back in 2012,

Westpoint Harbor

, is visible just below center, up and to the right of the winding waterway (click image for a larger view).
Guadaloupe Parkway Solar Farm

The Santa Clara County Guadaloupe Parkway Solar Farm produces was completed in 2018 with a peak capacity of 1.7 MW.
PayPal Park

PayPal Park, home of the San Jose's Earthquakes Major League Soccer club, visible beyond the runway as James' flight is about to land.
Apple Park

Apple Park, the massive corporate headquarters for Apple Inc. in Cupertino, California, viewed as James' flight departs from San Jose. Completed in 1993 at an estimated cost of USD $5billion, the 64-acre (0.26 km2) 4-story building supports 12,000 Apple employees.
South Sound

The sun setting over the South Puget Sound as James's flight returns to Seattle.
Edmonds

Ferry departing Edmonds, Washington, off the large Edmonds marina, with the now-defunct Point Wells refinery visible on the point below (click image for a larger view). Point Wells has been a refinery and fuel terminal since 1912, but in 2010 the valuable waterfront property was sold for real estate development.
Portage Bay

View to Portage Bay in Lake Union, home of the Seattle Yacht Club, with the 520 bridge over Lake Washington at right and the Montlake Cut connecting the two lakes at left. The University of Washington Husky Stadium, emblazoned with a large 'W', is visible at upper left along the Lake Washington waterfront.
Lake Washington

Wonderfully calm conditions on Lake Washington as James' flight turns south to land at Sea-Tac airport. The 520 bridge is at left, with the I-90 bridge at right and downtown Bellevue across the lake between them. The snow-covered Cascade Mountains, where we snowshoe in the winter and camp in the summer, are visible in the distance.
| | |
| --- | --- |
| | Click the travel log icon on the left to see these locations on a map. And a map of our most recent log entries always is available at mvdirona.com/maps. |