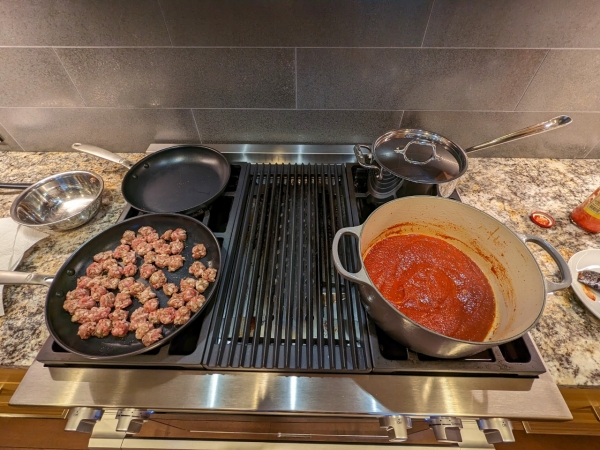 James made another trip to the Bay area two days after the previous one, and we both ended up having Italian food for dinner, ableit in different cities. While James was at Perbacco Italian restaurant in San Francisco, Jennifer tried the Red Hen Rigatoni recipe, reproduced in the Washington Post. This was the meal that generated such a stir when President Biden and his wife Jill both ordered it at Washington's Red Hen restaurant.
The ingredient list is rather extensive, but the recipe isn't particularly difficult, although it does require a lot of pots. The finished result looked and tasted delicious, and the sauce freezes and reheats well to save for later.
Below are highlights from April 6th through 8th, 2023. Click any image for a larger view, or click the position to view the location on a map. And a map with our most recent log entries always is available at mvdirona.com/maps.
4/6/2023
Des Moines

The Des Moines marina, just south of Seattle, viewed on James' flight back down to San Jose. The marina has room for 840 boats in dry and wet storage.
Perbacco

Both Jennifer and James had Italian food for dinner, albeit in different cities. While Jennifer was making

rigatoni

, James was at Perbacco Italian restaurant in San Francisco. This is their kitchen, cleaned up and ready for the following evening, viewed as James leaves for his hotel after a late business dinner.
4/7/2023
Urban ArtWorks

Chalk artwork by Alexandra Nason as part of the South Lake Union Urban ArtWorks program, a non-profit with a "mission to engage youth and communities in the creation of public art that inspires connections and honors their voices."
Waymo

A Waymo autonomous ride-hailing car on the move in San Francisco. The Google subsidiary also operates in Los Angeles and Phoenix.
Tacoma Narrows

View to the Tacoma Narrows bridge, at lower right, as James' flight from San Francisco returns to Seattle.
Point Ruston

Looking down on Point Ruston and the Tacoma Yacht Club. The hotel we stayed while

visiting last year

, the Silver Cloud Inn, is along the water roughly at center, below the large black rectangle.
Eagle Harbor

Six Washington State ferries docked at their Eagle Harbor maintenance facility on Bainbridge Island (five on the main dock and a sixth partially visible at the bottom right corner of the picture). The complex has ten different trade shops ranging from pipefitting to carpentry to welding, and employs over 100 people.
Hedley Spit

Houses packed along both sides of Hedley Spit at the north end of Bainbridge Island. The sand bar has an elevation of only 3.5 ft (1 m) and rising sea levels likely will inundate many of the houses by the middle of this century.
I-5 Corridor

Looking south along the I-5 corridor, with Lake Washington at far left and Boeing Field at right, as James' flight descends southbound to land at Sea-Tac.
| | |
| --- | --- |
| | Click the travel log icon on the left to see these locations on a map. And a map of our most recent log entries always is available at mvdirona.com/maps. |