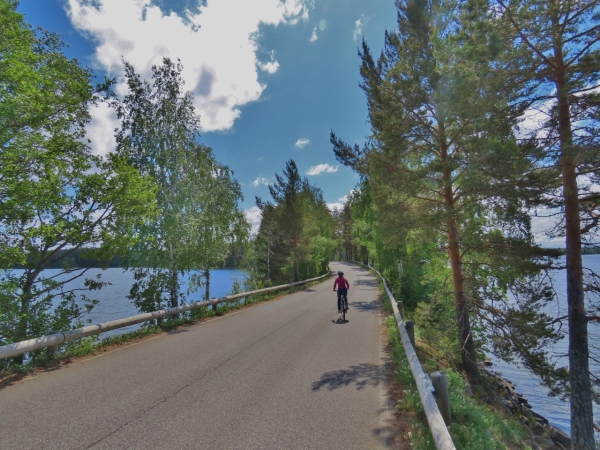 The Punkaharju Ridge near Savonlinna is a centuries-old travel route formed about 10,000 years ago when the continental glacier receded in eastern Finland. The natural beauty of the area has attracted tourists for two centuries and today the region is protected as a nature reserve and has been designated one of 27 "National Landscapes of Finland" selected for their great symbolic value and cultural or historical significance
We anchored in the area for three nights and on the second day took our bikes ashore and rode the ridge to the town of Punkaharju, taking in fabulous scenery along the way. We also walked through a renovated section of the Salpa Line, a 745-mile (1,200km) fortification extending from the Baltic Sea north to the Barents Sea that was built in the early 1940s to protect Finland against another possible Soviet attack.
Below are trip highlights from June 13th and 14th en route to and at Punkaharju Ridge, Finland. Click any image for a larger view, or click the position to view the location on a map. And a live map of our current route and most recent log entries always is available at mvdirona.com/maps.
6/13/2019
Steamships

VIP Cruise's

three historic steamships moored along the harbour as we depart Savonlinna. From left to right is the 1919 S/S

Paul Wahl

, the 1905 S/S

Punkaharju

and the 1904 S/S

Savonlinna

.
Puijo

In the height of the summer, the M/S Puijo runs a similar route to the one we've just completed, making the loop from Savonlinna up through the Heinavesi route to Kuopio and back south along the western deepwater channel.
Self-Service Bridge

Jennifer pulling the cord for the self-service Virtasalmi Bridge on our way to Punkaharju.

Janne Leinonen

, owner of

VIP Cruise

, runs a cruise following a similar route and has an app that will open the bridge. He said he could open it for us from anywhere in the world, just not at 5am. :)
Virtasalmi Bridge

The Virtasalmi Bridge opened within a couple of minutes of our request.
10,500

We just reached 10,500 hours on our John Deere 6068AFM75 main engine. The hours are

winding on

and it's still running perfectly.
6/14/2019
Ito-Savo

The local newspaper Ito-Savo interviewed us while we were in Savonlinna and the

story

went up online today. The article is locked for subscribers only—we're hoping to get a PDF version to post.

Update 06/28/2019: Blog reader Pekka Pylvas sent us a PDF of the article that we've posted here. Thanks Pekka!
Bikes

We took the bikes to shore in the tender to cycle along Punkaharju Ridge, another one of 27 "National Landscapes of Finland" selected for their great symbolic value and cultural or historical significance.
Old Road

The Punkaharju Ridge is a centuries-old travel route, and the Russians built a road along it in the 1700s to connect the castles at Savonlinna and Vyborg (in Russia near the

Saimaa Canal

Baltic entrance). Most of that road has since been paved, but here we are riding on a small preserved section of the original road near our anchorage.
Runeberg's Hill

A memorial to Johan Ludvig Runeberg, a national poet of Finland, at the highest point on the Punkaharju Ridge. It's only 25 meters above sea level, so as ridges go Punkaharju is not very high. :)
Pususilta Bridge

View to the Pususilta Bridge from Runeberg's Hill. This 1983 pedestrian bridge replaces one built in the 1930s to allow better access between two local hotels. Tourism has long been an important industry in the area.
Potkusalmi Bridge

Crossing the Potkusalmi Bridge for a view to our anchorage.
Potkusalmi

Looking north along Potkusalmi from the Potkusalmi Bridge. Dirona is just visible at anchor in the distance (click image for a larger view).
Punkaharju Ridge

Cycling along the scenic Punkaharju Ridge to the town of Punkaharju. We really enjoyed the ride, and traffic was quite light due to a nearby bypass highway.
RadioSahko

Although some Radio Shack stores still operate in the US, the company twice filed for bankruptcy and we haven't seen one for a long time. So we were surprised to see a RadioSahko in Punkaharju.
Pub Hutikka

We had a very good lunch on the patio at Pub Hutikka in Punkaharju.
Salpa Line

The Salpa Line was a fortification line along Finland's eastern border extending 745-mile (1,200km) from the Baltic Sea north to the Barents Sea. The line was built in the early 1940s to protect Finland against another possible Soviet attack, following the the 1940 Soviet invasion of Finland and the ensuing Winter War. Fortifications included 800 dugouts, 1,250 machine gun firing points, 80 miles (130 km) of dugout barriers, 220 miles (350 km) of battle and transport trenches and 140 miles (225 km) of stone tank barriers.

Most were filled in or removed after the war, but some have been renovated and preserved, including this one along the Punkaharju Ridge.
Woods

Rather than return along the paved road the whole way, we took a trail through the woods back where it branched of near the north end of the Punkaharju Ridge.
Streetlight

It's unusual to find a streetlight along a woodland trail. Much of the trail here is lit, probably for cross-country skiing during the winter when daylight hours are limited.
Bridge

Crossing a small pedestrian bridge along the trail. We had an excellent ride and the scenery was fabulous.
Hotel Punkaharju

The Hotel Punkaharju was built in the 1890s to support increased tourism in the area and today is a high-end resort that in 2017 hosted a meeting between the presidents of Russia and Finland. After our hot ride, we relaxed with a glass of wine and plenty of water, on their deck overlooking the woods.
Fuel Filter Change

It's time to change the primary fuel filters on our John Deere main engine. These two on-engine filters are a 10 micron and 2 micron. They are rather expensive at $140 a pair and changing them requires the main engine be shut down. So we instead run a less-than-usual configuration where we have 2-micron filter elements in the off-engine RACOR 900 fuel filter.

The way our fuel system is set up, all fuel first passes through a 25-micron transfer filter and then through 2-micron primary fuel filter. The on-engine filters are really just there for a final clean and, in case there is a problem in a filter up stream. But we expect the fuel that arrives at the engine to be clean. As a consequence, these filters aren't expected to block for years, but they still need to be changed periodically since fuel and fuel impurities can cause elements to deteriorate over time.

The way the system ends up working is the 25-micron transfer filter is a RACOR FBO-10 and it has so much capacity that it will effectively never plug and just gets changed on timed intervals. There is a pressure sensor to detect it plugging up, but it's never happened even when running on questionable fuel.

The on-engine filters are much the same where they just get changed at timed intervals. Again, they have alarms on low pressure likely caused by them plugging but this two has never happened. The primary RACOR 900s do all the work and they get changed as often as 200 hours and, when the fuel is really excellent, might not plug up in 1,500 hours. The RACOR 900s are easy to change and can be serviced without shutting down the main engine.
Checking for Water

We have a water-in-fuel sensor, but once a year we drain off the bottom of the primary transfer filter to check for any water build up. The way our system is set up, any water anywhere in the fuel system will end up here. We have seen water here twice in our 9 1/2 years and over 10,500 hours of use.

When the boat as brand new, we found a half-cup in the original fuel load. One other time we found a quarter inch of water. Other than that, we've never seen any water even filling in some very out of the way places in the South Pacific.

In our previous boat we once took on fuel at an out-of-the way fishing lodge in Northern BC and ended up with several gallons of water. From that experience, we learned that if the water is drained off the RACORs frequently, even gallons of water can be managed without engine operating issues. We just ran through it draining water every 5 to 10 minutes. We have never used any form of fuel emulsifiers or additives in any of our boats so, any water in the system should be visible and easy to find.

We're surprised that water in fuel has been such an unusual event for us given the places we have fueled. Here James is holding what he's drained off at the bottom of the transfer filter and holding it to the light to look for any evidence of water.
Spare Spitfire

We found yet another

"spare cat"

while getting out the main engine fuel filters.
Click the travel log icon on the left to see these locations on a map, with the complete log of our cruise.

On the map page, clicking on a camera or text icon will display a picture and/or log entry for that location, and clicking on the smaller icons along the route will display latitude, longitude and other navigation data for that location. And a live map of our current route and most recent log entries always is available at mvdirona.com/maps.