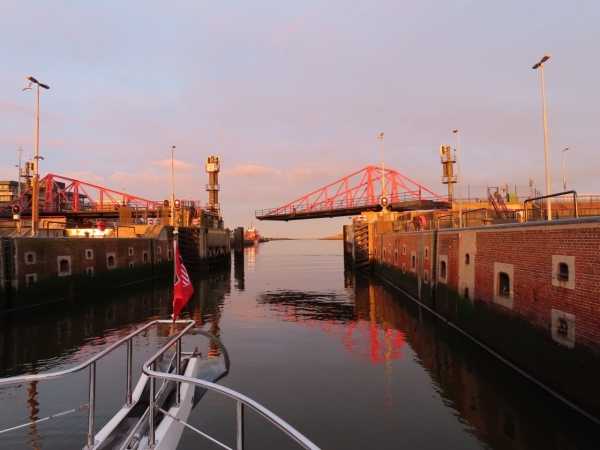 Just over four months after arriving, we departed Amsterdam on a calm but chilly morning and exited the canal system into the North Sea at IJmuiden. From there we made a 200nm overnight run to the German holding of Heligoland to pickup a load of duty-free diesel. Conditions were wonderfully settled most of the way and we had a relaxing and easy run. The boat ran flawlessly and we loved being at sea again after staying in once place for so long.
Below are trip highlights from March 19 and March 20th, 2019 en route from Amsterdam, NL to Heligoland, DE. Click any image for a larger view, or click the position to view the location on a map. And a live map of our current route and most recent log entries always is available at mvdirona.com/maps
3/19/2019
IJ River

The IJ River at 5am as we get underway. After a couple of weeks of high winds, conditions have finally settled down and we have calm conditions predicted for our 200nm run from Amsterdam across the German Bight.
Dawn

Dawn looking back to Westpoort about a half hour after getting underway from Amsterdam. The weather is clear and calm, but cold at 35F (1.6C). We had frost on our decks this morning. We'll likely see more of that as we head north to the Baltic.
Tug Assist

Several barges and commercial boats were underway in and around Westpoort. Two tugs came out to assist an arriving cargo ship into port.
SnowPlanet

The indoor ski run SnowPlanet has a 128ft (39m) vertical drop, almost certainly the largest in The Netherlands. :)
Velsen-Noord

Industry at Velsen-Noord at the western end of the North Sea Canal from Amsterdam to sea.
Floating Structure

We aren't sure what this large structure under construction is. Perhaps it is for the

new sea lock

being built. It will be the largest in the world at 500m long, 70m wide and 18m deep.
Sea Locks

The complex of four sea locks that separate the North Sea Canal from the North Sea. Recreational craft use the the oldest lock and smallest southermost lock, Zuidersluis, built in 1876.
Bridge Opening

The water level between the North Sea Canal and the North Sea was not very different. They are very efficient—the lock door had barely shut behind us before the one in front opened. We're almost at sea now.
Esvagt-Carina

The capable-looking rescue boat

Esvagt-Carina

just outside the sea locks.
Forteiland IJmuiden

The island fortress Forteiland IJmuiden was constructed in the 1880s to help defend the surrounding area and restrict shipping traffic heading for Amsterdam.
Range Light

The 141ft-tall (42m) rearmost of the IJmuiden range lights. The lights were erected in 1879 to help guide ships into the harbor of IJmuiden.
IJmuiden North Breakwater Light

The light on the end of the IJmuiden north breakwater as we exit the harbour and head for sea. We're loving being underway again—it's been such a long time since we were at sea.
Golden Sky

Golden sky viewed through the industrial area at Velsen-Noord.
Fog

Conditions were a little lumpy as we departed the North Sea Canal, but then settled down. We had an easy run with clear and sunny skies until mid-afternoon when we entered a thick fog bank just off the sea entrance to

Harlingen, NL

(where we picked up our new tender last year). We could barely see this fishing vessel a few hundred yards away.
Positive Current

In a positive current we're doing a booming 10.6 knots at 1.2nm/gallon. We were initially hoping to make Heligoland in time to fuel during their opening hours of 10am-5pm. But we eventually had to slow down as we'd arrive in the middle of the night.
Windfarms

A massive windfarm complex to our north shortly after we crossed the border between The Netherlands and Germany. We're running just outside the busy traffic lanes to our north.
3/20/2019
German Bight

We're well into the German bight now at 26 miles out of Heligoland now. Conditions have been wonderfully calm the entire run and we've made excellent time with a positive current.
Heligoland

On the dock at Heligoland at 8:45am. As a German territory, Heligoland is part of the EU, but is not part of the

EU Customs Union

or

VAT area

. We're here at Bunker Station Heligoland to purchase duty-free diesel at a price of $4.25 per gallon. That's quite expensive by US standards, but still far less than the rest of the EU.
Hermann Marwede

The 150ft (46m) German search-and-rescue boat Hermann Marwede at its home port of Heligoland.
Fueling

Taking on 888 gallons of diesel at Heligoland. The fuel dock hours are officially 10am to 5pm, but they started fueling us at 9am and are super-efficient. We were able to depart just past 10am, in time to catch the last of the flood tide down the Elbe River and reach the Kiel Canal late this afternoon.
Click the travel log icon on the left to see these locations on a map, with the complete log of our cruise.

On the map page, clicking on a camera or text icon will display a picture and/or log entry for that location, and clicking on the smaller icons along the route will display latitude, longitude and other navigation data for that location. And a live map of our current route and most recent log entries always is available at mvdirona.com/maps.