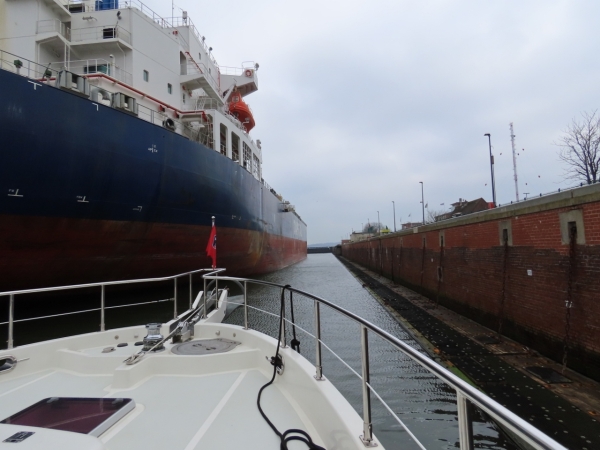 Following an overnight run from Amsterdam, we made a brief pit stop in Heligoland to top up our diesel tanks with duty-free fuel and were underway again in time to catch the last half of the Elbe River flood tide and reach the Kiel Canal that afternoon. We arrived at the canal in a fog so thick we could barely see the lock signals, but fortunately were allowed to proceed and enter the canal to moor for the evening just inside.
Unlike our first trip through last fall, where we spent three nights in the Kiel Canal to enjoy the experience, we ran straight through in one day and overnighted just outside the locks. We had an easy transit through the canal, and enjoyed once again being close to the big ships. And we got even closer on our exit, when we shared a lock with a 597ft (182m) ship. The video Kiel Canal Baltic Sea Lock shows how tight it was as we passed alongside with only feet to spare.
Below are trip highlights from March 20th and 21st, 2019 in Germany. Click any image for a larger view, or click the position to view the location on a map. And a live map of our current route and most recent log entries always is available at mvdirona.com/maps
3/20/2019
Curacao Pearl

We made good time towards the Kiel Canal. The current changed from flood to ebb just as we passed Curacao Pearl, moored for-and-aft while bunkering.
Viking Destiny

The car carrier Viking Destiny a couple of miles off the Kiel Canal. We're in a pretty thick fog and pleasure craft aren't allowed to operate in the Kiel Canal in restricted visibility. There's a possibility we might not be allowed to enter, but we're keeping our fingers crossed.
Approaching Lock

We had a difficult time in seeing the signal mast on the left from a distance in the fog, but we got a white light to enter the lock.
New Lock

Construction for the new lock at the Kiel Canal, part of a construction project to allow near Panamax-size ships (280 m/32.20 m/9.50 m) to pass through the canal.
Moored

We contacted the Kiel Canal via radio and they directed us to a berth just upstream from the recreational craft berths.
Ferry

Ferry loading as we walk into Brunsbuttel. Thirteen ferry crossings are along the Kiel Canal and they are heavily used. The ferries cross frequently and cars are often lined up as soon as they depart. This is one of the few times we've seen a light load.
Torhaus

We had a good pizza dinner and German beer at Torhaus restaurant with a view to the ships locking through.
Cancelling

We decided to try out the

Washington Post

for a month and see if we liked it. While doing that, we went and looked at how to cancel our current

Wall Street Journal

subscription in case we ended up preferring the post. Not so easy. The

Journal

has a nicely written web site that allows updating credit cards, adding newsletters, subscribing to extra cost item, or making any other change. It's easy to find where the auto-renew option is set. This option requests the

WSJ

to automatically renew every month. We didn't set it but they default to on which seems OK to us. The "auto renew" option looks like a web button but it actually can't be changed. We searched for other less obvious ways to change the subscription auto-renew status or cancel it entirely and couldn't find anything after searching for fifteen minutes.

We then searched on the web on how to change the auto renew option or cancel the subscription. We found the following Cancellation & Refund Policy that states: "In order to change or cancel your subscription, please contact Customer Service. We do not accept cancellations by mail or email or by any other means other than calling Customer Service." You can subscribe online. You can pay online. You can change absolutely anything but you can't stop paying without having to talk to a service representative, assuming one is available and you have the time. Of course, the WSJ service representative needs you to first explain "why you are leaving after having been a subscriber for a long time and presumably 'very happy'". A bit less happy now :-).

Presumably lots of people never bother to get online and wait for a customer service representative, so the Wall Street Journal will get more money this way. But it is kind of customer unfriendly. The cable company Comcast is famous for exactly the same tactic and this YouTube video of someone trying valiantly to cancel "the #1 internet service in the country" is priceless: Comcast's Embarrassing Customer Service Phone Call.
Exiting Lock

From our berth we had an excellent view to the large ships entering and leaving the lock.
3/21/2019
Anina

The 488ft (149m) cargo ship

Anina

barely fits under the Highway 5 bridge. We got underway just past 6am on a foggy morning. Visibility wasn't great, but fortunately was good enough to continue and we weren't

ordered back to our berth

like last year.
More Sats is Better

One aspect of satellite coverage that is seldom discussed is how many satellites there are to chose from at a given location. At first you might think "who cares?" But, there is significant upside to satellite providers that have many satellites to chose from. One advantages is system faults don't take you offline where there are many redundant satellites. But this advantage is slight—most systems aren't down all that frequently. Where it really helps to have a satellite plant with deep redundancy is when there are obstructions.

By far the most common problem with satellite coverage is obstruction. Geosynchronous satellites are all above the equator so the further you go towards the poles, the lower the satellite "look" angle and the more likely it is that a mountain or building or even a part of your boat gets in the way. With multiple satellites to chose from, the overall service is far more reliable. Here's you can that in this area our KVH V7hts system has six different satellites, each of which can keep us connected.
Fischerhutte Ferry

An old Fischerhutte Ferry, permanently mounted ashore with a staircase leading up to the main deck.
Petkum

Passing the 528ft (161m) container ship Petkum. Its bow wake slowed us down considerably. At 2300 RPM we were barely making 7.5 knots, where normally we'd be doing just over 9 kts at that RPM.
Sapphire

About to pass the 465ft (142m) oil/chemical tanker Sapphire. The ship had slowed mid-channel to take on a pilot on the starboard side, so we passed to port.
Rendsburg

Blog reader Torbjorn Curtsson of Sweden sent us this screenshot from a Kiel Canal webcam of Dirona passing through Rendsburg.
Rendsburg High Bridge

Dirona passing under the Rendsburg High Bridge, courtesy of Torbjorn Curtsson. The bridge was completed in 1913 to carry rail traffic and a suspension ferry. The distinctive twin-peaked bridge outline forms the town's logo.
Ship's Welcome Point

The Bruckenterrassen Cafe sponsors the Ships Welcome Point, where an employee announces information about each commercial ship, plays the national anthem of the ship's country, and waves as they pass. The restaurant was packed, but it probably was too early in the season for the Ships Welcome Point to be operating. And they don't pay much attention to recreational boats anyway.
Lurssen

The German super-yacht builder Lurssen has built many spectacular yachts over the years. Notable among them is the 414ft (126m)

Octopus

, that we've seen in San Francisco Bay, Hawaii and Sydney, Australia. Moored outside as we passed was the spectacular 312ft (95m)

Kismet

. The vessel currently is

for sale

if anyone has a spare $100M or so lying around. It's a nice-looking boat.
Big Ship

Some of the ships we pass look just huge as they round the corner. The maximum dimensions for ships in the Kiel Canal is 772.6 ft (235.50 m) long, with a 106.6 ft (32.50m) beam and 22.97ft (7m) draft. This one has to be close to the limit.
Traffic

Waiting for Amor to be secured in the lock before we can enter, with several large ships heading the other direction in the neighboring lock.
Entering Lock

The smaller lock typically used by pleasure craft is being repaired, so we'll be sharing the large lock with the 597ft (182m) Amor.
Tight

The lock master asked us to proceed to the front of the lock, past

Amor

. Slipping between that large ship and the lock wall with only feet to spare on either side felt very snug. The video

Kiel Canal Baltic Sea Lock

shows how tight it was as we entered the lock and passed alongside

Amor

.
Wash

One of the two tugs that assisted the 597ft (182m) Amor into the lock rode through the lock with us. The lock master had asked us to move past Amor to the very front of the lock but the wash from the tug was stupendous. The tug was "moored" by driving the tug sideways into the lock wall. That does an excellent job of securing the tug without lines, but several thousand horsepower creates an amazingly powerful wash. We were getting pounded even with the thrusters on fully, so we backed up into the retaliative shelter of the larger ship where conditions were calmer. It was otherwise an easy lock through.
Holtenau

We were planning to overnight at the pleasure craft moorings just outside the Kiel Canal locks, but the outer section was damaged, with no mooring allowed, and we didn't have sufficient depth to tie off near-shore. So we continued north and found a good anchorage off the beach at Strande. It was great to be at anchor again—our first time

since leaving Denmark

last year. And as a bonus we got to watch the pilot boat

Holtenau

come and go several times.
Click the travel log icon on the left to see these locations on a map, with the complete log of our cruise.

On the map page, clicking on a camera or text icon will display a picture and/or log entry for that location, and clicking on the smaller icons along the route will display latitude, longitude and other navigation data for that location. And a live map of our current route and most recent log entries always is available at mvdirona.com/maps.