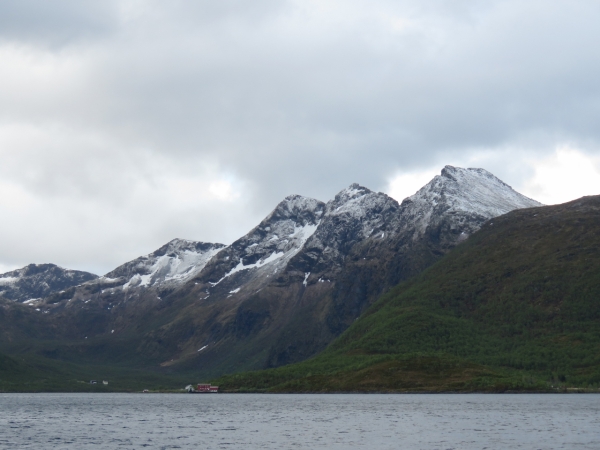 Eidsfjorden lies along the south side of Langøya in the Vesterålen islands. From Stockmarknes, our plan was to cruise the exposed west coast. But with several weather systems in the forecast, we stopped for four nights in Eidsfjorden, first at scenic Oldenfjord and later at snug and beautiful Nordvågen. We woke up one morning to a fresh dusting of snow on the surrounding mountains and a later snowfall at the anchorage. We were a little surprised given we were into June, but that's probably normal north of the Arctic Circle.
Below are trip highlights from June 2nd through 6th at Eidsfjorden, Norway. Click any image for a larger view, or click the position to view the location on a map. And a live map of our current route and most recent log entries always is available at mvdirona.com/maps
6/2/2018
Finnmarken




A view to the Finnmarken as we depart Stokmarknes.
Sensors At Work




This graph shows one of our more than 20 temperature sensors at work. Shortly after leaving the anchorage this morning, we got a high ER temp alarm. We had accidentally left the ER fans in manual mode. A quick switch to auto mode and the system dropped back down to near-ambient temperatures.
Autostart Event




When we arrived back to the boat after visiting the Hurtigruten museum, our onboard control system was showing a yellow warning indicating it was in main engine generator mode. That means the generator has failed to start or failed during operation and the auto-start system instead used the 9kw of power generation from the main engine to charge the batteries. The good news is our new batteries didn't go through a deep discharge as that's an excellent way to dramatically shorten the house bank battery life. What's less good news is the generator appears to have had a problem.

The first place we go is to the power system report. This subset of the report shows the battery states since yesterday, whether discharging, on shore power, charging via the generator, or charging by the main engine. Most generator runs are just over 2 hours but yesterday at 15:38 GMT, the generator went offline after only an hour and 45 min. The batteries were not yet charged, so the automation started the main and it was run for 19 min to complete the charge. Everything was exactly as it should be except the generator wasn't able to complete the charge.

We ran the generator and it tested out fine. After a deeper investigation, it appears the generator controller, a Northern Lights WaveNet system, briefly went offline and stopped sending telemetry. In the absence of data from the generator, the automation used the main engine instead. This is the first time the main has been used so it's nice to see everything worked as it should. And it's nice to see the generator continues it's unblemished record of always delivering power when called upon.
Connectivity




Oldenfjord is our first stop in Norway where we've not had excellent 4G cellular connectivity. (The box labelled 'Cell' at the bottom left of the screenshot is black, indicating no connectivity is available.) Despite a few houses around shore, cellular connectivity is close to non-existent. Fortunately our KVH V7hts satellite system is working well.
Oldenfjord




We're expecting big winds and steady rain over the next couple of days, so will stay at the mouth of Oldenfjord until conditions improve for us to run around the west coast of Langoya.
Locals




Some friendly locals came over to chat, waving a Stars and Stripes.
6/3/2018
43 knots




Our expected big winds arrived today, bringing gusts to 43 kts. The anchorage at Oldefjorden is scenic, with good holding, and is protected from all directions except the south. When the wind is really howling up Eidsfjorden some waves do reach inside, but it's still comfortable.
Mountains




The weather has been overcast since we arrived and cleared a bit this evening, giving us our first view to the mountains south of the anchorage.
6/4/2018
Fresh Snow




The temperature is 42°F (5.5°C) this morning and the mountains around us got a fresh dusting of snow overnight. We were a little surprised given we're into June now, but that's probably normal north of the Arctic Circle.
Squall




Squall headed our way as we near the anchorage at Nordvågen. The squall brought a small amount of hail, but passed quickly.
Galvanic Isolator




James removing the no-longer-in-use galvanic isolator.
Contactor




This large contactor has developed an annoying hum when we're using 50hz shore power, but doesn't hum on 60hz. The contactor is rated for both frequencies so that shouldn't be a factor but the hum is annoying. On inspection when least on shore power, I noticed it wasn't mounted tightly and when the bottom was pried up, it got quiet. I didn't want to take the boat off shore power and it's too difficult to take it off hot, so I deferred the work until we were running on batteries. Today we took the contactor down, put insulation under it, and re-attached it tightly. We can't test the fix since it only makes noise on 50hz but I suspect this will solve the problem.
Control Box




James is assembling a multi-function control box for eventual installation in the laz. This junction box will allow manual switching with interlock of the

second shore power connection

and, in addition, will support remote operation driven by a Raspberry Pi. The Pi will also implement load shedding on the two 100A at 24V chargers, drive a small i2c-connected display panel in the engine room and support more digital inputs and outputs. This will be the busiest Pi on the boat and, consequently, a lot of wiring is needed on this project. We're missing a few needed parts, so probably won't complete this project until later in the year.
Snow




The temperature dropped to 38°F (3.3°C) and it's snowing.
Peak




Snow falling on a peak on the southeast penninsula of the island of Langøya.
Wind




The anchorage at Nordvågen is a

Norwegian Cruising Guide

favourite harbour for its all-weather protection and we agree. Conditions are calm here, despite the gusts in the high 20s. But on the exposed outer coast the winds are gusting into the high 30s with seas close to 10ft. We'll wait at least another day before heading out there.
6/5/2018
Windy.com




Conditions are calm in our sheltered anchorage, but this report from

windy.com

shows the winds are still up on the outer coast and we're better waiting until tomorrow.

We use the WW3 and GFS weather models via GRIB files at sea and find these models reasonably accurate to predict larger weather systems, but less so when coastal cruising, when we usually look to a local source such as XC Weather in the UK. Since we're coastal-cruising in Norway, we've been using windy.com on Trond Saetre's recommendation and have been finding it more accurate than the other sources. To understand why, we dug deeper into their web site and learned it actually does use a different weather model: ECMWF. According to windy.com, ECMWF is a very accurate medium-range forecast commercial model that only a few companies offer. We'll likely continue using it as we cruise Europe.
Snow




The mountains on the southeast penninsula of the island of Langøya look fabulous with a fresh coating of snow.
Click the travel log icon on the left to see these locations on a map, with the complete log of our cruise.

On the map page, clicking on a camera or text icon will display a picture and/or log entry for that location, and clicking on the smaller icons along the route will display latitude, longitude and other navigation data for that location. And a live map of our current route and most recent log entries always is available at mvdirona.com/maps.