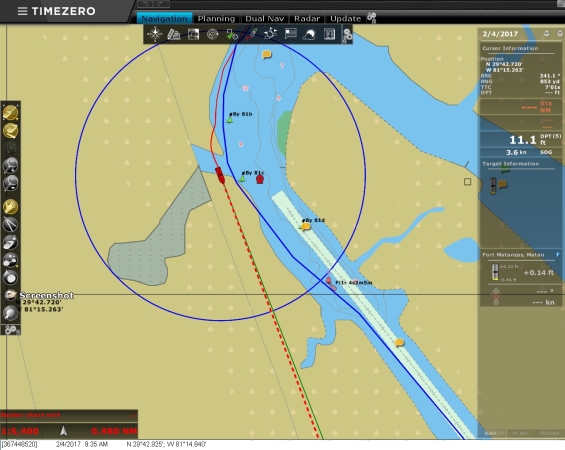 We initially were planning to run offshore from St. Augustine to Daytona Beach, but decided to take the ICW for a couple of reasons. The nearest inlet to Daytona Beach is about 14 miles south of the city at Ponce de Leon Inlet and it looked like it might be a challenging entry. The breakwater there was damaged during Hurricane Mathew and the light on the end swept away. While in Brunswick, we contacted the Ponce de Leon Coast Guard office, who told us that the buoys are all on station and the light was scheduled to be replaced Feb 1st. But the least depth through the channel is only 14ft and winds were forecast to reach 25knots there today, so we would have had to leave St. Augustine the morning after we arrived to have calm conditions through the inlet. Partly due to this, but also because we would also have to run an extra 30 miles south of Daytona Beach and back north, we decided to take the ICW instead.
From studying the hazards and comments for the ICW run using Active Captain and Waterway Guide , we knew there would be a few difficult places where shoaling restricted the channel, but expected that we could work our way through them. We did, but it turned out to be much more difficult than we expected. In several places we could barely find 7ft of water for our 6ft 7in draft despite travelling near high tide. The video https://youtu.be/8r2Bfn3lcFA shows highlights from the trip, including our arrival into Halifax Harbor Marina at Daytona Beach and a section of the ICW where we had to run so close to a beach shore we feel like we're on top of it to avoid severe shoaling in the channel. As we near Daytona Beach, the number of bridges increases noticabely as the shore becomes more developed. We also pass the site of a bridge that has been removed with a new bridge is under construction. The replacements for most ICW bridges usually are fixed with a 65ft clearance.
Trip highlights from February 4th, 2017 along the Florida ICW. Click any image for a larger view, or click the position to view the location on a map. And a live map of our current route and most recent log entries always is available at http://mvdirona.com/maps
2/4/2017
Bridge of Lions




Passing under the Bridge of Lions on our way south through the ICW to Daytona Beach. We're going to pass eleven bridges today, but we'll only need to have four opened. The Bridge of Lions operates on a fixed half-hourly schedule and the other three open on demand, so we don't need to time our arrivals at the rest.
Network Failure




We've been chasing network instability issues since installing the

new router

a few weeks back and finally isolated the issue to the navigation computer.

Changing the NIC

in St. Augustine solved the problem but introduced a new one: Windows randomly disabled the network adapter once or twice a day and the only way to resolve it was a reboot. This occurred during our ICW run to Daytona Beach and prevents N2kView from communicating with the IPG100 data source. We didn't realize it, but it also meant we weren't tracking our route anymore, so we lost a portion of it until we rebooted the nav computer.
Crescent Beach Bridge




The Crescent Beach (SR 206) Bridge has a 25ft clearance when closed. We're about 5ft too tall to pass under with our 30ft air draft.
Damage




Many of the docks and roofs along this stretch of the waterway looked severely damaged, likely from Hurricane Mathew.
Beach




The buoyed channel runs within 50ft of shore in this section of the ICW. And we'll get even closer—shoaling is visible on the left just beyond the green buoy.
Off the Chart




The charts aren't even close to accurate here due to shoaling. This is one of three particularly difficult sections that we've annotated with a red skull marker, visible to the right of the green buoy.
Breakers




Breakers rolling on the other side of the bridge at Matanzas Inlet. Seeing that we're especially glad not to be trying to enter Ponce de Leon inlet today.
Stilts




The beach houses in this area were all up on high stilts to avoid storm surge.
Shoaling




It's not visible on our web track, but on the chartplotter track you can see where we left the center of the channel to avoid shallows near the top of the screenshot, and backtracked as it got even shallower farther west. We eventually found sufficient depth, although barely 7ft, by running right along the edge of the charted channel. We tried centering up a little farther south, but returned to the edge when we found shallows again.
Aground




Not us fortunately. This catamaran is well off the channel, possibly another Hurricane Mathew victim.
Bulow Bridge




The Bulow (L.B. Knox) Bridge has only a 15ft clearance when closed.
Main Street Bridge




Passing through the 22ft Daytona Beach Main Street Bridge. We're almost there. The next and final bridge we'll pass under is International Speedway Blvd.—we're getting close to Daytona!
Halifax Harbor




Coming through the entry channel to Halifax Harbor Marina, our home for the next few weeks.
Sounding




The marina is supposed to have a minimum depth of 8ft, but we were sounding only 7.5ft in the slip with 2-2.25ft of tide. The soundings are slightly off due to thick weed, but we probably have less than 6ft of water at low tide and will be resting in the mud with our 6ft 7in draft.

James is using a boat hook to test the depth in another slip to push past the weed and see if it's any deeper. If anything it was a little shallower, so we'll stay where we are and be sure to leave on a high tide. One concern we did have was that our HVAC intakes might pull in mud, but the raw water intakes are far enough up the keel on Dirona that wasn't a problem.
Click the travel log icon on the left to see these locations on a map, with the complete log of our cruise.

On the map page, clicking on a camera or text icon will display a picture and/or log entry for that location, and clicking on the smaller icons along the route will display latitude, longitude and other navigation data for that location. And a live map of our current route and most recent log entries always is available at http://mvdirona.com/maps.