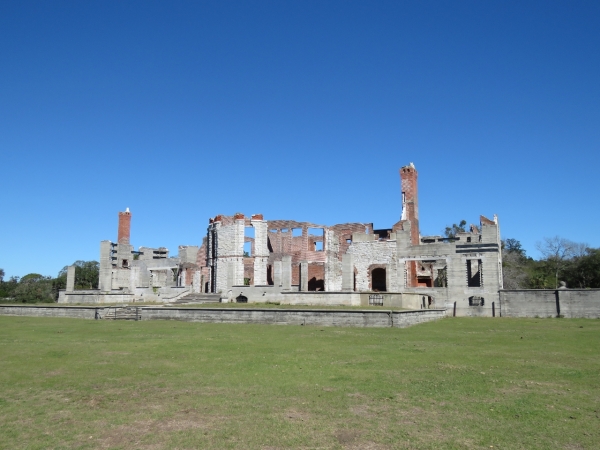 Cumberland Island is Georgia's southernmost barrier island and is a popular destination full of hiking trails and dramatic scenery. In the 1880s, Thomas M. Carnegie, the brother of steel magnate Andrew Carnegie, and his wife Lucy built Dungeness, a 59-room Scottish castle on the island's southern tip. Fire later destroyed the mansion, and the Dungeness ruins and castle grounds now are one of the island's major tourist attractions.
Trip highlights from February 1st, 2017 on Cumberland Island, GA follow. Click any image for a larger view, or click the position to view the location on a map. And a live map of our current route and most recent log entries always is available at http://mvdirona.com/maps
2/1/2017
Cumberland Island




Changing from rubber boots to hiking boots after landing the micro-tender ashore at Cumberland Island National Seashore. The accessible docks were all closed to the public due to storm damage from Hurricane Mathew. The extensive shallows would be difficult to manage in our large, 850-lb tender, so we ran the micro-tender ashore just north of Dungeness Dock and carried it up the beach.
Armadillo




Shortly after landing, we saw an Armadillo rooting in the woods. This animal from the American West was introduced by man to Florida in the 1920s and slowly expanded its range as far north as South Carolina. Armadillo reached Cumberland Island in the 1970s, likely carried there by strong currents when attempting to cross a tidal creek.
Dungeness Road




Walking tree-lined Dungeness Road where horse-drawn carriages once transported the rich and famous to the Carnegie Cumberland Island estate.
Dungeness Ruins




Thomas M. Carnegie, the brother of steel magnate Andrew Carnegie, and his wife Lucy bought land on Cumberland Island in the 1880s. Here they constructed Dungeness, a 59-room Scottish castle complete with a pool and golf course. Forty smaller buildings were built to house mansion's 200 servants. Thomas died before construction was completed, but Lucy lived here with her children until the Great Depression. The mansion was left vacant, and eventually destroyed by fire in 1959.
Live Oaks




Jennifer standing beside a huge Live Oak, the native tree of Georgia, in one of the island's many forests. The tree is so-named because it remains green and "live" throughout winter, while other oaks are dormant and leafless. Live Oak from Cumberland Island was used in the 1790s to build the USS

Constitution

, "Old Ironsides," that we

toured while in Boston

.
Wild Horses




Horses were introduced to Cumberland Island as early as the 1700s and were managed as free-ranging livestock until the 1960s. They had become feral on the island by the time the park was established in 1972. The estimated population today is 125-150 animals.
Dungeness Trail




We took Dungeness Trail to Dungeness Beach. Here we are walking a wonderful boardwalk across a portion of the sand dunes. Jennifer loves boardwalks.
Dunes




From the boardwalk we walked through sand dunes to reach the ocean.
Lunch




A picnic lunch on Dungeness Beach with sweeping ocean views. Surprisingly little driftwood was along the beach, but we found a portion of an old shipping pallet to sit on.
Horseshoe Crab




During lunch we could see several seagulls and birds of prey wheeling overhead farther along the beach. This is what they were after: a dead horseshoe crab that might have become stranded in the falling tide.
Sea Camp




We left Dungeness Beach along the trail to Sea Camp dock, following another lovely boardwalk.
Picnic Table




Enjoying a break at a picnic table in another Live Oak forest. Live Oaks are the dominant tree on Cumberland Island because they can stand more salt and wind spray than competing trees. You can clearly see which direction the prevailing winds blow from in this picture.
2/1/2017
Rooting




We saw several Armadillo on the island. This one was busy rooting for food and took no interest in us whatsoever.
Click the travel log icon on the left to see these locations on a map, with the complete log of our cruise.

On the map page, clicking on a camera or text icon will display a picture and/or log entry for that location, and clicking on the smaller icons along the route will display latitude, longitude and other navigation data for that location. And a live map of our current route and most recent log entries always is available at http://mvdirona.com/maps.