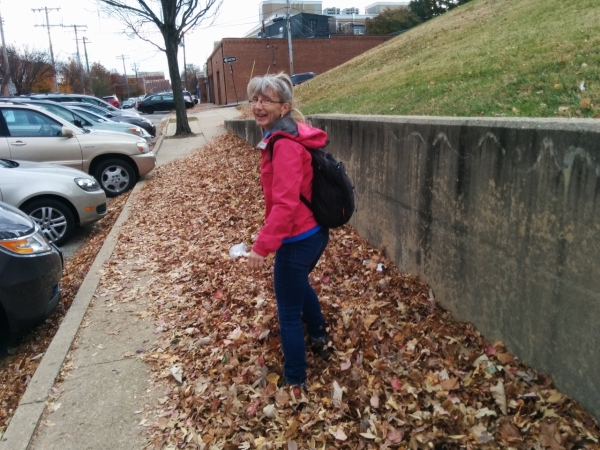 One of the reasons we came to Baltimore was for a place to prepare for and attend the annual AWS re:Invent conference in Las Vegas. We ended up getting a lot of boat projects done too, as well as enjoy some real fall weather for our first Thanksgiving back in the US since leaving Hawaii in 2013.
Trip highlights from November 14th through December 5th, 2016 in Baltimore, MD follow. Click any image for a larger view, or click the position to view the location on a map. And a live map of our current route and most recent log entries always is available at http://mvdirona.com/maps
11/14/2016
Detail




Land & Sea Detailing

arrived at 7am this morning with a crew of five to six and nearly that many cartfulls of gear, plus an inflatable boat. They had

Dirona

cleaned and waxed by end of day. The boat looks and feels wonderful. It's great to have

Dirona

clean and shiny again, and to lose the brown saltwater bow mustache we had developed in Newfoundland.
Pumpout




The marina has a pumpout cart that wheels down to the slips and hooks up to pre-plumbed pipes along the dock. Our tank wasn't close to full, but we wanted to test out the pump-out system before we got too close.
11/15/2016
Hold the Boston




Spitfire loves Boston Cream Donuts, hold the Boston.
Steering




James removing the steering arm for service. Every 2,000 to 3,000 hours, the spherical bearing on the end of the steering hydraulic ram starts to get loose. We replace it, but they are expensive. James' theory on the problem is that play between the bolt and steering arm is wearing very slightly, dropping a tiny bit of metal dust below, which wears out the bearing.
Excel




We biked over to Excel Machine & Fabrication near the Baltimore Ravens stadium to drop off our

steering parts

. The plan for the steering arm repair is to weld up the hole between the steering arm and the bolt that holds the spherical bearing on the end of the hydraulic steering ram. Once the hole has been welded up, it'll be drilled out to a slight press fit on the bolt. The idea behind the design change is the slight interference fit between the steering arm and the bolt that holds the steering ram rod end will prevent movement between the bolt and steering arm. With no movement, there will be no wear and no metallic dust to cause the spherical bearing to fail early. Let see if this can last 4,000 to 6,000 hours rather than the current 2,000 to 3,000.
MaGerk's




After dropping off the parts at Excel, we stopped in for an excellent lunch at MaGerk's Pub in the Federal Hill neighbourhood. James is just barely visible in the back of the picture to the left of the person standing near the bar.
Whisper Dishes




We've passed the "whisper dishes" behind the Maryland Science Center a number of times and finally stopped to check them out. The dishes are about fifty feet apart and focus sound so that someone whispering into one dish can be heard clearly in the other dish.
Grate




Baltimore is quite bicycle-friendly, except for grates like these that are common on city streets.
Pride of Baltimore




A memorial to the Pride of Baltimore in Rash Field, adjacent to our marina. The ship was a replica of the Baltimore clipper topsail schooner Chassuer that fought in the war of 1812. The Pride of Baltimore was built in the inner harbor and launched in 1975 as a goodwill ambadassor for the city of Baltimore and the state of Maryland. While returning to Baltimore from Europe in May of 1986, the ship capsized 250 miles north of Puerto Rico in the 80-knot winds of a microburst squall. The captain and three crew were lost and the remaining eight crew were rescued after being adrift for four days.
Investigating




Spitfire continues to pursue his mission of investigating every open locker. This one is the underneath the guest stateroom floor.
11/16/2016
Sunrise




A spectacular sunrise looking southeast from the boat deck. The

Under Armour

headquarters building is partially visible at the right of the photo.
11/17/2016
Winterizing




The water and pumpout will be winterized early next week, so we'll be getting all our laundry done, topping of the freshwater tank and pumping out the black water tank this weekend. When we booked the slip the marina did let us know this would happen, so it's not a surprise. With 415 gallons of freshwater and a 120-gallon blackwater tank, we'll be fine for the remaining two weeks that we are here. We are very much enjoying Baltimore, but are starting to feel that it is time to get somewhere warmer for the rest of the winter.
Baltimore Galvanizing




Derek, the sales manager at

Baltimore Galvanizing

, returned our anchor and chain today. It looks like an excellent galvanization, but the true test is how it wears in use.
Winterized




A crew showed up today with carts of gear and large pieces of wood to build a winter enclosure for this boat near us in the marina.
Forward Light




Most fish boats run both deck lights and forward lights. They use the deck lights of course for working at night and the forward-facing lights to see things in the water. Our experience from operating around commercial fishing vessels at night is their forward-facing floodlights can be seen from great distances, occasionally from as far away as twenty miles. The commercial boats typically run 1,000 watts or well beyond, whereas we run a 500-watt light.

Running at Night

shows a picture of the light mounting position with the marineboard shield to avoid back-scatter. The light hasn't been as bright as we like and it draws 4 amps from the 120V inverter which is more than we like.

We love the light, but sometimes have to turn if off in order to have sufficient power left on the 120v system to run a kettle or the microwave, and it's not particularly helpful at spotting debris. We've been waiting for LED technology to evolve to the point where brighter lights with much less power draw are economical. Jerry Fraelic of N68 Grace of Tides pointed us to the Rigid Industries LEDs that his Nova Scotia fishing family have been using. They're using the 40-inch version of these lights, and we don't have an easy spot for a 40-inch light. But we realized that we do have room for 4 10-inch lights. We assembled a module of the four lights, turned around our existing 500-watt light and mounted our four LEDs onto the back of the current light. This allows us to use the existing mount shield and light mounting hardware largely unchanged.

The original light was 120 volts, whereas this one is 12 volts. Fortunately the existing wiring is of a large-enough gauge to be able to deliver the 12 amps at 12 volts required by this lighting system. James moved the power source of the lighting from a 120V breaker to a 24-volt DC breaker that feeds a 24V-to-12V DC power converter to deliver the 12 volts needed. It's nice to have 4 amps back available on the 120V inverter, and this light assembly is much brighter than the 500-watt halogen ever was. The old light was 8,500-10,000 lumens and the new one is 15,000 lumens. That's 50%-76% more.
11/18/2016
Steering Assembly




We got our

steering arm

back from Excel Machine and Fabrication today. They welded up the rudder arm, redrilled it so the bolt again fits snuggly, and added a washer between the washer arm and the spherical bearing to ensure that even small amounts of wear don't find their way into the bearing. We think this should be good for a few thousand more hours.
11/19/2016
Calm Before Storm




Another beautiful, calm and clear morning at Baltimore's Inner Harbor. It won't last though—a gale warning is in effect for this evening.
Door Latch




The door latch assembly for our cockpit-to-swim platform door

broke in Cape Lookout

earlier this year. The assembly needs to be at an unusual angle to fit the 52, so Nordhavn takes a standard latch, cuts it and then rewelds it at the appropriate angle. This leads to two problems: 1) because the weld has impurities or hasn't been properly passivated, it rusts, and 2) it's effectively a hand-made part at a boat-specific angle and so it's almost impossible to buy another one that fits.

It might be possible to get a welder to cut and weld this piece to fit but it would be expensive and just doesn't feel like the right approach. Instead, we built a marineboard wedge that holds an unmodified latch at the appropriate angle. We expect this one will probably last indefinitely as the other latches have. But if it doesn't we can just easily slap a replacement on.
Gale




The barometer has been falling over the last 24 hours and started a rapid ascent about an hour ago. With that came nearly-instant gusts to almost 40 knots. We'll be surprised if there is any sand left in the Rash Field volleyball courts across from the marina with the amount we've seen blown from it.
11/20/2016
Black Water




When we

pumped out

our black water tanks last week the outlet flow seemed poor so we suspected a vent issue. James took apart the hoses this today and found the ninety-degree elbow at the tank was almost completely plugged. He cleaned it out with a screw driver, washed it and finished the job with a Dremel wire brush. We then blew compressed air through to the hose and established that the upper vent line was clear.
Guests




Locals from the boats docked around us were interested in seeing Dirona, so we had a group of them board for a tour today.
11/21/2016
Valve Adjustment




James did our fourth main engine valve adjustment today. This is due after the first 1,000 hours and every 2,000 hours thereafter. The next adjustment will be due after 10,459 hours.
11/22/2016
Zipcar




We booked a Zipcar to do some provisioning today. Several Zipcar locations are in the inner harbour, this one is about a 5-minute walk away.
Total Wine




We've been buying from

Total Wine

where available since returning to the US. The prices are good and its especially convenient to buy in bulk on-line and just stop by to pick up the order.
Harris Teeter




Jennifer already did a produce provisioning run by bicycle shortly after arriving in Baltimore, but we took advantage of the car to pickup some heavier items, plus a twelve-pound frozen turkey for Thanksgiving.
11/23/2016
Fitness Club




We often see large groups out running at Rash Field opposite the marina and one was there this morning. Shortly after, they had collected at the pavilion north of the field and were exercising to music amid hoots and whoops. They appeared to be having a great time despite this morning's near-freezing temperature.
Hydraulics Leak




We found a light oil misting around the rear thruster proportional valve inlet. Replacing a hardened and failing O-ring quickly fixed the problem.
Anti-Chafe




The turbo coolant pipe and fuel inlet pipe were rubbing (at the brown discoloration), so we isolated them with a piece of clear hose.
11/24/2016
Sweet Hope 2




The Nordhavn 76 Sweet Hope 2 arrived yesterday afternoon and then left early this morning. It's last AIS position showed it moored against the cargo ship Sampogracht at Baltimore's South Locust Point Marine Terminal, so we suspect it is being shipped somewhere. That explains the short stop in Baltimore inner harbor.
Happy Thanksgiving!




Jennifer preparing gravy for our Thanksgiving feast with our 12-lb turkey on the counter behind her. We'll be eating leftovers for a while. We had a great meal and a fun evening watching the Detroit-Minnesota Thanksgiving day NFL game from earlier in the day.
11/25/2016
Christmas Village




Workers started assembling the Baltimore Christmas Village at the inner harbor shortly after we arrived and it's now in full swing. The village is modeled after German Christmas Markets such as Nuremberg's famous Christkindlesmarkt. Indoor and outdoor booths sell traditional European food, sweets and drinks plus a variety of holiday gifts, ornaments, jewelry and arts and crafts.
Living Wall




PNC Bank bills their "living wall" at their headquarters in downtown Baltimore as the largest in North America. The vertical garden has 602 2x2ft panels each containing 24 plants, with the bank's logo at the bottom. Each panel is estimated to offset the carbon footprint of one person.
France-Merrick Fountain




The water wasn't running in the France-Merrick Fountain at the corner of Pratt and Charles streets when we passed. Perhaps it has been winterized

like our marina

.
Pratt Street Ale House




We had an excellent lunch at Oliver Breweries' Pratt Street Ale House opposite the Baltimore Convention Center. Great service, good beer and a nice atmosphere.
11/26/2016
Glendinning Parts




We have a Glendinning power cord storage system that automatically pays out and retracts our power cord through a hawsepipe at the stern. The hawsepipe cap rotates on and is retained by a central pin that had corroded. The pin broke when we retracted the cable while leaving Boston and the cap flipped off and fell in the water. We built a

temporary replacement

, pictured at bottom right corner, using the rim of a tupperware container secured with hot glue into a larger lid and have been investigating the availability of replacement parts. They finally arrived today. The smallest unit of replacement part we could get was a full hawsepipe assembly. Luckily you can remove the cap assembly, visible at bottom left of the photo, from the hawsepipe so the whole assembly doesn't need to be replaced. As well as allowing us to replace just the cap, this also leaves us with a spare retraction limit switch, which certainly will fail in the future.
Glendinning Cap




The new Glendinning cap in place. The

temporary replacement

cap lasted surprisingly well and we'll keep it as a backup.
Visionary Art




The

American Visionary Art Museum

featuring self-taught artists is just up the road from our marina. We walked past it on the way to lunch in Federal Hill. Notable pieces oustide the building include this 55ft wind-powered

Giant Whirligig

by Vollis Simpson.
Fall Leaves




Jennifer enjoying a romp through the fall leaves that have collected along the sidewalk.
Wayward




We had lunch at the Wayward Southern Bar and Kitchen in Federal Hill. The spice-rubbed wings were exceptional, as was the "Baltimore Benny" (

Eggs Benedict

with Chesapeake crab).
Job Well Done?




We've passed this not-so-impressive wiring job at Rash Field a few times. What was the person doing the job thinking when they called this one done? We hope they don't enter the marine service industry.
11/28/2016
Frost




Another calm and beautiful morning in Baltimore's Inner Harbor. You can see in the frost that Spitfire has already done his morning round. He likes to go outside every morning, but in these temperatures usually only lasts a few minutes.

Baltimore is feeling a little cold, but the average low and high for November is 43°F and 58°F (6.1°C and 14.4°C), with an average 145 hours of sunshine. That is warmer and sunnier than Seattle at 40°F and 51°F (4.4°C and 10.6°C) with only 52 hours of sunshine on average. Seattle never felt very cold in November when we lived there, so we must be getting a little wimpy on the temperature.
re:Invent




Last week AWS held our annual

re:Invent conference

and I spent a good chunk of our time in Baltimore preparing for it. The conference is my favorite opportunity to get into more detail with customers and partners and to learn more about some of the incredible innovations AWS customers are producing. On Tuesday morning I presented at the Global Partner Summit and even worked in a little bit about

Dirona

:

https://www.youtube.com/watch?v=CyNt2lPOEoY

. My section is from 41:00 through 1:00:00.
Tuesday Night Live




I presented the first

re:Invent

keynote at 8pm on Tuesday. Starting a presentation at 8pm was a bit unusual but what really caught my surprise is that a band was playing beforehand. As I arrived back stage I could hear music which is pretty normal but, when I looked up at one of the monitors, it was

Reggie Watts

and Karen performing playing live. The Reggie Watts band did an excellent job and I wish we had access to a video of it. My talk is posted at

https://www.youtube.com/watch?v=AyOAjFNPAbA

.
11/30/2016
NASCAR Burnouts




As part of the festivities during NASCAR's Championship Week in Las Vegas this week, all 16 drivers in the Chase for the NASCAR Sprint Cup did a victory lap along The Strip. The lap included burnouts outside our hotel at Las Vegas Blvd and Spring Mountain Rd. We found a great spot to view the excitement along a nearby stairway:

https://youtu.be/Tgc1N7GlR1c

.
12/3/2016
James Joyce




We rode our bikes over to Harbor East neighbourhood on other side of the inner harbor and had a great lunch at James Joyce Irish pub. This is the

second pub

we've found in Baltimore that has Jennifer's favourite beer, Kilkenny. It's not that common in the US.
Lighted Boat Parade




Baltimore's annual Light Boat Parade passed through the inner harbor tonight with boats ranging in size from small runabouts to massive tugs. We has a great time watching from the docks in our marina as the parade passed close by.
John Deere




John Deere sent us a couple of nice windbreakers and here we are with the star of the show.
12/5/2016
TimeZero Professional




Today we upgraded from MaxSea TimeZero Explorer V1.9 to TimeZero Professional V3.0. The upgrade was amazingly seamless—TimeZero Pro picked up all our data and device settings from MaxSea and was pretty much good to go out of the box. All we had to do was setup our UI preferences. We had one minor issue with the radar display appearing to draw only white-on-white, but that resolved itself when we restarted TimeZero. The new software looks great and renders incredibly quickly. So far it looks like a really good upgrade with a few nice new features but near-universal improvements in fit-and-finish.
Water Fill




Over the weekend we'd noticed some boaters had run a long hose down the dock to wash their boats using several long marina-supplied hoses. This morning we hooked the hoses back up, did all our laundry and filled our water tank. The hose you can see runs all the way down the dock, up the ramp and into the marina laundry room under the Rusty Scupper restaurant. We still had over 200 gallons left, but it was nice to get the laundry done and refill the tank.
Click the travel log icon on the left to see these locations on a map, with the complete log of our cruise.

On the map page, clicking on a camera or text icon will display a picture and/or log entry for that location, and clicking on the smaller icons along the route will display latitude, longitude and other navigation data for that location. And a live map of our current route and most recent log entries always is available at http://mvdirona.com/maps.