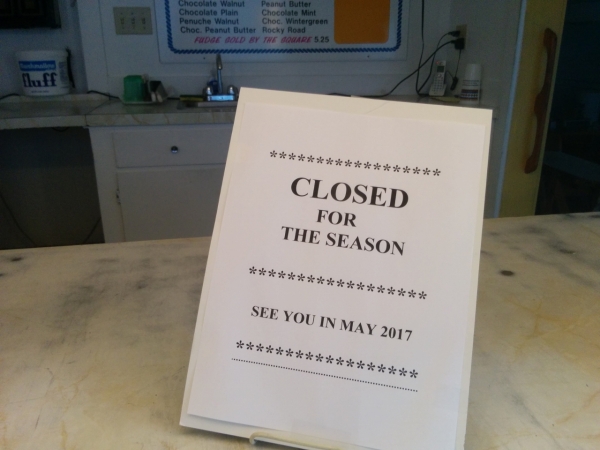 Boothbay Harbor is a popular summer tourist destination, but less so in October. By the time we arrived, most of the businesses were closed for the season, including the famous Boothbay Lobster Wharf. No matter. We enjoyed a walk through the quiet town, got a few boat projects done, and generally spent a relaxing couple of days at anchor with our diesel furnace keeping us warm and cozy.
Trip highlights from October 15th and 16th, 2016 en route to and in Boothbay Harbor, Maine follow. Click any image for a larger view, or click the position to view the location on a map. And a live map of our current route and most recent log entries always is available at http://mvdirona.com/maps
10/15/2016
Fall Colors




The fall colors are really out now, especially in the warm glow of the morning sun. We're en route to Boothbay Harbor from Belfast.
Owls Head Lighthouse




The light station at Owls Head near Rockland, Maine was established in 1825 and current lighthouse built in 1852. The light still is an active aid to navigation using an 1856 fourth-order Fresnel lens.
Whitehead Light Station




In 1803 Thomas Jefferson signed an authorization to construct a lightstation on Whitehead Island and a beacon has shined from the granite tower continually since then.
Ram Island Light




The Ram Island light to our south has been operating since 1883 and was automated in 1965. A walkway connects the offshore light tower to the old keepers house ashore.
Burnt Island Light




Maine has a lot of historic lighthouses. This is the Burnt Island Light that went into service in 1821. The stations was one of the last in Maine to be automated and destaffed in 1988.
Windlass Gear Oil




James inside the anchor chain locker removing the windlass motor to change it's oil. This is due every three years. He also lubed the windlass top end.
Moon




Moon rising over Boothbay Harbor with Our Lady Queen of Peace Church lit up on the left.
10/16/2016
Hydraulic Zincs




We changed the zincs in the hydraulic heat exchanger today. They were the best shape they've been in for a long time. We change them on a two-month schedule and normally they've eroded to nubs in that time. If they come out this good again, we'll change to a three-month cycle.
Dinghy Dock




Tied off at the Boothbay Harbour public dock. There's lots of room today, but we got the impression that there wouldn't be in the height of the season.
Boothbay Harbour




Looking toward the water in Boothbay Harbour. It's pretty quiet tonight.
Closed




A lot of the businesses in Boothbay Harbour are closed for the season. Definitely time to get further south.
Click the travel log icon on the left to see these locations on a map, with the complete log of our cruise.

On the map page, clicking on a camera or text icon will display a picture and/or log entry for that location, and clicking on the smaller icons along the route will display latitude, longitude and other navigation data for that location. And a live map of our current route and most recent log entries always is available at http://mvdirona.com/maps.