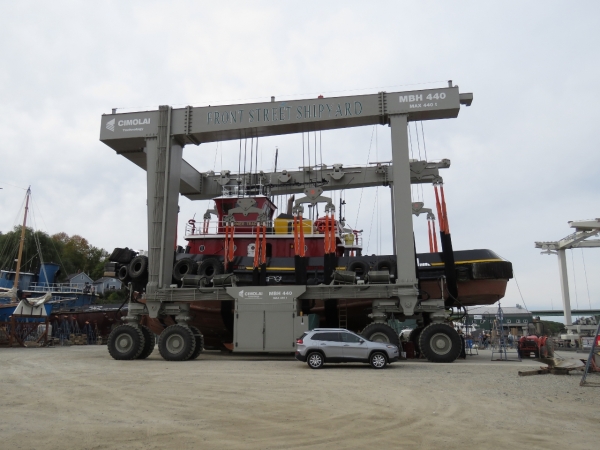 We stopped in Belfast, Maine because it was a convenient place to rent a car and drive to Bangor to have Jennifer's surgical pin removed, and also because the docking rates there were much better than nearby Camden and Rockland. But we ended up having an excellent stay there and definitely would return. The marina staff were among the most helpful and friendly that we've encountered and the town has a craft brewery, several good pubs, many restaurants, and a modern, publicly-accessible shipyard with a 440-ton marine lift.
Trip highlights from October 8th through 15th, 2016 in and around Belfast, Maine follow. Click any image for a larger view, or click the position to view the location on a map. And a live map of our current route and most recent log entries always is available at http://mvdirona.com/maps
10/8/2016
Front Street Pub




Belfast has a brewery and lots of pubs. Our first stop was a great lunch at the Front Street Pub. It was a little hard to believe that it was warm enough to eat outside in October in Maine, but the deck was packed and we took the last table.
Front Street Shipyard




Belfast has an excellent harbour walk that leads right through the Front Street Shipyard. The newly-constructed yard is beautiful, with some impressive equipment, and was nearly full with quite large boats hauled out including this steel trawler

Sunset V

. The yard's

Facebook page

shows an wide array of large projects, ranging from new builds to replacing the pilot house windows on Nordhavn 96

MacGuffin

.
Stabilizer Protection




These deflectors for the stabilizers on Sunset V caught our attention. We just have the central deflector. The two extra would really help in keeping debris from getting in between the fin and the boat as the fins move. Having operated in heavy lobster-pot waters for the last few weeks, this sort of protection has become considerably more interesting.
440-Ton Lift




Front Street Shipyard has an incredible 440-ton travel lift. Inside the lift is the 85ft tug Fournier Tractor. The tug is propelled by two EMD 12-645-E2 engines and has Ulstein 900 Z-Drives with 86″ propellers.
Gear




The Fournier Tractor had leakd some water into the gear ooil and was in the yard to have the seals replaced. Here specialists from Louisiana are using a torch to heat up the prop shaft seal sleave to expand it for removal.
Sinbad




Sinbad is another large steel trawler ready for haul-out at the Front Street Shipyard.
Belfast Harbour




We walked the pedestrian bridge north of town for a view back down the harbor. If you look carefully, you can see three Nordhavns in this picture: N68 Grace of Tides, Dirona and N96 MacGuffin.
Bench




Belfast is a lovely town with plenty of creative and quirky touches. This lobster seat is one of a wide variety of benches throughout the town.
Cars




A vintage GTO in front of a new Dodge Charger with the historic Belfast town buildings in the background.
City Hall




The majestic Belfast City Hall building, called Memorial Hall, was built in 1890 by civil war veterans to honor their fallen leader Colonel Thomas H. Marshall.
Computer




We walked past a decommissioned gas station with old fuel pumps out front in the process of being taken apart. Here is the "computer" that calculates the total purchase cost based on fuel price and fuel pumped.
Three Tides




The Marshall Wharf Brewery in Belfast has the wildest pub called the Three Tides. Here we are sitting on a dirt floor right above the water next to a massive wood-furnace made from an inverted grain mixer. We loved it. Later that evening Jerry and Dee Fraelic from Nordhavn 68 Grace of Tides joined us and we had another great evening with them.
Band




We didn't realize it, but a live band was playing that night at the Three Tides. We had a great time watching from stage-side. It's been ages since we've watched a live band—we used to see live music all the time when we lived in Toronto in particular.
10/9/2016
HVAC




The guest stateroom HVAC used to be the master stateroom HVAC until we swapped control boards after the compressor relay started to stutter occasionally. The fan relay has now stopped working entirely so it's time to replace it. Once the new control board was in, it's returned to working perfectly.
GamePass




We haven't bothered setting up our KVH M7 satellite dish and getting a US service, partly because we've been busy and partly because the main reason we want access to broadcast TV is just to watch NFL football. In New Zealand and Australia, we discovered and enjoyed NFL GamePass, which gave access to live and on-demand games at low cost and in fact was free in New Zealand. Sadly, GamePass wasn't supported in the US. But for the first time this year, a limited form of GamePass is available in the US that gives on-demand access to all games at most 24 hours after airing at a cost of $99 for the season. We experimented tonight with their seven-day trail and were all in and happy to pay the full subscription.
10/10/2016
Transportation Museum




The Owls Head Transportation Museum is a half-hour drive south of Belfast, near Rockland, Maine. We visited on the recommendation of our friend Matt Baker. It seemed unlikely to James that a world-class museum would be found out in Owls Head, but this one is exceptional. It has everything from bicycles to Michael Schumacher's Formula One Ferrari.

Read more …
Rollie's




Dinner at Rollie's Bar and Grill in Belfast. We watched a Red Sox playoff baseball game and enjoyed studying the New England sports memorabilia that covered every inch of every wall.
10/11/2016
Cold




Each morning is a little chillier than the day before. The temperature was 38.9F (3.8C) when we woke up today.
Bullet




Our Syrens WiFi station has been flaky recently, so we decided to test the Ubiquiti Bullet that we picked up as a backup a few months back. When plugged in, both it and the PoE inserter went up in smoke. We don't know if it was the PoE inserter or the Bullet that failed. And since the Bullet is a less-common no-more-than 24V device while most PoEs are much higher, its possible it was an incompatible inserter. We can't find a spec on what voltage the Syrens runs at, but the PoE inserter is no longer capable of producing anything so its hard to know if that was the fault or not. We put a spare PoE inserter back on the Syrens and it's operational. But we need a new Bullet.
ER Lights




We replaced the engine room flourescent bulbs today. The spares we had were whiter and the engine room now is much brighter and whiter. We didn't notice the bulbs slowly fading over the years, but the new ones are much brighter.
Darbys




Dinner at Darby's Restaurant and Pub in downtown Belfast.
10/12/2016
Lifting Docks




Docks coming out of the water for the winter at Belfast this morning. We're getting used to seeing this in Maine now. Those docks sure build up a lot of marine growth over the summer. And they don't smell that great either.
Bangor




Bangor, Maine is the home of author Stephen King and the inspiration for the fictional town of Derry in several of his works. Bangor also is the location of the Eastern Maine Medical Center where Jennifer had an early-morning surgery scheduled to finally have the surgical pin removed from her shoulder. Rather than getting up crazy early in the morning to drive there in the dark from Belfast, we decided to spend the day exploring Bangor before surgery the following morning.

Read more …
10/13/2016
Moorings




Even some of the moorings in the harbor are being taken in for the winter in Belfast.
10/14/2016
Ben Ellison




Ben Ellison of

panbo.com

lives nearby in Camden and stopped by to visit. We had a great time with Ben talking marine electronics and boating in general.
10/15/2016
Sea Smoke




Sea smoke in Belfast Harbor with the temperature at freezing this morning.
Frost




Our goal in working south down the coast has been to stay below the frost line. We failed today with frost covering the deck as we departed Belfast.
Click the travel log icon on the left to see these locations on a map, with the complete log of our cruise.

On the map page, clicking on a camera or text icon will display a picture and/or log entry for that location, and clicking on the smaller icons along the route will display latitude, longitude and other navigation data for that location. And a live map of our current route and most recent log entries always is available at http://mvdirona.com/maps.