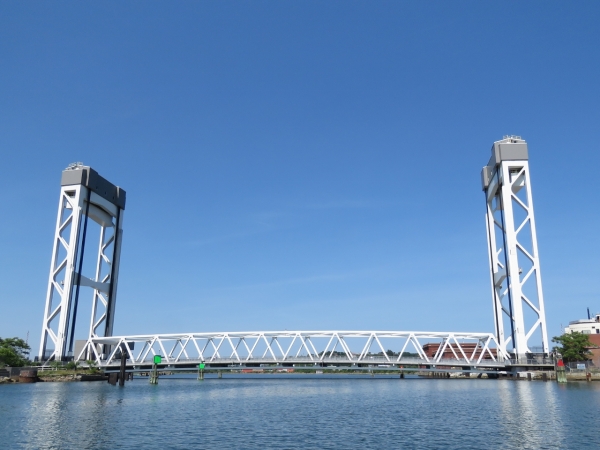 During our second weekend in Boston, we toured Boston Harbor from the water and the air, got a few boat projects done, and met some locals and friends from out of town.
Trip highlights from June 23 through 26th follow. Click any image for a larger view, or click the position to view the location on a map. And a live map of our current route and most recent log entries always is available at http://mvdirona.com/maps
6/23/2016
Christian and Annjea




We had a great visit with Boston residents Annjea and Christian Cormier. We had lots of questions for Annjea, who is a Chemical Response Officer with the US Coast Guard.
Printer




A printer with scanning capability has turned out to be a critical piece of equipment on our journey. We're often needed to print out, sign and return via email forms and documents for country entry and exit formalities and a variety of other reasons. Our printer's scanner was malfunctioning, and its replacement arrived today.
6/24/2016
Bungee




Our chain stopper, when flipped down, hooks between the chain links to prevent it from deploying. We need to hold the stopper up to let out chain, and we lost the bungee we were using. We couldn't find a similar replacement with stainless steel hooks so made a new one from bulk bungee parts.
Aquarius Leader




The 193x32m Aquarius Leader dominates the waterway as it passes by Charlestown Marina.
Warren Tavern




Warren Tavern in Charlestown, established in 1780, is the oldest tavern in Massachusetts. Notable patrons included national heroes Paul Revere, George Washington and Benjamin Franklin.
Figs




Long Trail Limbo IPA in a window seat at Todd English's Figs in Charlestown.
6/25/2016
Aerial Tour




Our friend Frank Eigler happened to be in town on vacation with his family in their Piper Aztec airplane. It was great to see Frank, it was fun to see his airplane, and we even got a chance to do an aerial tour of Boston. We started in Lawrence, MA, then flew east to follow the coast south to Boston and along the Charles River and over Charlestown Marina before returning back to Lawrence. James even tried his hand at the stick for a bit. A video of some of the more interesting parts of the trip over Boston Harbor and Logan airport, including our take-off and landing, is at

https://youtu.be/egmEyvUvcqk

.
BBQ




At the Charlestown Marina opening of the season barbecue.
Frank and Juimiin




Frank Eigler, Juimiin Hong and their two boys came over to visit later in the afternoon. We used to work with Frank at the IBM Toronto Software Lab in the 1990s and haven't seen him and Juimiin since they visited us in Seattle in 2002. And we'd never met their boys. It was great to catch up after all those years.