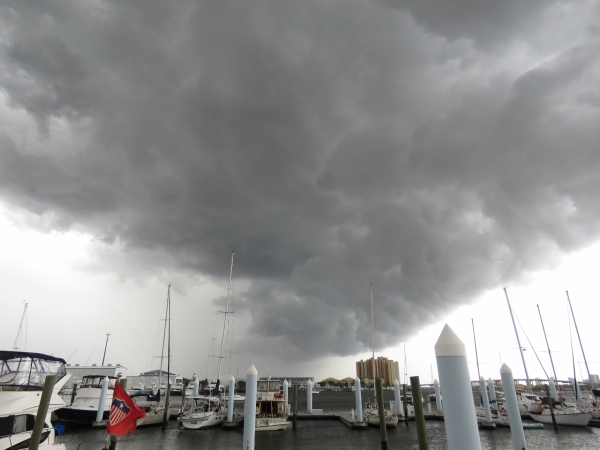 When we arrived in Palm Beach mid-March, we booked a slip at Soveral Harbour Marina for two weeks, expecting to have a brief stay there, get some yard work done and continue north. Soveral Harbour, and Palm Beach in general, worked out so well as a home base that we kept extending our stay. We eventually dragged ourselves out at the end of May to get our yard work done.
After the yard visit, we made a brief stop at Riviera Beach Marina to wait for a storm system to pass through before heading north. We needed to depart Florida before our insurance deadline (we aren't covered for named storms between July 1st and October 31st in the Caribbean through Florida), and we're seeing enough storm systems coming through, including one named storm, that it felt like time to leave anyway.
Highlights from our final three weeks in Palm Beach follow. Click any image for a larger view, or click the position to view the location on a map. And a live map of our current route and most recent log entries always is available at http://mvdirona.com/maps
5/19/2016
Dragonfly




David and Susan Odell from Nordhavn 4715 Dragonfly were in North Palm Beach and stopped by for a visit. Their boat was the first Nordhavn 47 we were on. Two brand new 47s were side-by-side at the 2004 Poulsbo Trawlerfest and Dragonfly, originally called Oso Blanco, was really nicely set up. We loved the hydraulic forward thruster and generally thought the entire boat was well thought through and well-equipped.
5/21/2016
Wire run




We opened up the wire run at the bottom of the stateroom stairs to run signal wire from the pilot house down to the engine room to control the engine room fans for 120V load-shedding. The wire run is getting pretty tight.
Wire pull




The wire run between the pilot house and the engine room passes under the master berth, so everything had to come out from inside.
5/22/2016
Spitfire




Spitfire continuing on his mission to investigate every locker that we open.
Junction box




The new shroud and engine room circulation fan junction box. James put on a bigger box to allow the circulation fans to be turned off briefly when the 120V inverter load gets high. The design we chose has the shroud fan always on for safety, but the circulation fans can be automatically shut down for brief periods to avoid inverter overload when, for example, a kettle is run with too many other 120V loads active.
Seasons 52




Sunset dinner on the deck at Seasons 52, a short walk across the intracoastal waterway from our marina.
5/24/2016
Navy UDT-SEAL Museum




The modern-day US Navy SEALs originated in World War II as Underwater Demolition Teams (UDT) that provided hydrographic reconnaissance and underwater demolition of obstacles prior to any amphibious landing. The Navy UDT-SEAL Museum stands on the site where those first divers trained, at Fort Pierce, Florida, an hour's drive north of our marina.

Read more …
5/25/2016
Cracker Boy Boat Works




We finally departed Soverel Harbour Marina this morning for a long-overdue haulout at Cracker Boy Boat Works.

Our last haulout

was more than 2.5 years in Whangarie, New Zealand.

Read more …
6/3/2016
Breaker




After our haul-out, we made a short trip to Riviera Beach Marina adjacent to Cracker Boy Boat Works for a few nights to get the boat cleaned up and wait for a weather system to pass before heading north. The boat was really hot and we had all five ACs running when we lost shore power. The shore pedestal had power, as did a breaker near the shore power connectors in our cockpit. The breaker at the shore power isolation transformer, underneat the pilothouse settee, had tripped (we had to get out the electrical diagrams to find it). It should be able to support 50A continuous but perhaps from transformer heat or the breaker just getting old, it released the load at 44A. We'll likely replace the breaker since it only triggers near but not at max current.
Grand Celebration




The cruise ship Grand Celebration departing on a two-day cruise to the Bahamas. The ship berths at the Port of West Palm Beach, right behind our haulout stall. We saw it arriving and departing several times during our time in the yard.
6/4/2016
Sunrise




Sunrise looking north across the Riviera Beach Marina towards the Blue Heron Blvd Bridge.
Riviera Beach Marina




In our slip at the Riviera Beach Marina. It was sooo nice to wake up on our boat this morning with Spitfire tucked under the covers with us. Even though we were on the boat every day, it didn't feel like our boat with all the work going on. It's wonderful to have it back.
Hydraulics leak




The forward thruster pressure gauge O-ring was

leaking for the fourth time

. In the past we've replaced the O-ring and that actually will work for a year or so but the leak returns. We do run the hydraulic system at fairly high pressure of 3,800 PSI but our experience has been that it's stays sealed up tight without issue. Over 6 years and 7,900 hours ignoring this issue, we have replaced 2 or 3 O-rings due to tiny leaks. The system is the way we like it: so clean and dry it's dusty. This particular seal that has caused problems 3 times previously is a O-ring boss fitting. This is a very reliable fitting type. We think the problem is that the original assembly missed the washer that retains the O-ring in an O-ring boss fitting. We replace the O-ring but it eventually fails again. Now that we understand the cause, addressing it is easy but we don't have the missing part on board so we just removed the T-fitting for the gauge and that gauge port. It's easy enough to re-install if we get the missing part and decide we need a gauge reading. For now, it'll join the rest of the hydraulic system of being leak and trouble free.
Scrubbing




The engine room and lazarette floors were filthy from the yard. Dirt is pretty much unavoidable when doing major hydraulic service and changing the keel cooler. James scrubbed them clean today, and the cockpit and swimstep too. It's back to looking great.
Sunset




Sunset over the marina.
6/5/2016
Fan




One of the engine room exhaust fans has started to spin backward. Since there are two installed side-by-side, this one spinning backwards causes the two to flow nothing—they just circulate air between each other. A bit of reading suggests that a failed capacitor can cause an AC fan to run backwards. Reversing polarity will do this on a DC fan, but AC fans have no polarity. A bit of reading suggests that a failed capacitor in the internal fan controller can yield this failure mode. We hadn't seen it before but, upon replacing the fan, all is back to normal again. We'll keep the failed fan for a few weeks just in case something else is at fault but we're pretty sure the failure is understood and replacement addresses it.
Peanut Island




From our slip we have a great view of the Intracoastal Waterway. The beach at Peanut Island on the other side is very popular on the weekends.
Water leak




We replaced the keel cooler for two reasons. First we wanted to have the reserve cooling to be able to run at wide open throttle in warm sea water with a less than absolutely clean keel cooler. The other reason we chose to replace the keel cooler is it had to come off anyway due to a water leak. The sealant under the cooler had failed. Having just addressed the only known water leak in the boat and expecting to be returning to our normal dry bilge operation, you can imagine how disappointing it was to find a trickle coming down from the supply tank area into the forward bilge. Jennifer is looking into the bilge area and up under the supply tank to try to locate the source.
6/6/2016
Water tank




The water leak was freshwater and it hasn't rained for days and the leak is dripping frequently enough that, whatever the source, there is a lot of water. There really aren't that many options on a boat. We first shut down and drained the pressure water system. The leak continued unabated. We drained the main water tank, gray water tank, and black water tanks but the leak continued unabated. The water is very clean so we are starting to worry that we might have a freshwater tank issue. And, being a slightly paranoid engineer, we couldn't help think that it might be possible that the boat flexed while being up on dry land in the boat yard. That would be highly bad since the tank is very difficult to get to so we started to think through solutions deciding the best answer would be to install access hatches in both sides of the tanks and cut out the baffles to get to the problem area. At this point it's been leaking for 2 1/2 days so it must be residual water in the water tank. We dug down through the spares, clothes and stores to the water tank and, wow, what a wonderful surprise. Nordhavn has installed two large service hatches exactly where we were thinking of installing them.
Inside the water tank




In our continuing search for the engine room water leak, we opened up the first water tank service hatch and the tank is absolutely unblemished white fiberglass and all the baffles are removable. It was a great discovery since it meant we could fix the tank if it was ever a problem and the build quality looked so robust that it's very unlikely to ever leak.
Second hatch




The

photo inside the first water tank hatch

revealed a second hatch to port of the first, so we opened that to further inspect the tank. We vacuumed out the remainder of the water residue so the tank is now clean and bone dry. We're now feeling super good about the serviceability of the water tanks and their overall strength, but the engine room water leak continued without even slowing down. Gallons have flowed in so far even without any water in the pressure water system or tank. The leak stopped several days later and appears to have been leftovers from the keel-cooler change and the cleanup that followed that big project, leaving water pooled in a large place, possibly behind some build debris. What looked like an infinite, perpetual leak was a few gallons of water built up, perhaps from the boat being on a different angle in the yard. We now have a bright white bone-dry bilge.
Storm




One of the reasons we went to Riviera Beach for a few days is to wait for a storm system to pass before we headed north. After a day of high winds, this ominous black cloud appeared bringing heavy rain.
6/7/2016
Antifreeze




We walked the folding cart over to nearby Marine Tech to pickup another seven gallons of anti-freeze so we'd have enough to change the wing and generator plus some spare. When we got the boat, since it's a John Deere, we bought the John Deere coolant to top it off. However, now that we know both coolants better, we're pretty sure the yard uses Fleetguard ES Compleat. Both are exceptionally good anti-freezes, and both meet the spec of the engine. But it's really not wise to mix them. So we chose to standardize the entire boat on the Fleetguard ES Compleat.
Drive belt




Our main engine uses a serpentine drive belt. These are wonderful in that they can accept absolutely enormous loads and, even driving difficult loads, they can last for many years. On Dirona the belt drives the coolant pump and two 4.5KW alternators. These alternators are beasts but the belt never slips and just gets the job done. But, even serpentine belts don't last forever. After a while they start to develop cracks across the groves and ridges in the operating face. A crack across a ridge here or there is pretty normal and not a problem but when there start to be a noticeable number of cracks or the cracks start to line up across the belt, it's time for a change. Generally changing early is the right answer since belts are cheap and easy to change but a failure can cause engine failure if the over-temperature is not caught quickly enough.
Shallows




A shortage of water just north of the marina.
Grand Celebration




The stack of the cruise ship Grand Celebration visible over Peanut Island as it heads out on a two-day run to the Bahamas.
Click the travel log icon on the left to see these locations on a map, with the complete log of our cruise.

On the map page, clicking on a camera or text icon will display a picture and/or log entry for that location, and clicking on the smaller icons along the route will display latitude, longitude and other navigation data for that location. And a live map of our current route and most recent log entries always is available at http://mvdirona.com/maps.