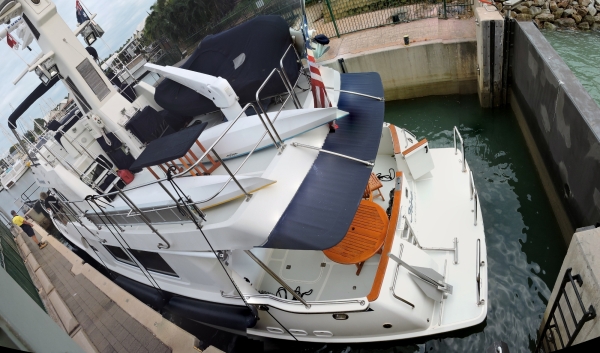 After five weeks in the Kimberley, we returned to Darwin for James to make a three-week trip to the US. You might wonder why we retraced our steps 500 miles to Darwin from the southern Kimberley rather than fly out from much closer Broome. We had initially considered staying there, but it turns out Broome has no marina or reasonable moorage options. And there wasn't anywhere further south where we felt comfortable leaving the boat for three weeks that was closer than Darwin. In the above photo we are locking through into Tipperary Waters Marina, our home for the next several weeks. All four Darwin marinas are behind locks due to the 25.6 ft (7.8m) tidal range.
Trip highlights from July 6th through 12th follow. Click any image for a larger view, or click the position to view the location on a map. And a live map of our current route and most recent log entries always is available at http://mvdirona.com/maps
7/6/2015
Flaring




We're back in Darwin after a reasonably smooth overnight run from Koolama Bay. This is looking south to Whickham Point and the huge flare at the Darwin LNG facility there.
Fisherman's Wharf




At Fisherman's Wharf taking on 1,420 gallons of diesel to fill up both our tanks. We barely slipped in on a 7.8ft tide through what is nearly a drying area, and you can see the wharf top towering above us.
Oil




We also got rid of some waste oil and picked up two 20L pails of Caltex Delo 15W40 oil to top up our supply. With what we store on board, we can go almost a year without having to pickup oil or dump it.
7/7/2015
Approaching lock




All four Darwin marinas are behind locks due to the 25.6 ft (7.8m) tidal range. Here we are nearing the lock for the Tipperary Waters marina. The marina approach dries to nearly two meters at zero tide, so we can only transit the lock on a 13ft (4m) tide or better. This isn't quite as restrictive as it sounds, as even a neap high tide is above 16ft (5m). So there'd typically be some point during the day, if only for an hour or two around high tide, where we could come through.
Current




We're entering with about 22 ft (6.7m) of tide near the top of a 21ft (6.4m) exchange. The size of the exchange is generating a significant cross-current near the lock entry. We were on a bit of an angle fighting it until we got into the lee of the rock wall outside the lock.
Locking through




To fit in the lock, a boat can have a maximum 70.5ft (21.5m) length, 9.8ft (3.0m) draft and 19.7ft (6m) beam. It felt pretty tight on the beam going in, but wasn't quite as bad as we were expecting. We had a good couple of feet to spare on each side as we passed through the entry.
Garbage run




We got out the folding cart and dumped our five weeks of garbage. The marina also has an oil disposal facility.
7/8/2015
Tipperary Waters Marina




Moored at Tipperary Waters Marina, our new home for the next few weeks. Beside us is

Akitushima III

of Japan. The marina is at least half-full with international boats from all over the world. Many will be departing with the

Sail Indonesia

rally later in the month.