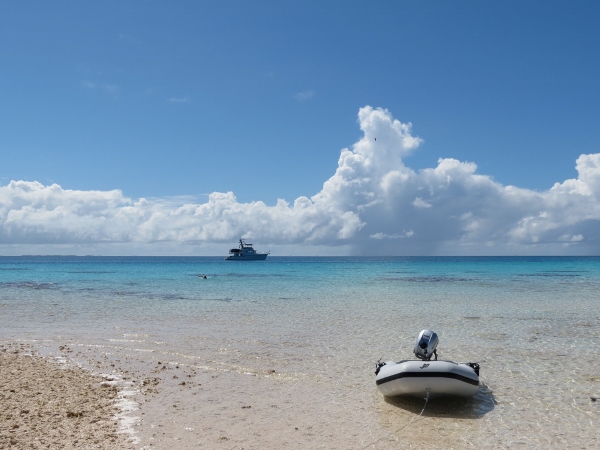 From the soaring peaks of the Marquesas Islands in French Polynesia, we travelled 465 miles to the barely-above sea level Tuamotu Archipelago. Of the seventy-eight islands that make up this archipelago, all but two are coral atolls. The Tuamotos are renowned for excellent diving, and we agree: the diving there is out of this world.
One of the challenges of cruising these islands is the high-current passes, of four-to-eight knots, that must be negotiated in order to enter the atoll. You want to enter near slack water, but since slack water occurs at similar times across the group, this can make timing a run between islands a little difficult. Another challenge is that large coral heads are spread like land mines through the largely navigable, but generally uncharted atolls. The anchor chain (you need to be all chain here) can wrap around the coral heads as the boat moves about and be hard to disentangle. We favored the windwards side of the atolls, where the bottom has more sand and fewer coral heads, so we're less likely to wrap the anchor chain. But the downside was that the windward side generally was further from the dive sites at the entry, and the atolls generally weren't charted between the entry and the windward side, so we had to run across carefully. So long as we weren't running directly into the sun, we were able to easily see most hazards well in advance.
The effort to visit the Tuamotus most defintely was worth it. Besides the excellent diving, we loved exploring the atolls and especially walking out to the edge of the fringing reef and watching the waves pounding over. And we generally had most anchorages to ourselves, compared to the far more busy Marquesas Islands.
| | |
| --- | --- |
| | One of the top dive sites was Anse Amyot–click here for our blog entry. And our log for the trip follows, or click on the image at left for a live map-based version. On the live-map page, clicking on a camera or text icon will display a picture and/or log entry for that location, and clicking on the smaller icons along the route will display latitude, longitude and other navigation data for that location. And a live map of our current route and most recent log entries always is available at http://www.mvdirona.com/maps/LocationCurrent.html. |