The Tuamotus Archipelago consists of seventy-eight islands, and all but two are coral atolls. The islands are known for amazing diving with excellent visibility and abundant fish, creature and coral life. We've spent two weeks here now, diving at four different atolls: Raroia, Tahanea, Fakarava and Toau. While the diving in the South Pacific is world-renowned, if the diving in the Tuamotus is not the best, we have an unbelievable trip ahead of us.
Diving isn't the focus of this trip, but it was so good at Anse Amyot on Toau that we didn't do much else. We did four dives one day and two the next, for a total of over six hours underwater in two days. We easily could have spent weeks there. The visibility in the Tuamotus is exceptionally good, and Anse Amyot was a standout for the area. In the photo on the left below, we're more than 100 feet deep and can still see the dinghy directly above Jennifer just off the top of the wall, anchored in twenty feet.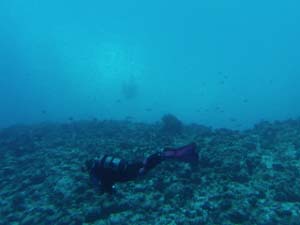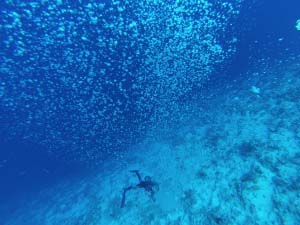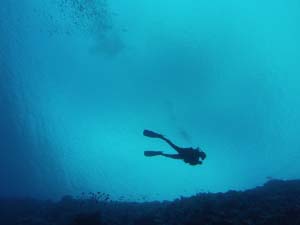 We had several sealife sightings that were rare for us. We've not seen many turtles since leaving Palmyra–the one below left swam so fast straight at Jennifer she nearly had to move out of its way. On the right is an uncommon Golden variation of the Trumpetfish. We'd not seen one before, and saw a couple at Anse Amyot.
Below left are three Clearfin Lionfish. These particular Lionfish typically are solitary, so it was unusual to see three together. And we saw many 8-10″ Emporor Angelfish, swimming relatively close together. The ones we've seen so far have been smaller, and solitary.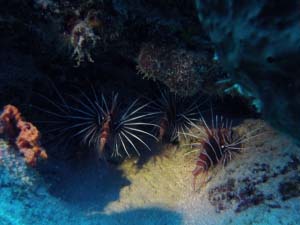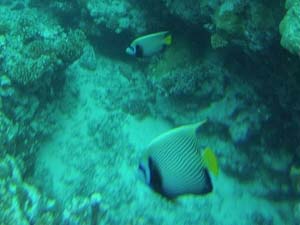 And we saw two Sea Star types that we'd not seen before on this trip. At bottom left is a Crown-Of-Thorns Sea Star, and at right is a Blue Sea Star.
Besides the excellent visibility and interesting sea life, another aspect of diving at Anse Amyot that really appealed to us was the underwater seascape. The reef walls here were parcticularly steep, almost undercutting in some places. And the wall wasn't as regular as most of the other atolls we'd dove: canyons cut into the wall and shoulders extended off. In the photos below, we're diving a shoulder at around 140 feet. On it was one of the largest anemones we've seen thus far at about three feet across, with a 5-6″ anenomefish.
In several places, particularly south of the entrance channel, wide channels cut into the reef wall at around 30-40 feet deep, with caves and grottos along each side all full of sea life.