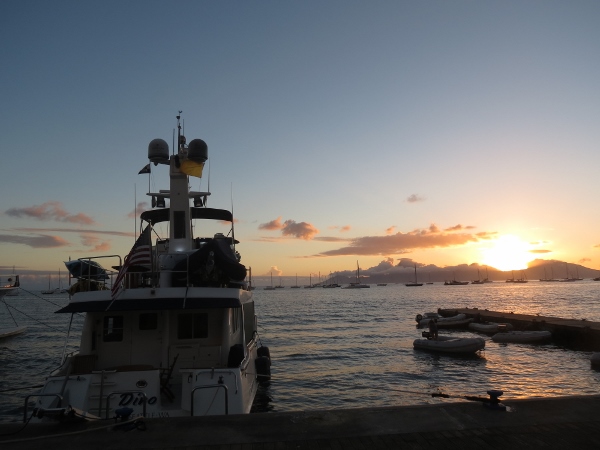 The Society Islands were the third and final major island group we visited in French Polynesia. With mountainous shorelines and fringing reefs, these islands felt somewhat like a combination of the previous two groups: the Marquesas and the Tuamotus.
Our first stop was in Papeete, the capitol of French Polynesia. Here we did our first major provisioning stop since leaving Hawaii. Our staples and dry goods should last until New Zealand–we mostly bought produce, meats, wine, beer, sorbet, and dozens of baguettes. We also swapped 4 5-gallons pails of used engine oil for 4 18-liter pails of new, and took on a load of gasoline and diesel. And we picked up a few hardware items.
And we had a chance to try two pieces of equipment we'd not used before: our pasarelle and pigtails for adapting to different power supplies.
The Society Islands are more populated, and had greater diversity and infrastracture than the other two groups. We used pretty much all our recreational equipment there: hiking, kayaking, biking, diving and touring by dinghy.
We also had several excellent restaurant meals.
And throughout it all, the scenery was amazing.
Click on the image at left for a live map-based version of our trip log through Society Islands (including the content from June 8-June 15 that was unavailable during our web site outage).

On the live-map page, clicking on a camera or text icon will display a picture and/or log entry for that location, and clicking on the smaller icons along the route will display latitude, longitude and other navigation data for that location. And a live map of our current route and most recent log entries always is available at http://www.mvdirona.com/maps/LocationCurrent.html.
Overall, we very much enjoyed our trip through French Polynesia: the people were friendly and helpful, the infrastructure was good, the scenery and diversity of activities was impressive, and we never got enough of those delicious baguettes and pamplemousse (local grapefruit). If our schedule allowed, we definately would have spent more time there, and would love to visit again.