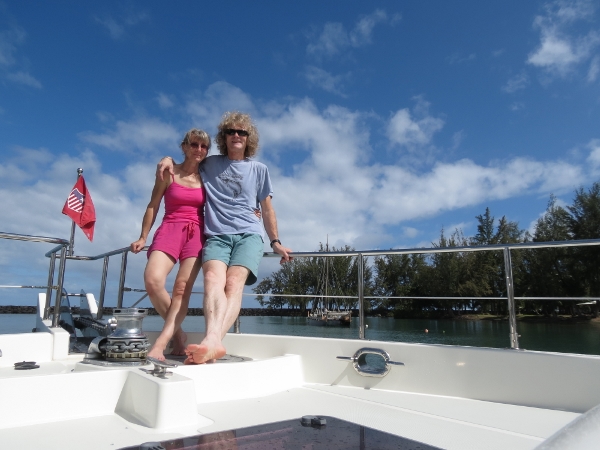 This morning, after eleven nights at sea, we arrived at Hilo, Hawaii. Although our ultimate destination is Honolulu, we chose to make landfall here partly because Hilo is about 200 miles closer, but mainly because its easier to clear Spitfire in at Hilo through Hawaii's Direct Airport Release program.
We had a great trip–the weather this time was the best of any of our offshore runs. The worst weather of the whole run was last night, when we had to tread water in rough seas to wait for daylight to enter the harbor. But we now are med-moored to the seawall at Radio Bay and Spitfire has cleared through with Hawaii Animal Quarantine. Tomorrow we'll clear with the Department of Agriculture and take on a load of diesel.
Mark Abril sent us a nice suprise with pictures he took of our arrival. On the left picture we are entering Radio Bay, with the cruise ship Pride of America in the background, and on the right we are pulling back towards the sea wall with the anchor down.
And below these is our log of the trip. You also display these on the map view.