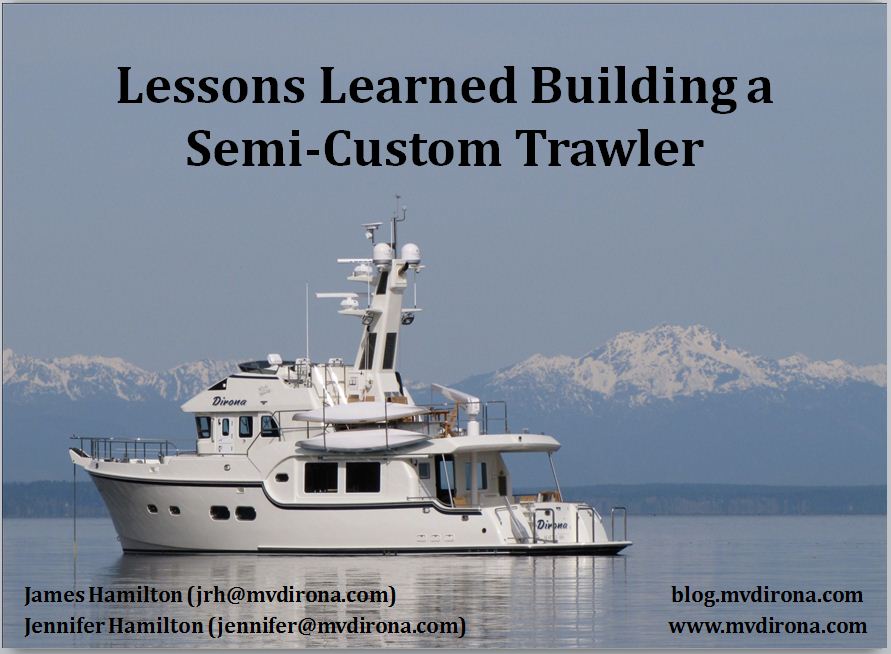 Last weekend we presented our experiences in going through the design and build process for Nordhavn 5263. The slides are at Hamilton_TF10_BuildingTrawlerWebPost.pdf
In discussing purchase costs, we broke the total cost into three components: 1) base boat & standard equipment 2) factory/dealer options and 3) post-delivery items. The amount you spend above the base price depends on what is included in the base price and how you equip the boat, but often is more than people expect. We've seen estimates as low as 10% over base. We made some major customizations so, for us, the extras were a substantial portion of total price. Factory options were 10% over the base price and post-delivery items were 26% over the base price. (Note: We have updated these figures to use the 52 base price. When we bought the boat, the 52 pricing hadn't yet been set so our contract pricing was based upon options on a 47 where the 52 package was just a big "option".)
One of the difficulties we had in comparing prices of new boats across builders was the difference in base configurations, and option prices and types. With some builders, for example, the get-home option is a fully-independent wing engine with separate propeller and shaft, whereas with others it is a hydraulic system that simply powers the main shaft through a generator in the event of a main engine failure. To compare more accurately, we requested quotes of like configurations from several builders. This also helped in comparing prices between new and used boats. Initially we felt that used boats were not good value compared to the base cost of a new boat. But once we'd factored in the items above the base price, used boat prices appeared much more competitive. This is particularly true in a weak economy.
If you do plan to request price quotes, be aware that if you approach a company without choosing a salesperson, one is assigned to you and this can be difficult to change later. Get feedback from other owners and explicitly choose one to work with before approaching the builder. The salesperson can have a major impact on the project, particularly if you plan major customizations. Jeff Merrill was deeply involved with the 5263 project from start to finish. We incorporated many of his suggestions that we'd otherwise have overlooked, and he supplied us an extensive boat photo library that continues to be an incredibly useful resource.
In the deck, we list the major customizations, equipment changes and upgrades that contributed to the the factory option costs of 25% over base, but only those that are a little unusual. We didn't include common factory options such as a wing engine, although those costs are reflected in the 25%. The post-delivery items listed in the deck is reasonably complete. Many we had anticipated, such as the life raft and kayaks. But some we hadn't considered were blinds, floor covering, and custom stainless work.