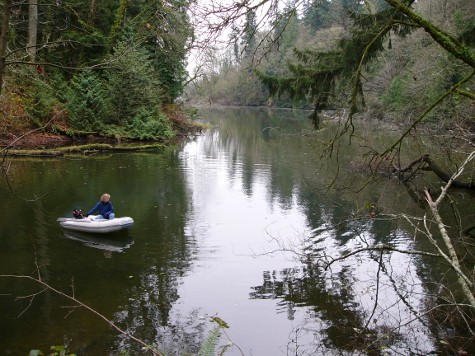 We've anchored overnight about a thousand times over the past decade. We love the privacy and independence of anchoring out, and enjoy the ever-changing view as the boat drifts around the anchor and the tide rises and falls. Key ingredients for a restful night are not worrying about our anchor dragging, or another boat swinging or dragging onto us. So we seek anchorages with good holding that are less-frequented. Typically, this means the anchorages are not mentioned in the cruising guides, so we have to discover them for ourselves.
We set the anchor aggressively—equivalent to a sustained 30-knot wind—and are pretty much willing to overnight anywhere if the anchor holds well and the water is reasonably calm. While we are prepared to move the boat should conditions deteriorate, this has happened surprisingly infrequently. Some of the anchorages we've tried would be popular, but are overshadowed by a more appealing stop nearby. Others are exposed to wind or swell and are acceptable only during certain conditions. And some are just plain unusual.
Although we do take a few longer trips each year, a large part of our time at anchor is spent a few miles from our slip in Seattle. While we do have favorite stops, we're always on the lookout for new ones and have found a remarkable number of little-visited anchorages close to home. In Cruising the Secret Coast, we describe our anchoring techniques and less-known anchorages on British Columbia's Inside Passage. In this series of blogs, we'll share some of our discoveries closer to home, starting with Priest Point in the South Sound.
We initially anchored at Priest Point in Budd Inlet during what has become our annual Thanksgiving South Sound cruise. We wanted to visit Priest Point Park, where extensive mudflats make landing difficult in most tides. High daytime tides always seem to occur around Thanksgiving, and on that day's 15-foot high tide we could easily reach the head of wooded Ellis Cove and land the dinghy to walk the well-maintained trails through old-growth forests.
While exposed to winds in Budd Inlet, Priest Point is a fine stop in settled weather, with nighttime views to the lights of Olympia. And it feels more private than the more popular Butler Cove nearby, where the marked channel increases traffic and crowds the anchorage against the houses ashore.
Anchoring notes: The anchorage is north of Priest Point, roughly opposite Butler Cove. Anchor in 2-3 fathoms north of the charged submerged dolphins on Chart 18456 or the 1:20,000 inset on Chart 18445.